We use affiliate links. If you buy something through the links on this page, we may earn a commission at no cost to you. Learn more.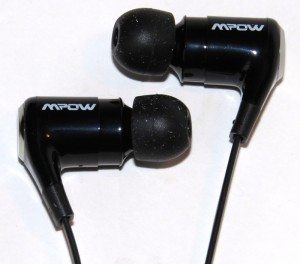 I've been searching for a good pair of wireless earbuds for a while now. So far, I've tried two pairs out. They both were OK, but neither were too useful. The first thing that caught my eye with the Mpow Petrel Bluetooth earbuds was the wings used to stabilize the earbuds. My wired Bose headphones have them and I love it, so I was eager to give these headphones a try.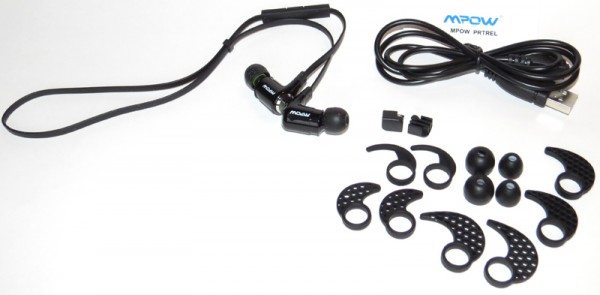 In the box you'll find the headphones, three sets of tips, (small, medium, large), an indoor leisure fit stabilizer, three different sizes of sport fit stabilizers, a Micro USB charging cable, and the instruction manual.
With so many combinations to choose from, I was bound to find one that fit my ears. Through trials, I settled on the medium sized sport fit stabilizers with the medium sized ear tips. Once they were in my ears they were quite comfortable. If I would shake my head around quite a bit, I could dislodge the earbuds, but the stabilizers kept them attached to my ear so they didn't fall completely out.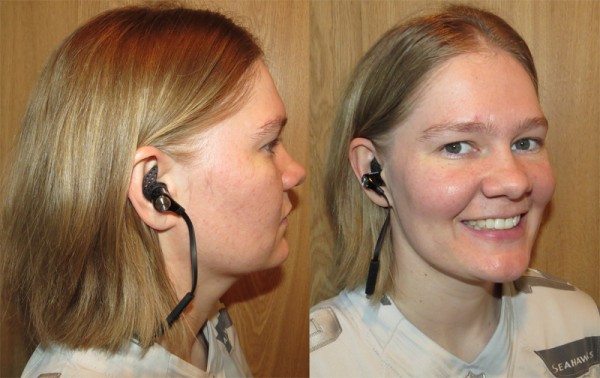 I also liked that they weren't big in my ears. One of my previous pairs of wireless earbuds looked (and felt) massive. These did not. They are also extremely lightweight. I could wear them a few hours before I started to feel any discomfort.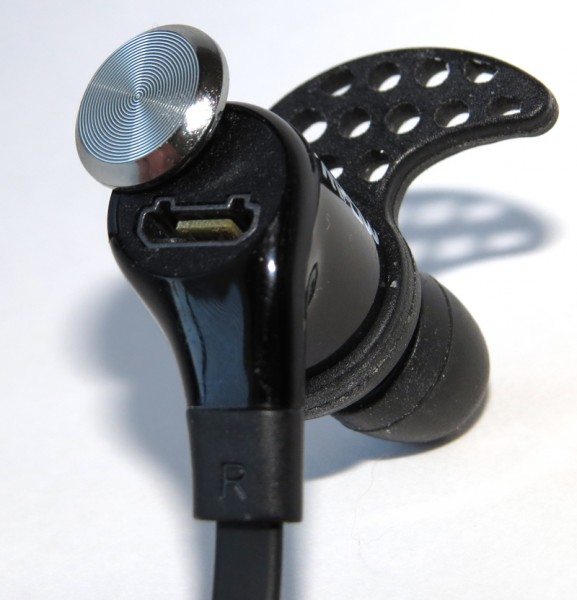 To charge up the earbuds, simply remove the silver back cover from the right earbud. It's pretty well hidden, but easy to remove once you know where it is. It took a little under two hours to go from dead to full. Mpow advertises five hours of battery life and their claim holds true. When I lowered the volume to about halfway of the maximum, the charge lasted nearly six hours.
There is a small light visible on the right earbud. When charging, the light will illuminate red and turn off when fully charged. The light also will flash blue when turning on and red when turning off the earbuds. Lastly, the light will quickly flash blue when in pairing mode.
The earbuds started cutting out when I was about 15 feet away from my iPhone and through a few walls. Not too bad in my small condo. When I had a direct line of sight, they spanned the length of my condo.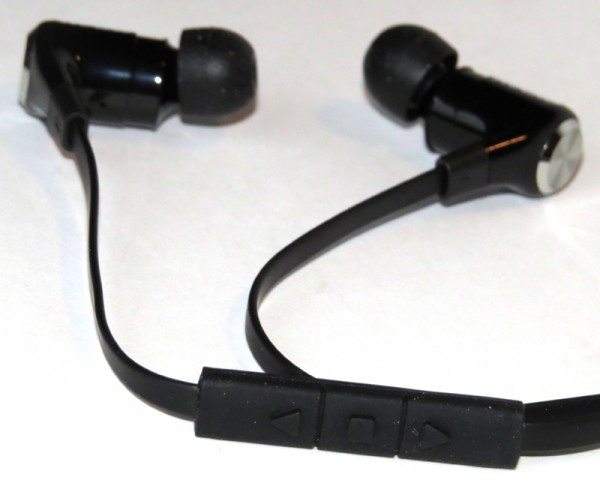 It was pretty easy to use the controls. Holding down the center button would turn on or off the earbuds or allow them to go into pairing mode. Pressing the center button down once also started and stopped the music and also answered incoming calls. The volume controls worked as expected. Each button also made a good 'click' sound to know it had been pressed.
Now for the real test. How do they sound? For 60 dollar earbuds, they sound pretty good. The type of music that sounded best was pop music, followed by rock. The bass is above average and the mid tones are pretty solid. The highs didn't come out as sharp as the more expensive headphones I have tried, but they were definitely still there. For the price though, they performed above above my expectations. When making calls, the call quality was very good. I could hear my husband just fine and he responded that he heard me (and my cat meowing in the background) like normal.
The only real thing these earbuds are missing is a small case. With all of the different tips and stabilizers, and at this price point, a case should be included. Otherwise, they fit well, sounds good, and seem like they will last a while. I would definitely recommend these to those looking for a mid-priced pair of Bluetooth earbuds.
Source: The sample for this review was provided by Mpow. Please visit their site for more info.
Product Information
Price:
$59.99
Manufacturer:
Mpow
Pros:

Lightweight
Variety of ear pieces allow for customized fit
Decent sound quality

Cons: