We use affiliate links. If you buy something through the links on this page, we may earn a commission at no cost to you. Learn more.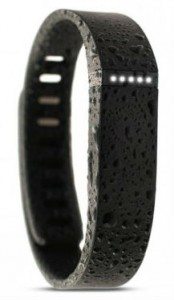 One of the most popular activity trackers on the market is the Fitbit Flex. This is an easy to wear, easy to use tracker that helps you track your activities and sleep. The only thing it doesn't do well is surviving a dunk in water. That means people who want to track swimming as an activity are out of luck. Waterfi is one company who has come up with a solution to fully waterproof the device down to 210 feet. 
They use a special technology to protect the interior of the device:
The first layer of our Dual Layer waterproofing technology applied is a thick, rubbery insulator that fills the entire interior of the device and forms a barrier around all of the sensitive electronic components. This barrier protects the device from exposure to water and other damaging elements.
underwater and comes with a 1 year warranty from Waterfi.

The second layer of our Dual Layer waterproofing technology adds an extra internal barrier that enhances the waterproofing protection and guards the device from corrosion caused by threatening environmental elements such as salt water, chlorine, heat, and steam.
With a price tag of $199, the waterproofing comes at a premium. That's $100 more than the price of the activity tracker. Is it worth paying that much for the ability to use the tracker while swimming, surfing, etc? I think Fitbit should be making their trackers waterproof in the first place… Let's hear what you think in the comments.
For more info visit Waterfi. You can order directly through Waterfi or from Grand Central for $199.
Update: Apparently the Fitbit Flex is already rated for water resistance up to 10 meters… So unless you're a deep sea diver, you don't need this service.