We use affiliate links. If you buy something through the links on this page, we may earn a commission at no cost to you. Learn more.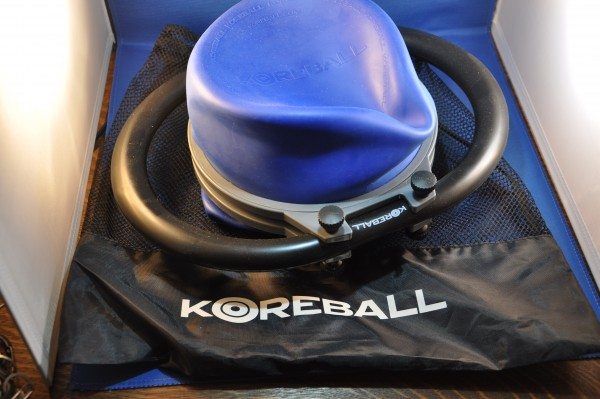 Exercise is a difficult thing to work into your life sometimes. Gym closings over weekends or holidays, changes in work schedules, and travel for work or pleasure can cause you to miss your workouts. Traveling with equipment more bulky than a few resistance bands and running shoes becomes quite bothersome as well. Enter the Koreball. This silicone and plastic two-bladder, refillable weight can really pack in the training potential, and when empty only takes up a few inches of height and 2 pounds of weight – small enough to fit in most bags when packing for longer than overnight.
Note: Photos may be tapped or clicked for a larger image.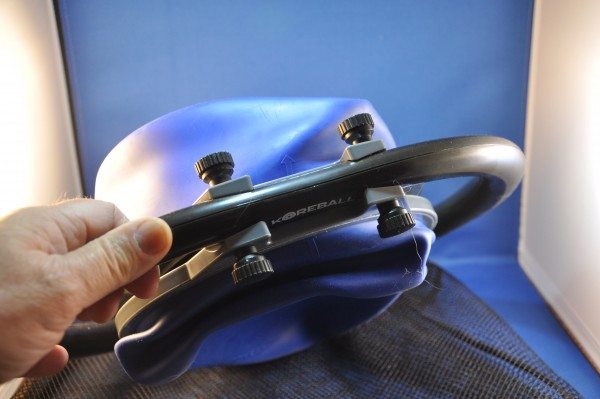 The unit itself is a oval ring roughly 9.5" x 13". Empty, it stands about 3.5" – 4" thick. Full, it's about 7.5". The unit is simple to use: Unscrew four thumb screws to release one side of the unit. Uncap and fill with something: water, sand, lead shot – whatever. (Water will add 4 pounds and a few ounces of weight for each full bladder. I didn't test any other substances.) Screw the cap on (there's a nice silicon seal in the cap) and reattach it to the whole with the thumbscrews. If you want more weight, repeat for the other side. Total weight with water is ten pounds.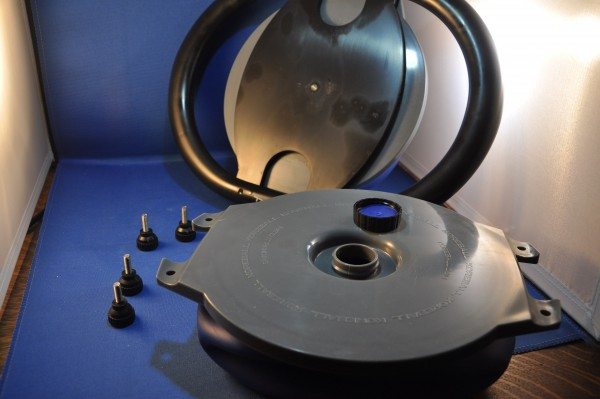 While you can use it as a kettle bell for traditional exercises, the dual handles offer other options, outlined on the koreball.com website. Any of those exercises will get you out of breath quickly after about ten reps. Doing the series would surely get you into shape in no time. In the few weeks I had the product, I noticed better stamina and muscle tone. I also left the unit full for a good while, and never had it leak.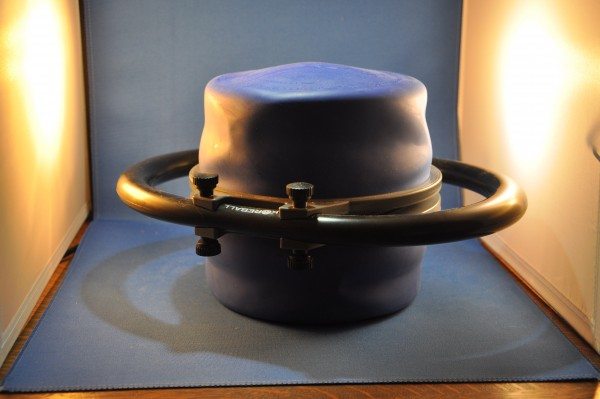 So, what are the good and bad points? First, it's rigid, which means it's going to be bulky in most bags other than a suitcase. There is a nice nylon mesh drawstring bag included (see first photo on this article.), but it's still not going to fold down below the size of the main ring. Second, it's a bit fiddly and sorta wasteful if you're using regular tap water. Sure, you could fill it with the water you use to get your shower up to temperature, but still, you're just going to pour it back out when you are ready to check out and go to the next hotel.
But the great things are that the Koreball is strong, easy to work with when exercising, and tough to leave behind. How many resistance bands have you left looped around the bed or desk leg in a hotel room? It's easier to do than you'd think. And with brass fittings for the thumbscrews and a solid center section to hold on the cap when it's in use, you'll have to work pretty hard to break it.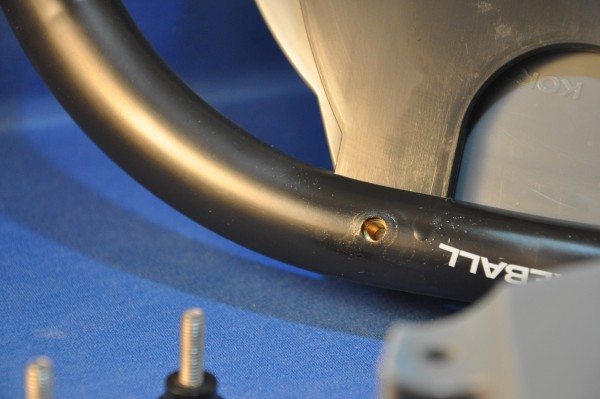 There remains only the discipline to use it. This is perhaps the hardest part of any exercise regimen. Getting an exercise buddy is possibly the best thing you can do in this area, I've found. Being held accountable by a friend or family member who is also struggling to stay on the path of good health habits will pay you back for many years to come. But the mere fact of having an easily portable device to use while on the road can go a long way to encouraging you to stay on your training schedule during multi-day hotel stays.
Source: The sample for this review was provided by Koreball. Please visit http://koreball.com for more info and Amazon to purchase.
Product Information
Price:
$55.99
Manufacturer:
Koreball
Retailer:
Amazon
Requirements:

need for exercise and something to fill koreball with (water, sand)

Pros:

Highly collapsible for travel
Quality materials and construction
Encourages home and travel fitness

Cons:

Rigid frame limits some packing options
Wasteful if using tap water
Requires discipline to truly benefit from it