We use affiliate links. If you buy something through the links on this page, we may earn a commission at no cost to you. Learn more.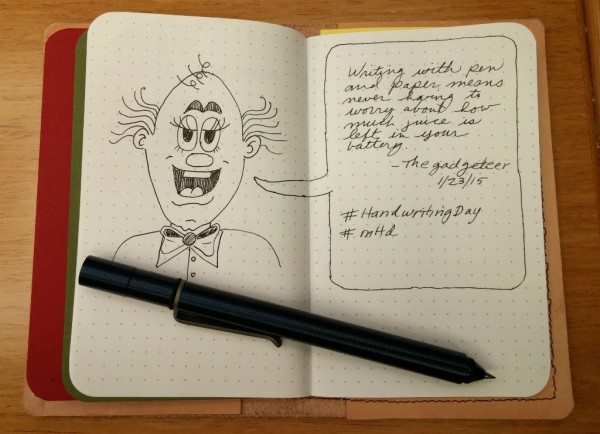 In honor of John Hancock's birthday (January 23rd, 1737), I challenge you to put away the QWERTY keyboard and grab your favorite pen and paper because it's National #HandwritingDay. John Hancock was the first person to sign the Declaration of Independence, the act which inspired the saying "Put your John Hancock on it" that we still use today.
Tweets, Facebook and Instagram posts that are tagged with #HandwritingDay and #mHDay are being showcased in a real-time online gallery at Moleskine.com. Readers have a chance to win a box of Moleskine notebooks, sketchbooks, and pens by submitting their handwritten message here.
The image above was drawn with one of my favorite pens, an EiMIM. The notebook is in my homemade leather notebook holder which I show at the end of my How to make your own Midori cover article.