We use affiliate links. If you buy something through the links on this page, we may earn a commission at no cost to you. Learn more.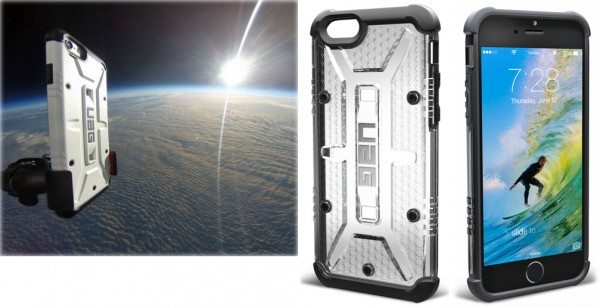 The photo of the cased iPhone 6 in space isn't an artist's rendering; it was taken by the camera sent up on the weather balloon with this phone.  Urban Armor Gear tested their iPhone 6 case by sending it up to the stratosphere and dropping it from 101,000+ feet.  During the trip up and down, UAG says the phone endured "temperatures as cold as -79° F / -61° C and winds as strong as 70mph. During the descent, the iPhone withstood a 150-RPM rotation speed as the parachute deployed and the flight rig struggled to stabilize.  Upon landing the flight rig broke apart, however, the iPhone remained undamaged and fully functional."
The UAG composite cases are made of a hard armor shell and a soft rubber core and bumpers, and they meet military drop-test standards (MIL STD 810G 516.6).  They have HD Screen protectors to guard against scratches, over-sized tactile buttons, and easy access to the power and headphone jacks.  They come in black, white, clear, orange, slate blue, and pink for only $34.99 for the iPhone 6 size.  They are available to fit iPhones (4 and newer, including iPhone 6 and iPhone 6 Plus), Samsung Galaxy phones (SIII to S5), Samsung Note (II, 3, 4, and Edge), HTC One (including M8 model), Nexus 6, iPad Air 1 and 2, all iPad minis, and the Microsoft Surface Pro, Pro 2, and Pro 3.
Check the Urban Armor website to find your phone's case.  Read the press release to learn more about the stratospheric drop test and watch the video of it.