The Gadgeteer is supported by readers like you! If you buy something through links on our site, we may earn an affiliate commission. Thank you! Learn more.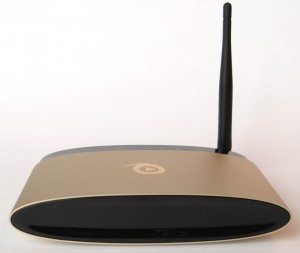 One ritual we have in our household is called 'anime night' every Wednesday. My husband has a collection of his favorite anime series that are in different formats, so we built a cheap media PC to watch them all. The problem is, it's a full blown PC in the living room. When the VidOn Box was offered to be reviewed, the thing that caught my eye was the ability to play nearly every video format, including subtitles, either via USB or streamed from our home computers.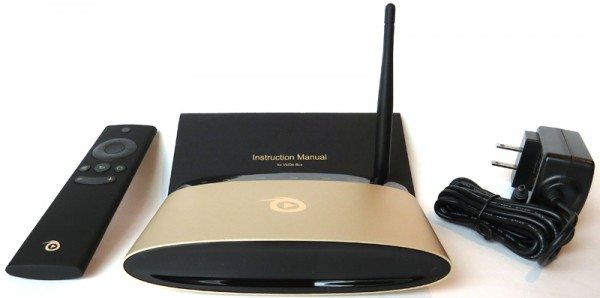 Inside of the box you'll find the VidOn Box, AC adapter, remote control, instruction manual, and a one year VidOn membership for free. The VidOn membership gets you the VidOn XBMC Pro, which allows for OTA updates, Blu-ray menu navigation, and HD Audio passthrough.
The specs of the box are:
CPU:Cortex™-A7 Quad-core CPU
GPU: PowerVR™ SGX544MP2
RAM: 1GB DDR3
Storage: 8GB
Wi-Fi: 2.4GHz 802.11 b/g/n
Android 4.4
Supports 1080p
Video: M2TS, TS, MP4, MKV, AVI, VOB, H264, MPEG2, RMVB, FLV, WMV, etc.
Audio: AC3, DTS, MP3, PCM, etc.
Picture: JPG, JPEG, BMP, GIF, TIFF
Optical Output
USB 2.0 x2
HDMI 1.4
Ethernet Port
I like the look of the VidOn box. It's small, simple, stylish, and doesn't take up much space. The only thing that was a bit unwieldy was the antenna, which had to be adjusted so it didn't stick up in front of the TV. The WiFi worked just fine that way, so it wasn't a problem. The USB ports were far enough apart that I could fill all ports with decently sized flash drives.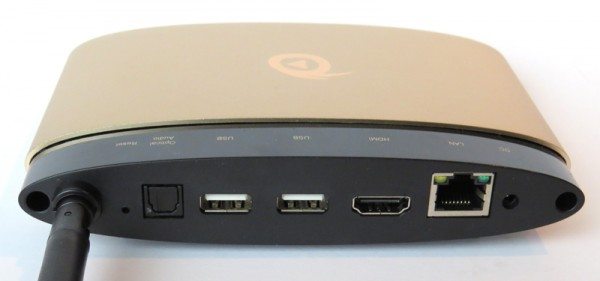 The instruction manual showed how to set up the hardware, and this is as far as the included instructions went.
When I plugged in the box, it turned on right away and had a setup screen. Here I was able to connect it to my network, set the time, and tweak the video settings before seeing the VidOn Media Center screen. This part was pretty simple and streamlined.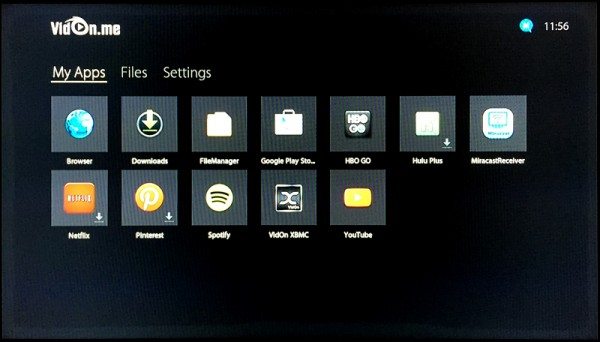 Since the Media Center is in beta, there isn't much to write about. You can go to the Google Play store to install apps and watch Netflix, YouTube, and other media apps here. You can also set your options and view some video files via your USB from here. However, the controls are not near as good as the XBMC, so I would recommend not bothering with video files from the main Media Center screen. YouTube via the Media Center screen was also buggy, as if it was wanting a touch screen. Once again though, you could run an app in the XBMC for YouTube and search and view videos with no problem. My recommendation with this screen? Don't bother much with it, and head over to the XBMC.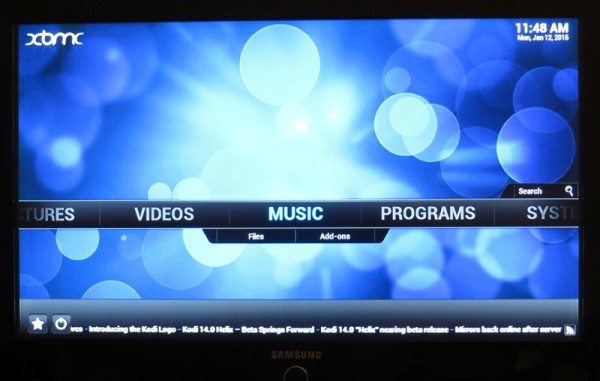 The biggest thing that VidOn touts with it's boxes is the VidOn XBMC and VidOn XBMC Pro. The differences between the two are what I wrote above for membership; OTA updates, Blu-ray menu navigation, and HD Audio passthrough. Since I don't use HD Audio or have many .iso files or Blu-ray movies, the XBMC Pro is not necessary for me. I did try out the Blu-ray menu support and it worked quite well.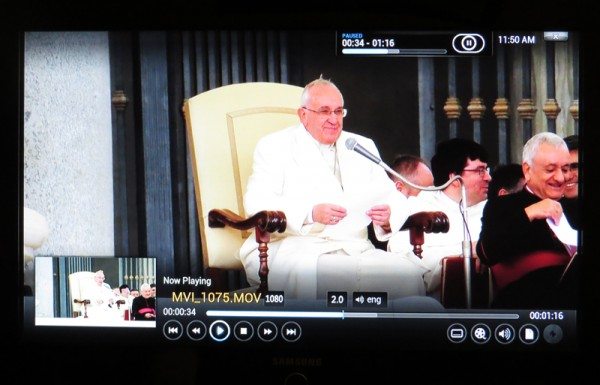 Since video playback was what interested me most about this player, I first checked out the 'Video' tab. This is where you can play, you guessed it, videos. Adding videos isn't the easiest thing to do, however. There are several different locations where you can find videos, and when you are adding, all of them show up. Since the instruction manual did not include anything about this, I had to use trial and error to figure out where my files streamed from my PC would be. The USB inputs were straightforward, and honestly, they worked the best. Some files (such as my .iso file I tested) would not work via streaming, but worked fine on the USB. Quality-wise, there was no difference between streaming via Wi-Fi and plugging in a USB. Some buffering was needed at the beginning of a video, but it was less than 10 seconds before the video started, and the quality was at its maximum from the start.
VidOn also touts that you can play most video formats on their box. Not only that, but it will also play 3D video. Sadly, I have yet to upgrade to a 3D TV, so I was unable to test that part out.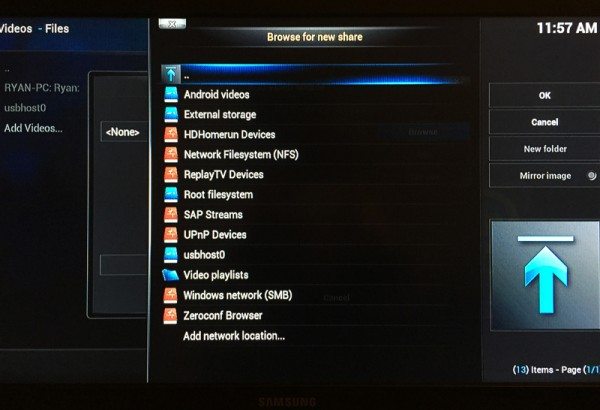 Pictures and Music worked fine. Once again, the hardest part was adding the file locations into the XBMC. As you can see above, there are quite a few different sources. What ended up working for streaming from my computer was the UPnP Devices choice. There are no instructions included with the VidOn Box on how to add files, so you have to either figure it out through trial and error, or attempt to Google it. VidOn does have forums for support if needed. I found a few answers there, but mostly, trial and error was the way to go.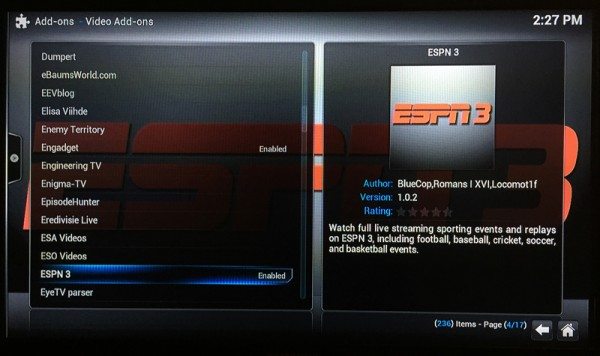 Inside of the XBMC, there are apps you can download. When I chose to review this box I did not realize this and found in the end that it was my favorite part about the box. There are so many different video apps you can download, from Fox News to ESPN3. Even CrunchyRoll, an anime video app similar to Netflix, was on there. HBO Go and Netflix was missing, along with Hulu. You can get those via the Google Play store in the Media Center, but they are unable to be used with the included remote.
So, how well did it play the several formats that we had? All of my standard format video files worked fine on the box. The only problems it had were with certain .mkv files. On the files that played we were able to choose subtitles if they were included in the file. That was a really nice feature. However, about half of the .mkv files we had wouldn't work. The file simply would not show up to be chosen to play. So, we had to revert back to our old way of viewing for those files.
Would I recommend this box? For what we would use it for, probably not. We have cable and most of the apps we were able to get on our TV. It was convenient to use on our secondary TV which is only hooked up to the basic cable channels, especially for ESPN3. It has a bit of a learning curve, but the XBMC could be quite useful if you are a cord cutter. From what I've read of other reviews of Android boxes here on the Gadgeteer compared to my experience with the VidOn box, I would shop around first before deciding on this one.
Source: The sample for this review was provided by VidOn. Please visit www.vidon.me for more information.
Support The Gadgeteer
:
The Gadgeteer is supported by readers like you! If you buy something through the links on our site, we may earn a small affiliate commission. Thank you! Learn more.
Product Information
Price:
$69.99
Manufacturer:
VidOn
Pros:

Can stream from local network computers
Can plug in multiple portable hard drives
Can choose subtitles if offered

Cons:

Lack of included instructions on how to access media
Apps on the Media Center side can be buggy
Missing some notable video apps in the XBMC