We use affiliate links. If you buy something through the links on this page, we may earn a commission at no cost to you. Learn more.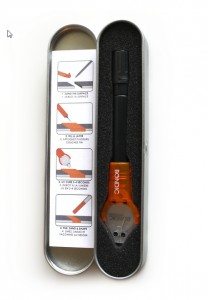 Last year Julie was nice enough to send me a packet of Sugru in a care package. While I love the stuff, it is not always suitable for every fix I need. Enter Bondic liquid plastic welder. Bondic is not a glue, instead it is a liquid plastic that you use to bond surfaces together. The cool thing about this product is that it is cured using a UV light that is included with the kit. On the Bondic web page they have the "Bondic Principles" that highlight the uses and features of Bondic:
works best on rough surfaces and even better with undercuts
solidifies only by exposure to UV light (LED included)
works best in layers (the maximum thickness of one layer is 1- 1.5 mm)
works best when the surface is clean and free of grease
is solvent free, which is one reason why it doesn't dry out
is a liquid plastic welder that should be used with the principle of welding and not gluing
With the ability to use it almost anywhere and its quick drying time (4 seconds), Bondic may make the perfect addition to anyone's EDC/bug out/emergency kits. A Bondic starter kit will run you $21.99 on their website and they have lots of how to and practical application information on the site as well.