We use affiliate links. If you buy something through the links on this page, we may earn a commission at no cost to you. Learn more.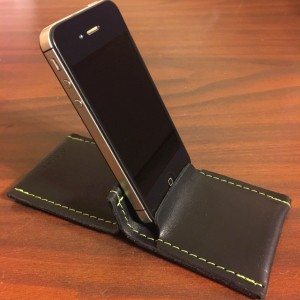 I like wallets, and I also like items that are multi-functional, which give better value for their price as well as potentially enabling you to carry less stuff around. When Julie asked me if I'd like to try out a Wezel wallet, my first thought was, "A what?" I was immediately intrigued by the name and had to investigate. Turns out that the Wezel is really a "Wallet Easel"—a slim-style wallet that not only carries several cards and some cash but also transforms into a phone stand. It sounded like it had some potential to be fun and useful, so I agreed to try one out. Gadget on!
Background
I've been on the hunt for the the perfect wallet (well, perfect for me at least) for some time now. In addition, two of the EDC items that I never leave home without are my wallet and my iPhone.  The Gadgeteer's own Larry Geisz brought the Wezel, the "Wallet Easel," to our attention in a new item post a while back. While I admit that I don't typically find the need for a portable, pocket-sized stand for my iPhone, the prospect of a combination wallet-phone stand did sound interesting.  The Wezel began as the brainchild of creator Kyle Parkin as a successfully crowdfunded Kickstarter campaign and has since progressed beyond Kickstarter into a product in its own right.
Options
The Wezel is available in the following color options, each for $39.99:
Saddle
Black (reviewed here, but in special Kickstarter edition with green stitching)
Buckskin (both with and without Irish Bear logo!)
Coffee
Specs
Per the Wezel site, here are the specs:
Storage Capacity – up to 8 cards, 10 bills
Weight – 0.2 lbs
Dimensions – 4 x 2.75 x .5 in
Leather – Top grain
Guarantee – Lifetime
Location of Manufacture – USA
Packaging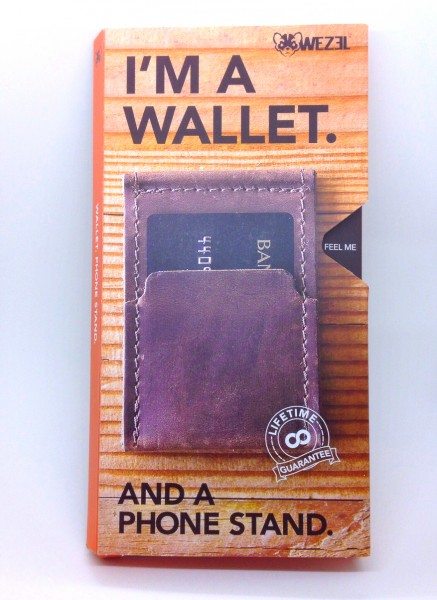 The Wezel packaging is a long cardboard box with a fold-open flap-type cover.  Lots of graphics and information printer all over it.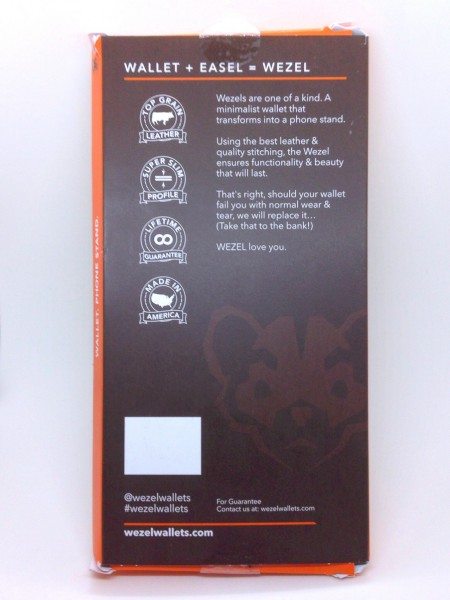 Opening the cover flap reveals a narrow slot that allows the color and feel of the product inside to be inspected.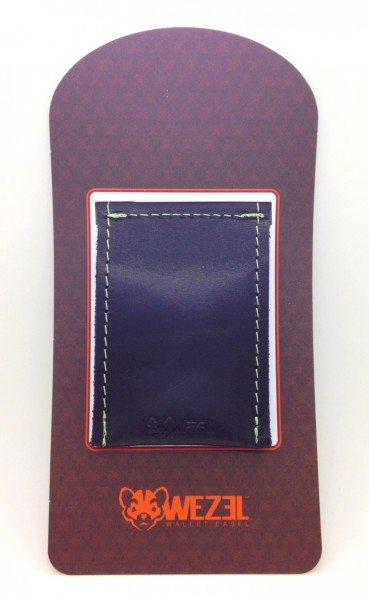 Within the packaging was an insert holding the Wezel wallet.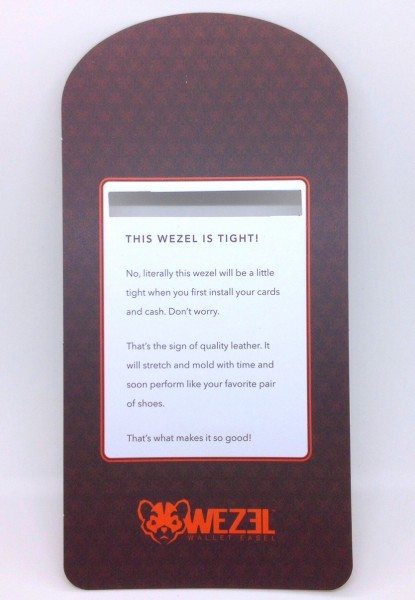 It was quick and easy to slide the Wezel up and out of the insert.  Printed on the insert was a warning: "This Wezel is Tight!"  It went on to explain that the Wezel would be "a little tight when you first install your cards and cash."  This will become important later, so file this away for a bit.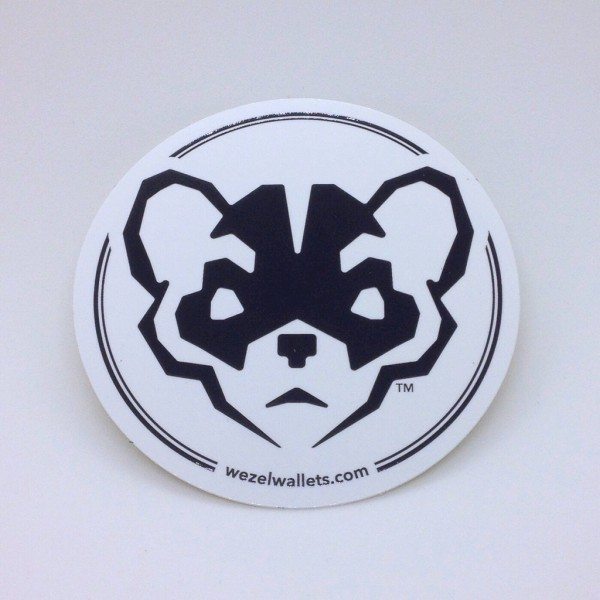 Also inside the package was a Wezel logo adhesive decal.  Cute little critter.
Features
One of the first things I noticed about the Wezel wallet was that it was made from what seemed to be rugged, high-quality leather.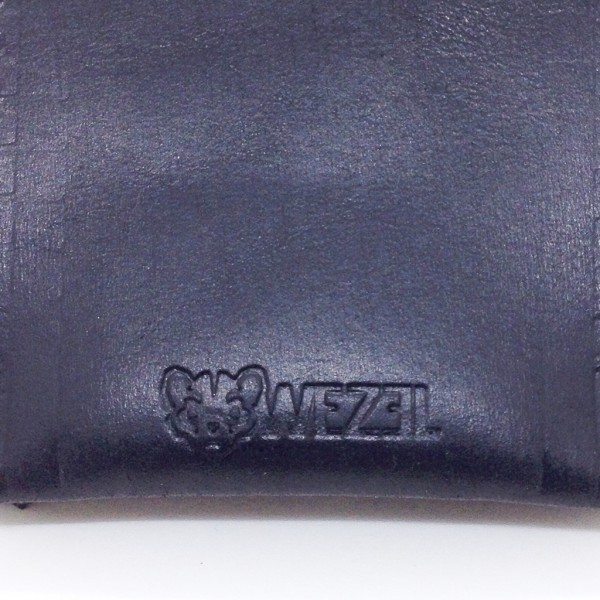 The Wezel critter logo was embossed directly into one side of the wallet.  I like this because it displays the company's logo, but does so in a subdued manner, not gaudy and bold.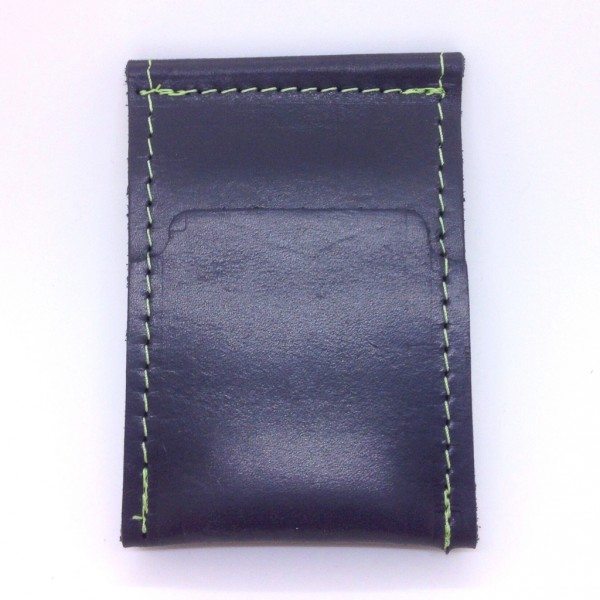 The opposite side of the Wezel wallet included a simple outside pocket.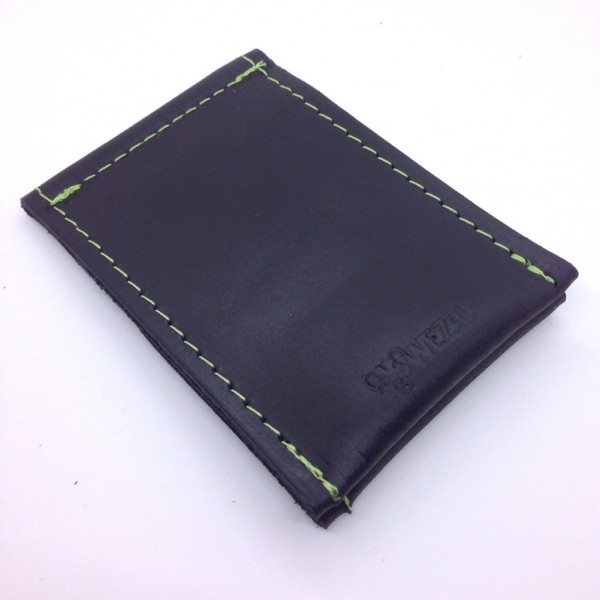 In addition to the quality of the leather, the stitching on the Wezel was top-notch.  It looked great and seemed very durable.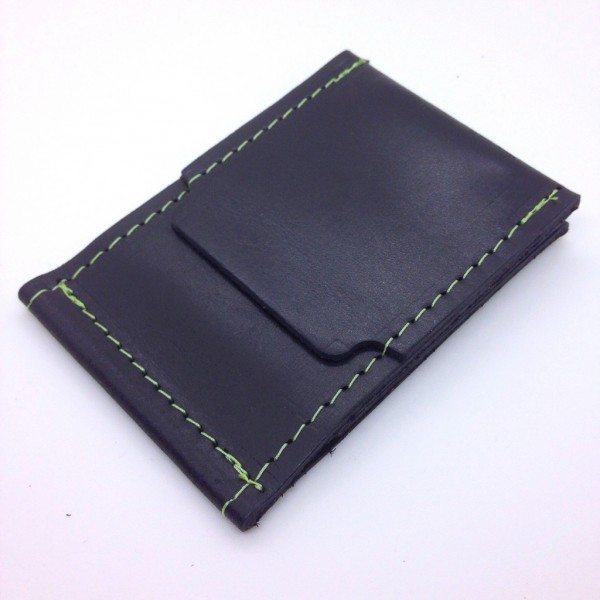 Basically, the Wezel had a very simple, rugged and elegant style.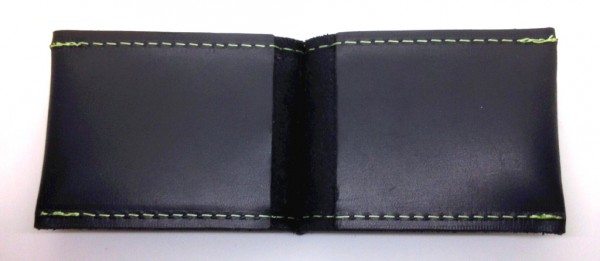 Inside the Wezel are two pockets, one on either side.  We'll get to filling those pockets in a minute.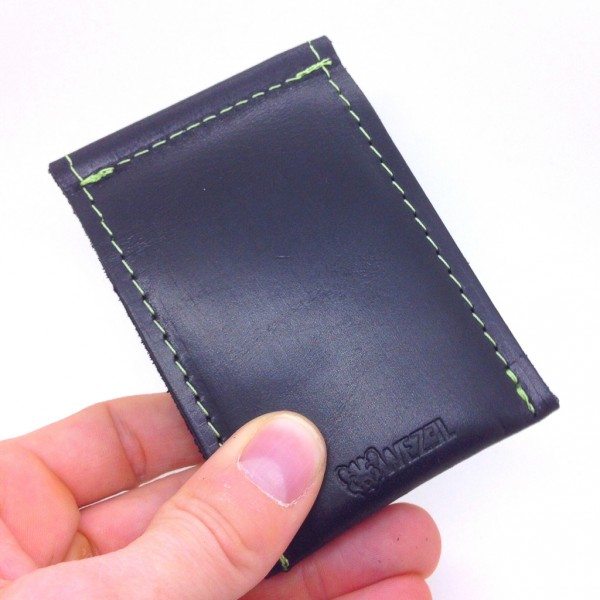 It should be evident from the above photos and description that the Wezel is intended to be a simple, minimalist design.  In addition, as depicted in the photo immediately above, the Wezel is also designed to be slim with a small footprint, which makes it a good candidate not only for standard back-pocket carry, but for front-pocket carry as well.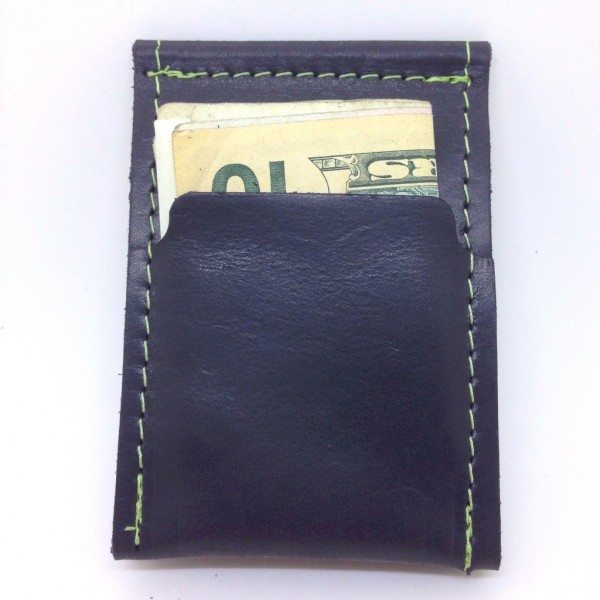 I inserted several bills into the Wezel wallet's outside pockets.  The bills had to be folded into thirds in order to fit into this pocket.  As depicted above, there were a total of four US bills in this pocket.  A bit of a tight fit, but they did fit.  Not sure I would attempt to put many more bills than four into this pocket, at least without a bit of a struggle, or perhaps until the Wezel was broken in a bit.  The Wezel site boasts that it will hold 10 bills, but I'm not so sure about that.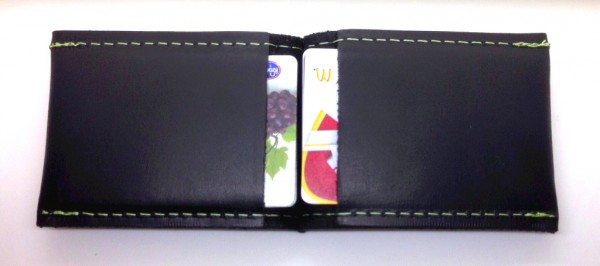 Inside, I placed two credit cards into each of the two pockets.  I really didn't feel like I could fit any more cards than that into each one without really forcing them with my Hulk-like strength.  And I don't break that out for just anything.  Here again, the Wezel sight claims that it will hold 8 cards, but I just wasn't seeing it.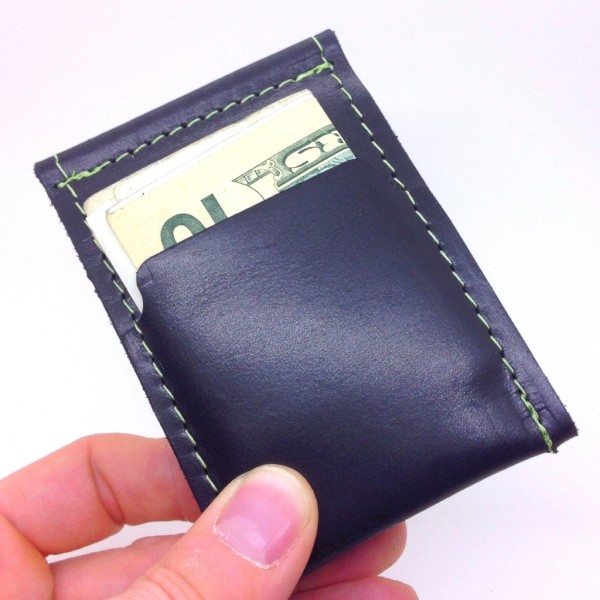 With the four cards placed into the inside pockets, this expanded the outside pocket even tighter, evidence of which can be see in the photo above where the bottom edge of the bills are now pushing against the outside pocket, which also made it even more difficult to insert and remove bills from this pocket.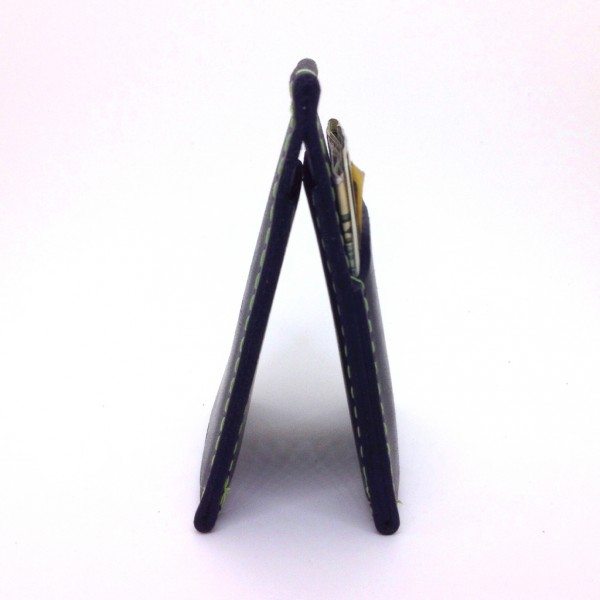 The photo above depicts the Wezel just after inserting the bills and cards.  The Wezel had a tendency to pop open on its own and not stay closed.  This really doesn't matter a whole lot while the Wezel is in your pocket, and I suspect that this effect would subside over time as the Wezel's leather breaks in.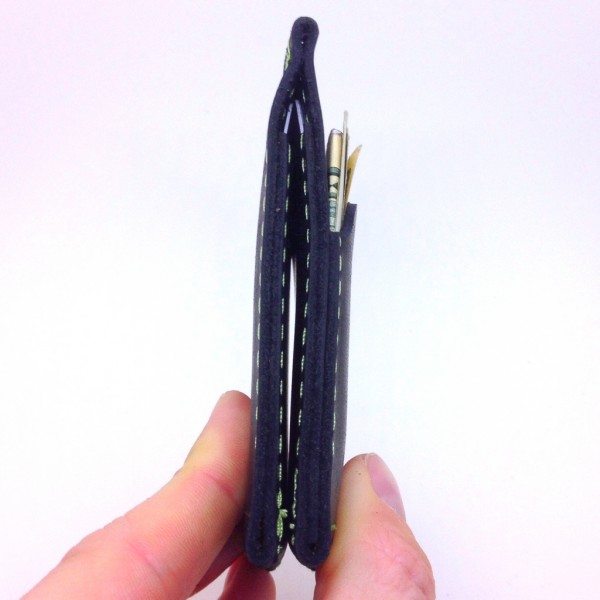 However, one thing I noticed when I pinched the ends of the Wezel closed was that the ends of the cards inside it appeared to be curving toward each other (see photo above), possibly placing them under stress while riding around in my pocket.  It made me wonder if this would stress the cards to the point where the edges would break off.  Perhaps not, but I have had this happen to cards in past wallets.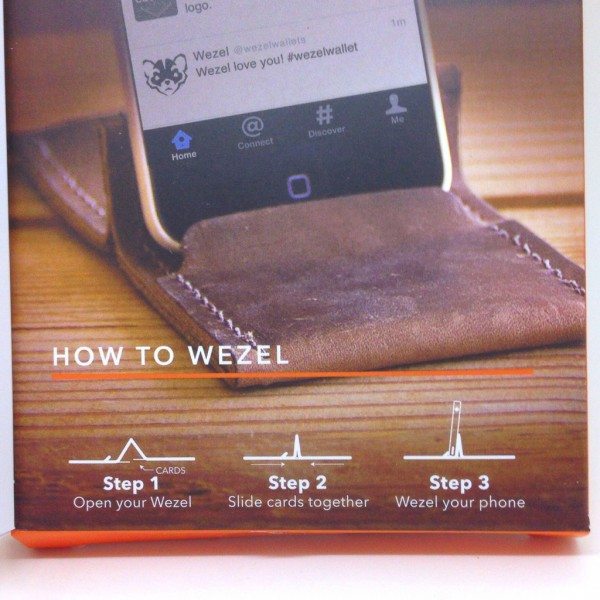 To transform the Wezel into a phone stand, I referred to the directions on the package which depicted a three-step process.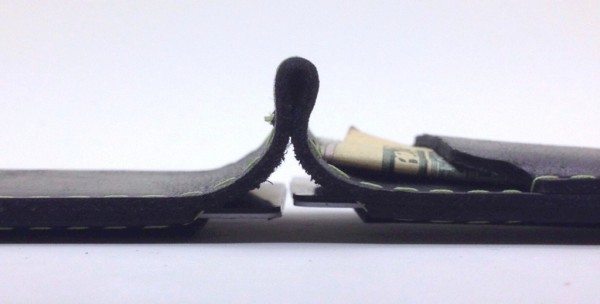 Step 1, open the Wezel.  Easy enough.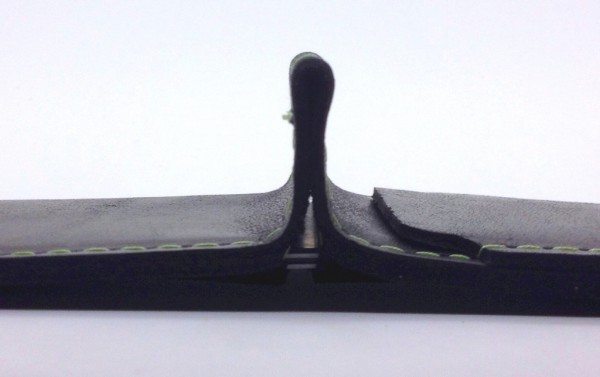 Step 2, slide the cards together.  In practice, what this means is to push the two halves of the Wezel toward each other until the protruding edges of the cards overlap, then further pushing those edges into the opposite pockets.  As depicted above, I actually had to remove the bills from the outside pocket in order to accomplish this, as the edge of the bills protruding from the outside pocket were stiff enough to prevent the Wezel from flexing in the center.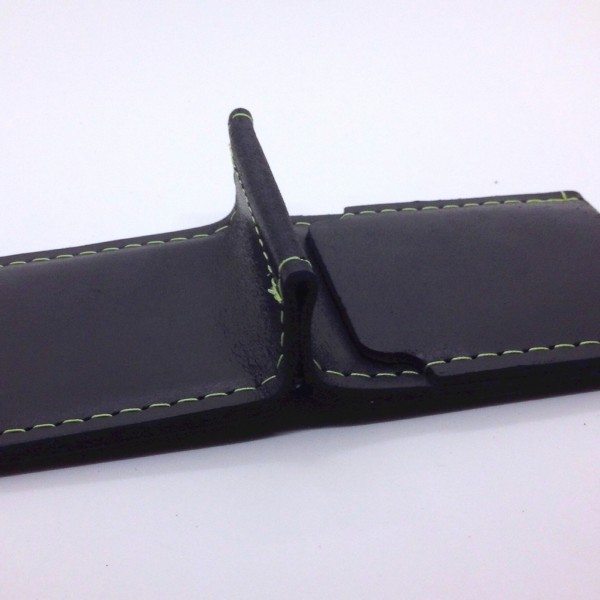 The effect of the above steps are intended to lock the two halves of the Wezel together to form a flat, stable platform, but as mentioned above, the bills had to be removed from the outside pocket in order to get to this point.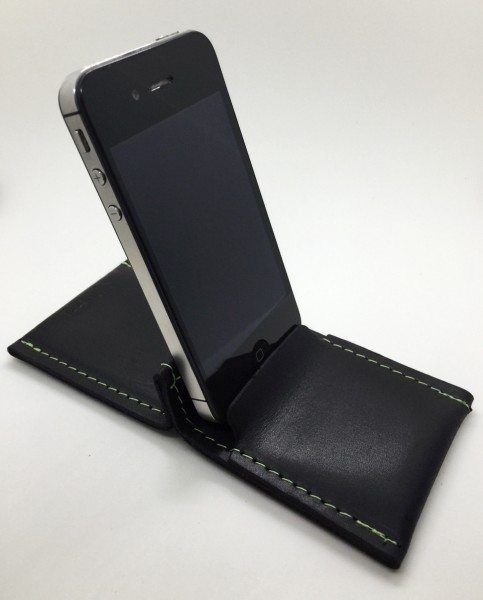 Step 3, "Wezel your phone."  I suppose this means to nestle your phone in between the now upright center portion of the Wezel and the small flap on the open edge of the outside pocket.  I have to say that this was a bit of a chore.  I had to work the small flap on the pocket for a while to get it to behave this way, and I had to really practice balancing my iPhone 4S in this position.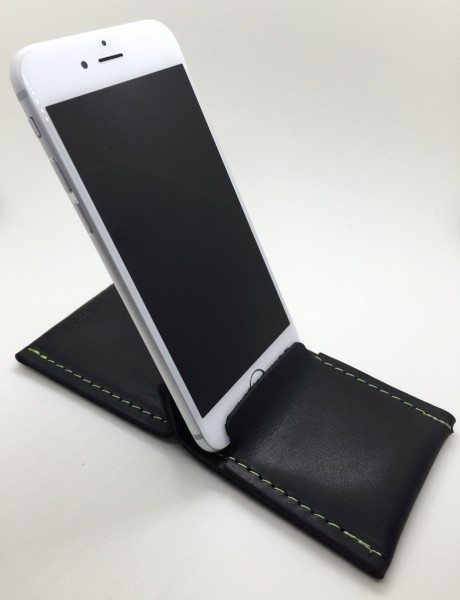 I also tried out my daughter's iPhone 6 in this position, and it turned out reasonably well also, but with a similar difficulty.  In fact, it seemed that the iPhone 6, with its additional length, was perhaps even more difficult to place in this position.  However, its lighter weight may have helped balance this out and kept it from toppling over.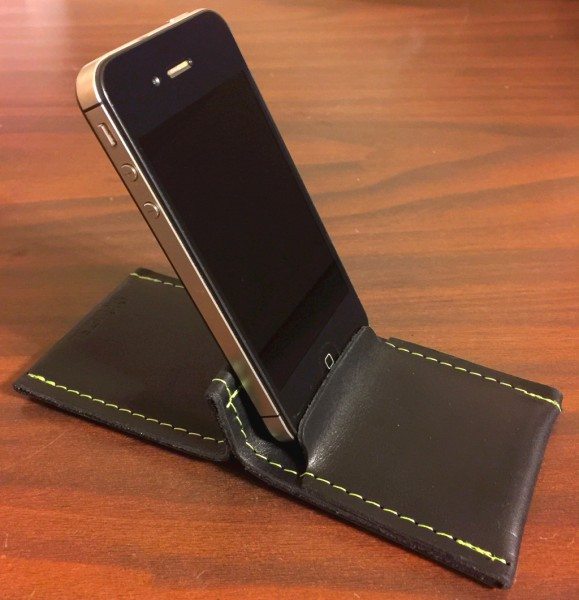 Conclusion
The Wezel, or the "Wallet Easel," is a wallet that can be transformed into a phone stand.  It is made from high-quality, durable leather and with rugged stitching.  Its simple design, slim profile and small footprint make it an ideal front-pocket wallet, but it should be at home being carried just about anywhere.  While the Wezel site claims that it will hold 8 cards and 10 bills, I was only able to fit about half that.  Perhaps over time, the leather would break in and the Wezel would expand in capacity.  Transforming the Wezel into a phone stand, although simple in theory, was a bit more challenging in practice and probably not something that I would see myself doing all that often.  However, if you are looking for a combination slim, minimalist wallet made from high-quality leather that can double as a phone stand, you may want to take a look at the Wezel.
Update 04/18/15
I was not very impressed with the Wezel. It was difficult to set up in display stand mode and didn't hold many cards.
Source: The sample for this review was provided by Wezel Wallets. Please visit their site for more info.
Product Information
Price:
$39.99
Manufacturer:
Wezel Wallets
Pros:

Simple, minimalist design
Slim profile and small footprint for front-pocket carry
Good quality materials and construction

Cons:

Tight (at least a first)
Phone stand feature was difficult use