We use affiliate links. If you buy something through the links on this page, we may earn a commission at no cost to you. Learn more.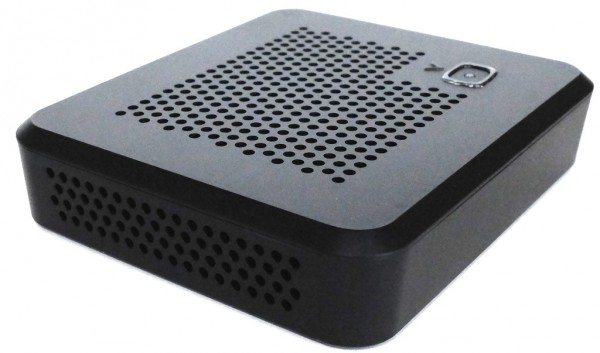 We cut cable a long time ago and opted for over-the-air (OTA) channels using antennas. Back in the day, we also bought DVD recorders to record our favorite shows but had problems with ALL of them, and never got around to replacing them. Most of the time I'm at home when my shows are on, but I sure have noticed the lack of a DVR when I'm not. Recently, Simple.TV became available for review here at the Gadgeteer. It is an OTA and unencrypted digital cable "whole planet DVR" (meaning you can record to your Simple.TV device from anywhere and watch from anywhere). Would it work for us and fill the hole in our entertainment AV arsenal? Oh, how I hope so.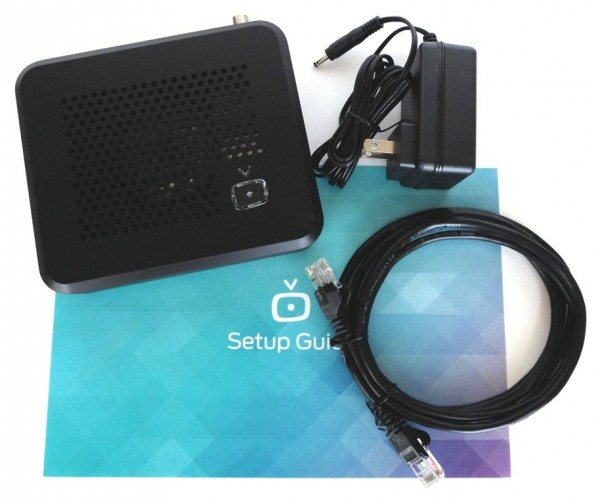 Package Contents
Simple.TV 2, dual tuner network DVR
6 foot network cable
AC power supply
Getting Started Guide
About Simple.TV
This is a dual ATSC tuner DVR that allows you to record live OTA TV shows onto your connected USB hard drive via your Simple.TV device. Just purchasing the device alone without the service will allow you to watch, pause and record live TV; record two shows at the same time; record individual TV episodes; and allow you to access TV show details and images all within your home.
You do not have to purchase the Premium service, but if you would like additional features you could pay $59.99 per year or you could pay $149.99 to get the service for a lifetime from the Simple.TV website. This service will provide the following additional features: whole planet remote access (to record or view shows from anywhere, not just within your home), automatic series recordings, pause and resume on selected devices, and an easy access pass to see new features before anyone else.
This review applies to the Simple.TV 2 box made by SiliconDust with the premium service. There is an older first generation Simple.TV device out there as well. The differences between the two are that the Simple.TV 2 box is a dual tuner device and does not have a coax output whereas the first generation Simple.TV device has one tuner, a coax output, and an additional Ethernet port.
Design & Build Quality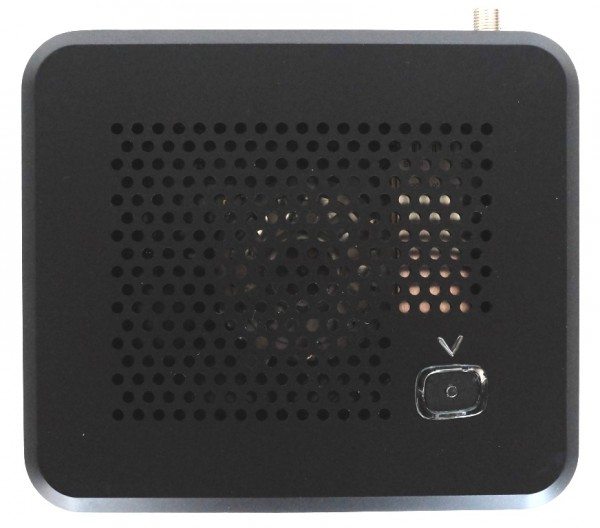 The Simple.TV 2 device is a plain, rigid black plastic box with large vents located on the top and sides. You can see the fan through the top vent.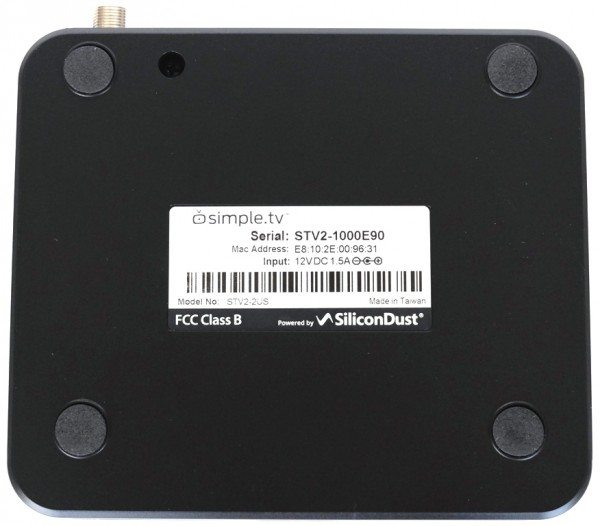 The bottom of the device has four rubber pads to keep the box from moving around.

The back of the device has a coax input to connect to your OTA antenna, a USB input for a mass storage device, an Ethernet port to connect to your router, and a DC power port. There is no coax output to connect to your TV to watch what you've recorded. Instead, Simple.TV streams your recorded shows to your  computer or mobile device for viewing using the Simple.TV app from which you could also watch the show on your TV via Roku, Apple TV, or Chromecast.
Setup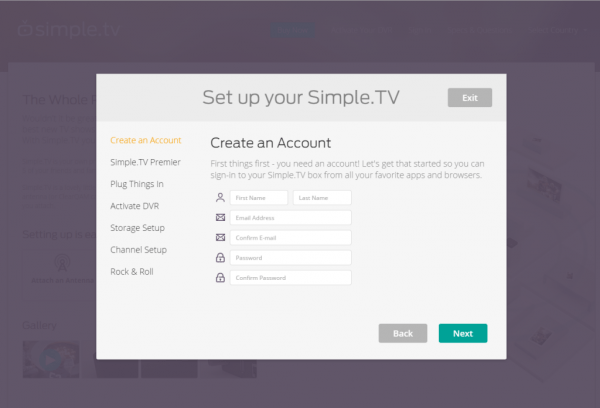 To setup Simple.TV, you must create an account online on the Simple.TV website and enter your service level (there is a code to enter if you have purchased the premium service).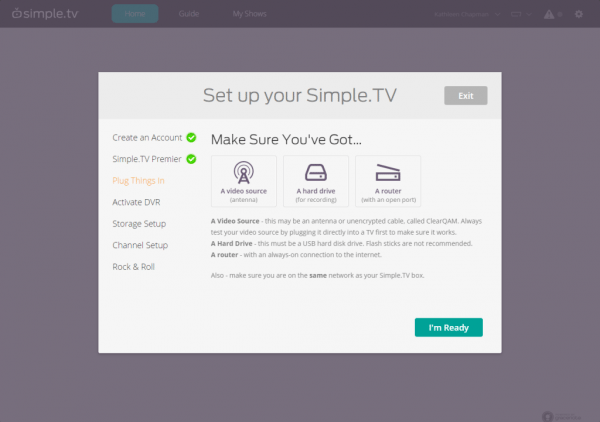 To use Simple.TV you MUST have an antenna, a USB hard drive, and a router. In addition, you must first connect your hard drive and Ethernet cable before powering up the Simple.TV box.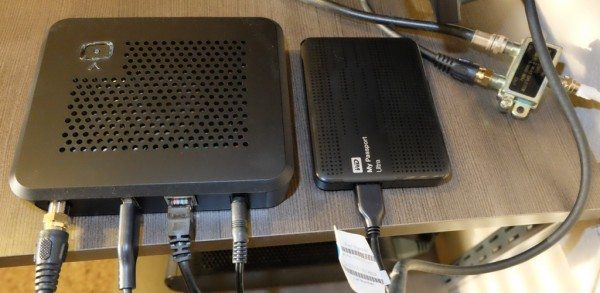 Here is my setup. When setting up the Simple.TV device, I decided to use a coax splitter to allow me to determine whether or not I had decent antenna reception without having to unplug the antenna from the Simple.TV box, plug the antenna into the TV, then back into the Simple.TV box. If you don't have a splitter, you would need a dedicated antenna for the Simple.TV box and another for your TV.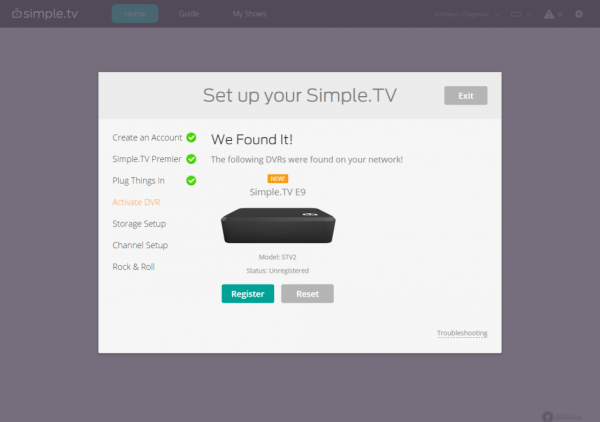 Your Simple.TV box should then be detected.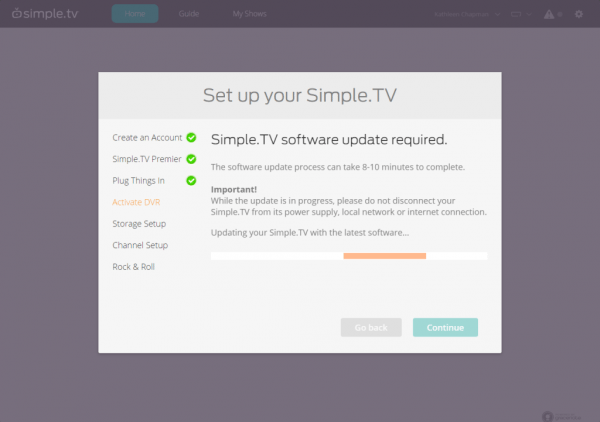 There may be an update to install.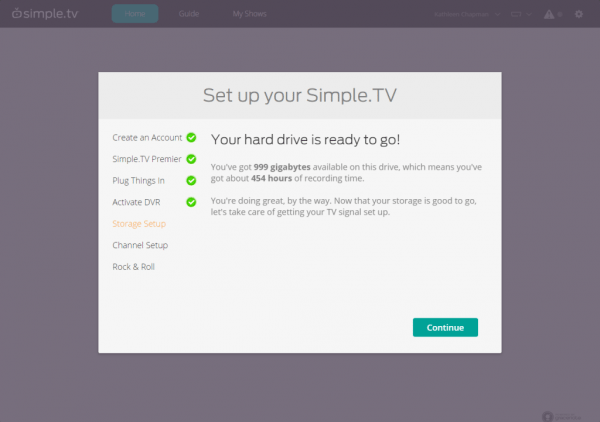 You will then need to format your hard drive to prepare it for recording.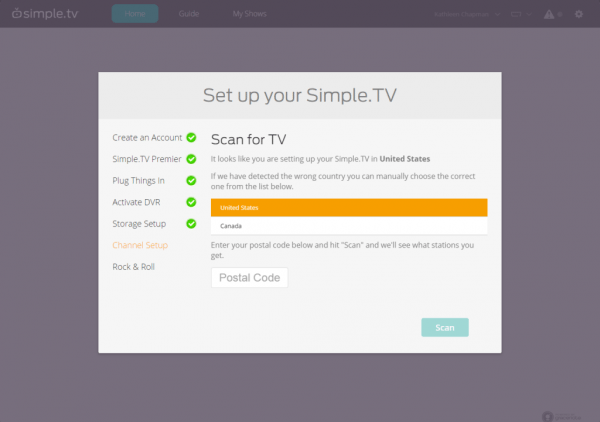 Next you will need to scan for channels by selecting your country, selecting whether or not you have an OTA antenna or unencrypted digital cable, and entering your zip code.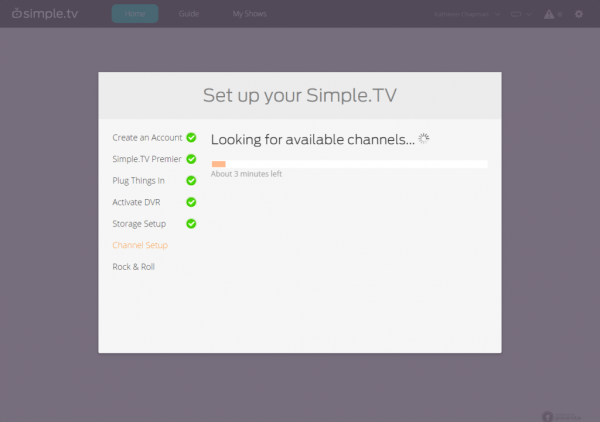 Scanning for channels…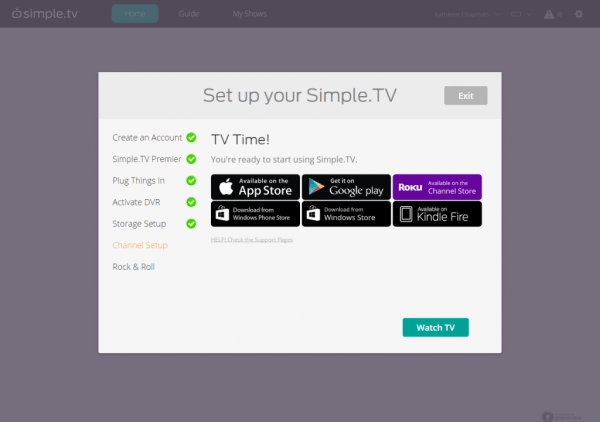 At this point you will need to install the Simple.TV app on all of your mobile devices to watch your recorded shows.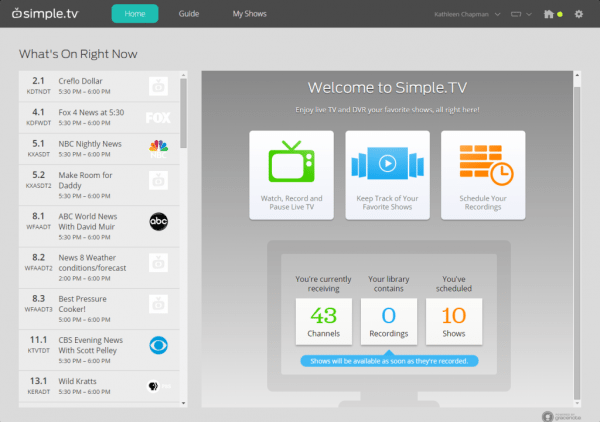 Here is what the Simple.TV web interface looks like.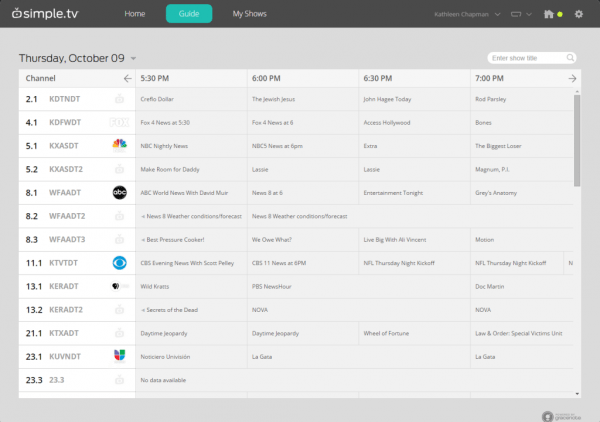 You can browse through one day's worth of programming or you can perform a search on a particular TV show to record.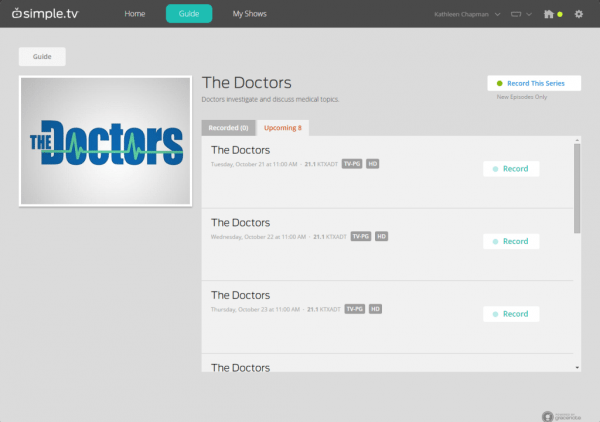 I used a search to find this show, then decided to record the series (recording a series is a Premiere service feature in which you are able to choose just the new episodes or the new and rerun episodes to record). You could also record individual episodes that interest you by clicking on the Record button next to the episode.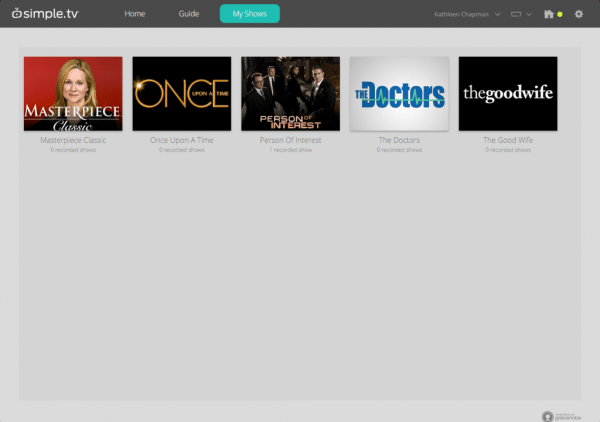 To check on the list of programs you are recording, you may click on the "My Shows" tab. For some reason, when you do the same thing from a mobile device app, it will only show the TV programs that have recordings and does not list those that you intend to record.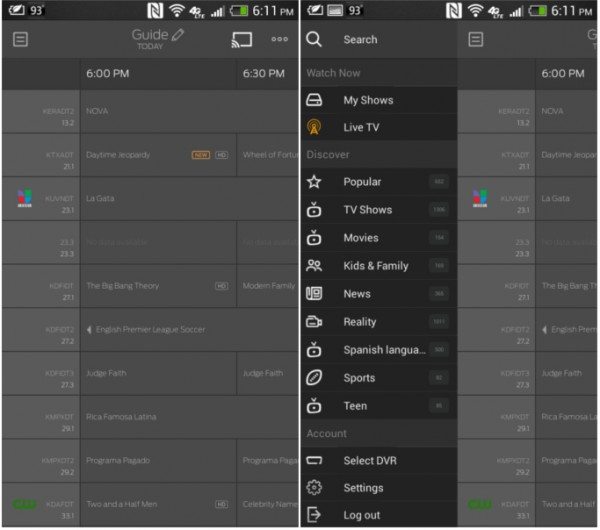 The Android and iOS apps on my HTC One X phone, Nexus 7 2012 tablet, iPod Touch 5G, and iPad Mini look nearly the same. Here are screenshots from my phone showing the TV listings and the menu items.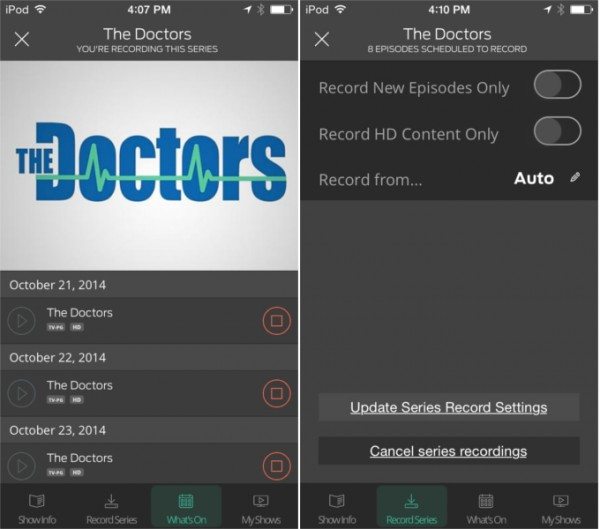 You may setup recordings of your favorite TV programs on your mobile device (these are screenshots from my iPod Touch). In this case, I used the app's search tool to look for this show. When setting up the recording you can set it up to record one show at a time just by tapping the record button next the the desired episode or you can record the series by tapping on the Record Series tab located at the bottom of the app. Then you can choose to record just the new episodes or record only HD content.
Use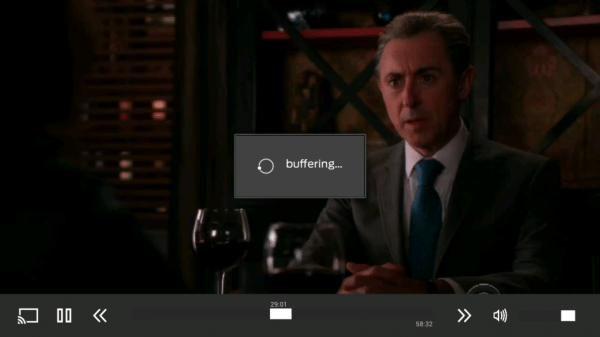 I initially started watching my recordings using my phone then my iPod. Starting with my phone was a mistake. It is old and slow and I had the most difficulties playing the recordings on it. The video would stop to buffer every few minutes and more often than not, would never continue. This required me to stop the video, completely close the app, reopen the app, and restart the video only to have the same problems repeat. Sometime the app would stop responding altogether. I tried using Chromecast but with all of the problems I was having, this too was unsuccessful. I had these problems EVERY SINGLE time I tried to play any video recording on my phone. I also had many instances where the video would pause and repeat the last second played, then play normally for a few seconds then repeat the same problem. There were also aspect ratio problems. In addition, I noticed that when any of these problems occurred, I would stop the video and about half of the time when trying to play the video again, I had to start at the beginning of the program. The paid service is supposed to let you resume where you left off. Okaaaaay, maybe not.
I had moderate success using my iPod in these initial tests when compared to my phone. The iPod would pause to buffer (for a much shorter duration than my phone) and then sometimes continue, but sometimes not. Like my phone, it too would repeat portions of video, but not quite as frequently. In the most recent tests, I was able to play a couple of recordings with much greater success. In this case, during an episode there might have been only one or two pauses to buffer, no repeated video, no aspect ratio problems, and no app crashes. You might think that the problems lie with our WiFi. When streaming Netflix, my phone will tend to stutter a bit while watching something, but our other devices do not have this problem and will stop to buffer maybe once or twice when watching a TV program.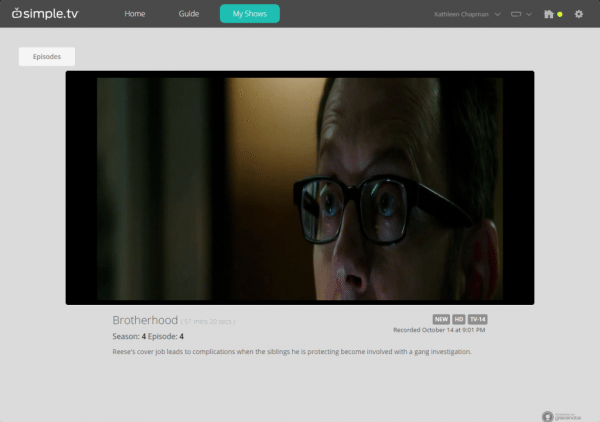 This is an example of one of the problems I was having while watching a recorded TV show. In this case I was using the Simple.TV web interface. The aspect ratio was sometimes completely off and would shift back and forth. Compared to my phone and iPod, watching on my computer yielded better results. It paused less often and in general had less problems.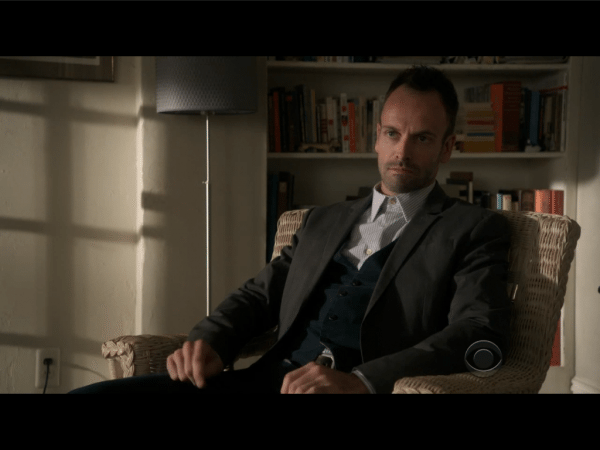 Watching the recordings on our tablets seemed to improve my results. I had the best results using our iPad Mini. I was able to view a few TV shows with only an occasional pause to buffer. Viewing recordings using a Nexus 7 2012 tablet had some issues but not as many as my phone. The video stuttered a bit – it would play for a second, then pause, play for another second, and then pause again. This happened for about five or ten seconds of video time, after which it would play normally for maybe 10-20 seconds then repeat the same problem.
I also found that after watching then deleting all of the episodes of a TV series that I was recording, this somehow prevented any new episodes from being recorded. The device was set to record all new episodes of the series and yet, there were no new recordings (the episodes being aired were new episodes too).
Live streaming TV from all devices was an equally dismal experience. Sometimes, if I was lucky, the program would start for a few seconds before it stopped to buffer and never started up again. Only once was I able to play about 20 minutes of a program before the app crashed.
Recording two shows at one time proved to be successful. I streamed those recordings simultaneously to four of our devices (my phone, iPod, and two iPad minis) and our computer. The computer and surprisingly my phone played the recordings almost flawlessly with just a couple of pauses (the computer had no pauses). One of the iPads did okay, but the other iPad and the iPod performed deplorably. Both stopped to buffer and the app on each needed to be restarted several times. Neither made it entirely through the video. We may have reached our streaming limit here.
Just a couple of notes on the hardware:  some people have reported that their Simple.TV device would run hot and then not work well or that it stopped working altogether. I did not have this experience. However, it is my opinion that the cooling fan is really quite loud and bothersome.
Final Thoughts
It would appear that to obtain the best results with Simple.TV, you should have newer devices to stream video to in order to minimize the number of issues. Apple devices, especially tablets seem to work the best. I would describe the Simple.TV apps to be finicky and prone to crashing. Initially I was very disappointed in the streaming performance of Simple.TV on my phone and iPod with the buffering issues, video repeating certain portions during playback, aspect ratio problems, and the tendency for the app to freeze up; but later tests using tablets yielded better results. They were able to play programs a couple of times in their entirety with a pause here and there to buffer. However, I'm not confident of continued success because of the variety of results that I have received. My conclusion is that Simple.TV does not perform consistently and since it is fairly expensive, costing between $159.99 – $199 for just the device plus the optional service fee, it would be worthwhile to investigate other options.
Update 01/01/15
After few additional weeks of using Simple.TV, it still has frustrating buffering problems. I still cannot recommend it and will continue searching for an alternative.
Source: The sample used in this review was provided by Simple.TV.  Please visit https://us.simple.tv/ for more information.
Product Information
Price:
$159.99 (Service is not necessary but if desired, costs $59.99 annually or $149.99 lifetime @ Simple.TV website)
Manufacturer:
Simple.TV
Retailer:
Newegg.com
Requirements:

An OTA HD antenna (or ClearQAM cable (unencrypted digital cable))
A USB 2.0 or 3.0 hard drive (or even a high-performance USB memory stick)
A home network with internet access as well as a wired connection available to hook up the Simple.TV device
A PC or Mac, 512 MB RAM, 1.6 GHz or faster CPU with the latest version of either Firefox, Chrome or Safari as well as Microsoft Silverlight (free download)

Pros:

Playback on the iPad Mini and computer worked okay
Records in HD
Records 2 TV programs at the same time (only with Simple.TV 2 box by SiliconDust)

Cons:

Playback was dismal on older (supported) mobile devices
Expensive device and service
Simple.TV internal fan is relatively loud
App crashed frequently
Video issues (buffering, aspect ratio issues, repeated video portions during playback)