We use affiliate links. If you buy something through the links on this page, we may earn a commission at no cost to you. Learn more.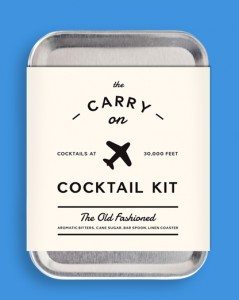 Flying these days can be a big hassle, long lines, short tempers and that's just at the security checks. But there was a time when flying and being on an airplane was a more civilized venture, with hand mixed cocktails and plenty of elbow room. You can't do anything about the elbow room, but you can now get a civilized cocktail (or at least an Old Fashioned) by bringing a Carry On Cocktail Kit. The Carry On Cocktail Kit is the brain child of two companies, W&P Design and Punch, both based out of Brooklyn New York. The kits consist of the following:
Carry on tin
Recipe card
Spoon/Muddler
Aromatic Bitters
Cane sugar
Linen coaster
The Carry On Cocktail Kit contains enough mix to create two Old Fashioned cocktails, all you will need to do is order the mini bottle of Bourbon, mix up the ingredients, then sit back and remember the more civilized days of flying. The Carry On Cocktail Kit will cost you $24 from the Carry On Cocktail Kit web page and the sellers of the product say it will make it through security just fine.