We use affiliate links. If you buy something through the links on this page, we may earn a commission at no cost to you. Learn more.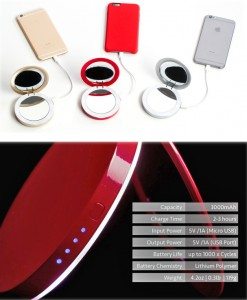 When you have a lot of gear to carry around, you want to make sure you don't carry anything you don't really need.  If you're like me, you weigh the merits carefully before deciding you're willing to lug that particular piece of equipment around every day.  What if you could combine two necessary items into a single gadget?  You'll get a compact mirror and a USB charger in one with the Pearl Compact Mirror + USB Rechargeable Battery Pack.  This active Kickstarter campaign apparently looks like a good idea to a lot of people, because the project has already met 137% of its funding goal with 21 days left.  Pearl has two mirrors, one regular and one 3X magnifying, and an LED light ring to help you see better.  The base of the compact also contains a 3000mAh lithium-polymer rechargeable battery.  It outputs 5V at 1A for charging phones and other small gadgets, but a stretch goal promises a 2.1A port for charging tablets, too.
The Pearl measures only 3.5″ in diameter and is about 0.5″ thick; it weighs just over four ounces.  It will be lighter and take up less room than having a separate mirror and battery pack in your bag.  Pearl is available in red, silver, or gold.  There are a few remaining early-bird specials at $25 for each color; when those are claimed, the price will be $29.  You can earn a free upgraded microUSB/Apple 30-pin/Apple Lightning cable if you Facebook, Share, or Tweet about the project.  The funding period continues through Wednesday, December 3, 2014 at 3:00 AM EST.  Early bird funders are guaranteed their Pearl in December 2014; others will receive their Pearl Compact Mirror + USB Rechargeable Battery Pack in January 2015.