We use affiliate links. If you buy something through the links on this page, we may earn a commission at no cost to you. Learn more.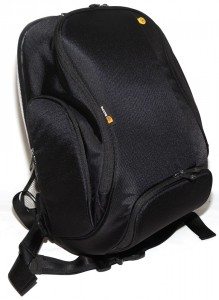 Back in 2010, I reviewed the booq Boa Flow M backpack after decades of carrying a messenger type bag. Since then, I regularly use the Boa Flow M when I need to carry a majority of my tech/travel gear or am going out into the damp Seattle weather. I am surprised by just how much I like and continue to use the Flow M. Its well thought out design and excellent build quality make for one of the best backpacks I have ever seen.  So, I quickly volunteered when booq offered their recently released addition to the Boa Flow series; the Graphite backpack.

The booq Boa Flow Graphite is a primarily black bag with light gray back padding.  Like the booq Boa Flow M, the Graphite's materials are top notch and the workmanship is very well done. The exterior of the backpack is made of heavy-duty black ballistic nylon with a water-repellent coating. According to booq the Boa Flow Graphite is 'weather proof' but they include a 'rain slicker' that fits over the backpack if it is dumping. The 'high-performance YKK' zippers will withstand countless openings and closings.
Specifications (SKU BF2-GFT):
Fits 17″ MacBook / Laptop & dSLR
Exterior 260 × 350 × 500 mm / 10.2 × 13.8 × 19.7 in
Interior 25 × 310 × 500 mm / 1 × 12.2 × 19.7 in
Weight 2.1 kg / 4.63 lbs
Materials: Lining Herringbone / Exterior 1680D nylon
Features:
Ballistic nylon exterior with water-repellent coating
Oversized YKK high-performance zippers
HD foam laptop compartment for optimum protection
Intelligent interior layout optimized for laptop accessories and tech-gear in general
Side pockets for easy access to powerbars, sunglasses, and keys
Limited 5-year Warranty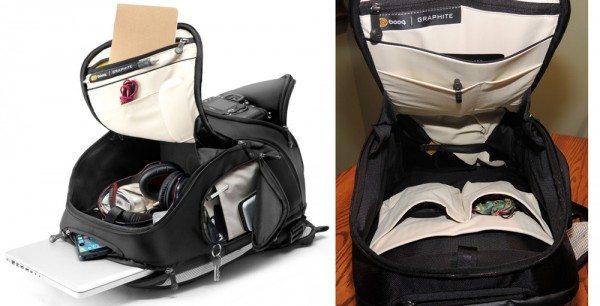 The main compartment has many subpockets of various sizes and shapes for holding a multitude of tech-stuff. Like the rest of the Boa Flow series, the Graphite has a deceptive amount of space to carry gear in and pockets galore to keep it all organized.  Although, sometimes I have to search many pockets to find what I am looking for. Even loaded with everything I typically drag with me, there is tons of room for extras.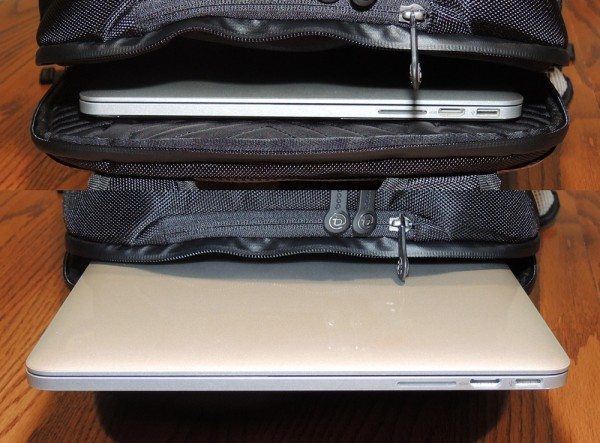 The rear compartment is for your laptop. It is well padded and my 15″ retina display MacBook Pro easily slides inside. This compartment is large and lined with a soft padding material providing an ideal, protected place for your laptop. Designed to carry a large majority of today's laptops (up to 17″). This specialized pocket holds the laptop separately from the main pockets, placing the laptop directly against your back, providing even further protection.

Compared to my original Boa Flow M, the Graphite's laptop pocket is even more weather proof.  The zipper of the laptop compartment has a rubberized coating to further seal the inside from moisture.

On the top/front of the Flow there is a slipper pocket with a vertical zipper, excellent for carrying paperwork. I travel a great deal and need to keep my receipts organized and not misplaced in my travels.  This pocket is perfect for slipping them in while on the fly.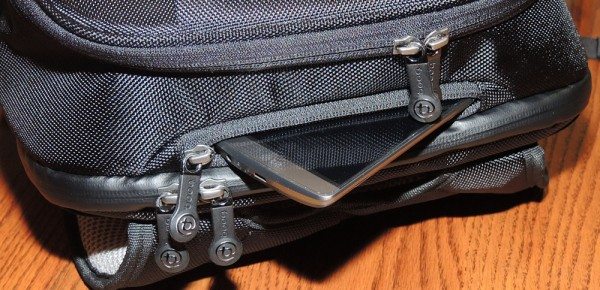 A small, yet excellent addition to the Boa Flow series that the Graphite brings to the table is the small upper slipper pocket specifically design to carry your smartphone. This zippered pocket allows quick access to your cellphone. However, the pocket just barely fits my LG G3 and I doubt that you would be able to jam an iPhone 6+ or Nexus 6 in this space.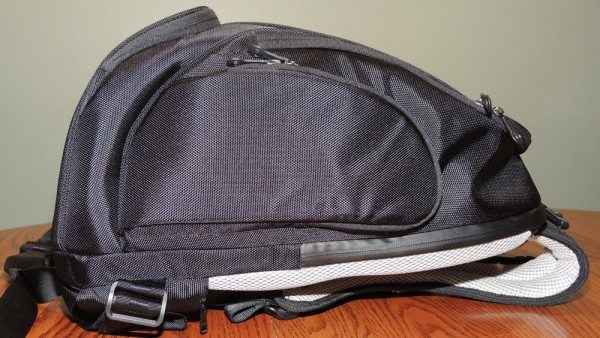 Both sides of the Graphite have a decently sized vertical, zippered pocket. Perfect for a small water bottle, sunglasses case, power bars, or place to stash your keys for easy access.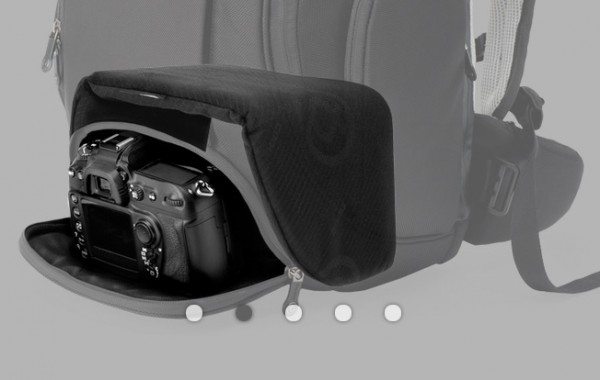 One of the features that makes the Boa Flow series unique is the bag's flexible design; its collapsible bottom compartment and rigid removable frame serve as a protected, separate place for your camera, headphones or other fragile item. When not needed, you can collapse the compartment and remove the protective frame, maximizing the main compartment volume for large items.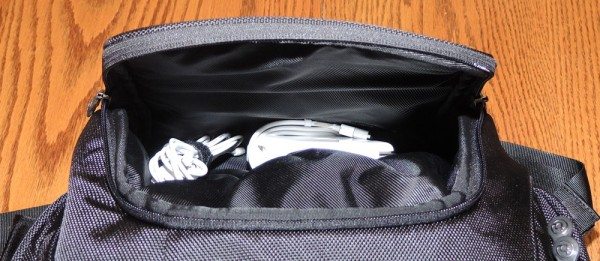 I typically do not carry a dSLR with me but do use this space to keep all of my cables, power bricks and USB plugs organized.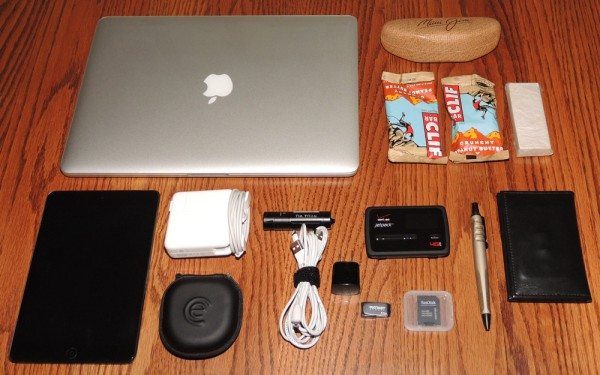 My gear:
15″ retina display MBPro
MBPro power brick
iPad mini
JHAudio JH|5 Pro earbuds
Lighting & microUSB cables
Surefire T1A Titan flashlight
USB power plug
Thumbdrive
SD card adapter
Verizon Jetpack/Mifi
Surefire Pen 3
Credentials
Emergency food
As I mentioned, the Boa Flow Graphite easily accommodates all of my gear and more. The ergonomics of the backpack makes carrying my six plus pounds of gear easy and relatively effortless.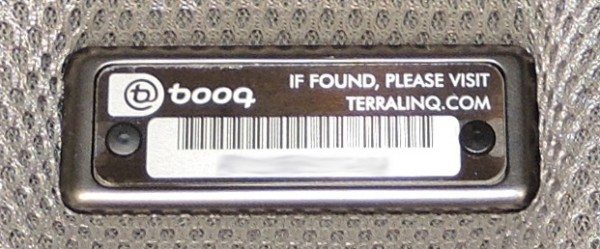 Like a majority of booq's bags, the Graphite has a metal tag with a unique ID number. Once registered, booq's Terralinq service may be able to help you find your bag if turned in.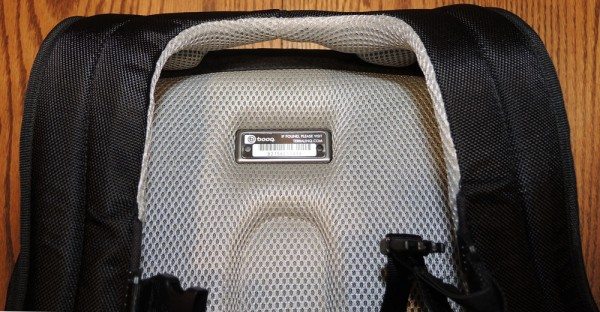 The shoulder straps are nicely padded with both a waist and a chest strap; all adjustable to give a well-carried, comfortable ride. The 'Airmesh' back of the backpack is engineered to add comfort and allows heat to escape.

The ergonomically designed strap system has 3 points of adjustment, maximizing carrying comfort and load distribution. Even fully loaded, it is comfortable and distributes the weight well.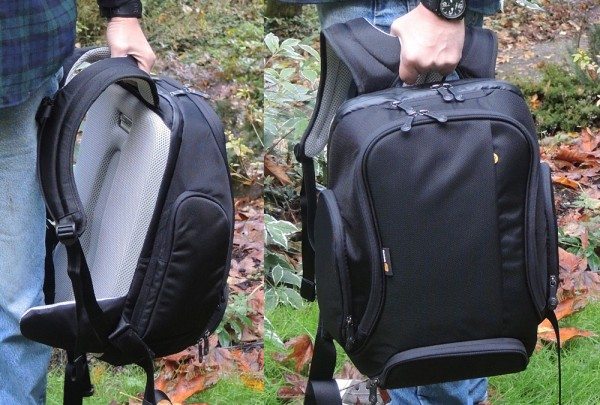 The back straps have a builtin handle for carrying the backpack when not on your shoulders.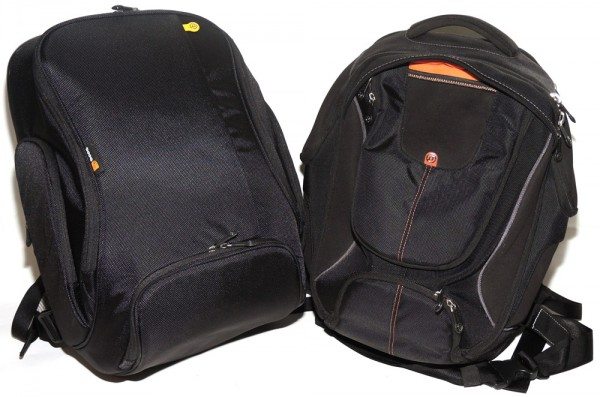 Like I mentioned at the beginning of this review, over the past 4 years the booq Boa Flow M has been my go to travel bag. That said, after using the Graphite a few weeks I have already gotten used to its pocket layout and like its all black, subdued look. There is no doubt, the booq Boa Flow Graphite is a premium backpack designed to securely carry your tech-gear around safe, sound and organized.
Source: The sample for this review was provided by booq. Please visit http://www.booqbags.com for more info.
Product Information
Price:
$225
Manufacturer:
booq
Pros:

Excellent workmanship
Constructed of top notch materials
Very well made
Water-repellent coating
Separate, padded laptop compartment
Many pockets and compartments
Comfortable
Nice looking

Cons: