We use affiliate links. If you buy something through the links on this page, we may earn a commission at no cost to you. Learn more.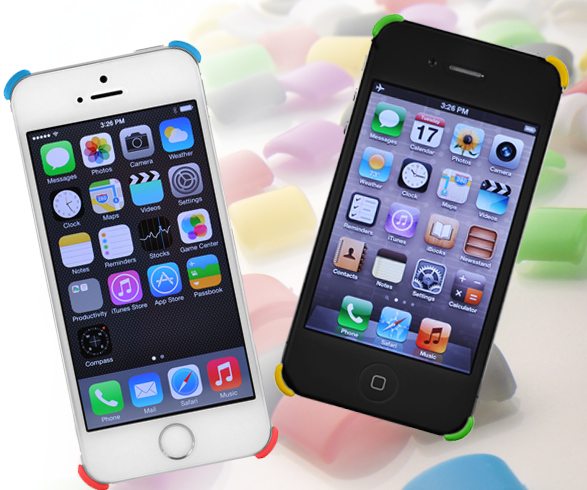 When it comes to a minimalistic approach to protecting your smartphone, Bumpies takes the cake.  These stick-on plastic bits promise all-around protection with as little bulk as possible.  How does it work?
Click all photos for a full size image.
Exceeds Military Spec for Shock with ProDyn impact dissipating technology
Reliable Bond with advanced removable adhesive
Scratch Protection by elevating phone on flat surfaces
Total Access to the screen, all ports, and all buttons
Catch-Free Corners through contoured edges and ultra-low profiles
Easy Installation with innovative alignment sleeve
Bumpies Replacement Warranty
Apparently, Bumpies claim that their corner protectors meet military specifications for shock (MIL-STD-810G-Test Method 516.6), which calls for an object to drop from a height of 4 ft on each of its six faces, 12 edges, and eight corners onto two inches of plywood over concrete on a flat surface.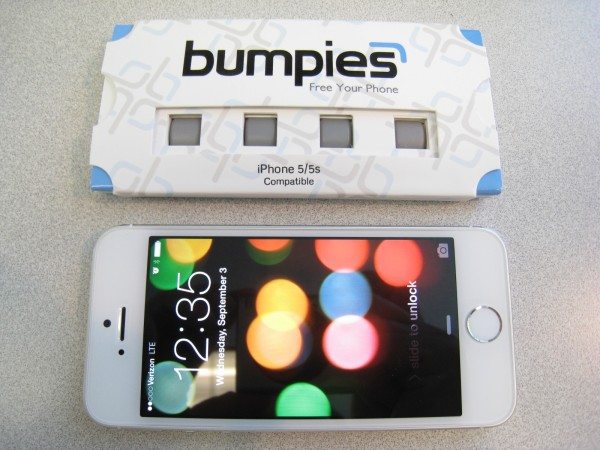 The Bumpies resemble those little square gum things when in the package.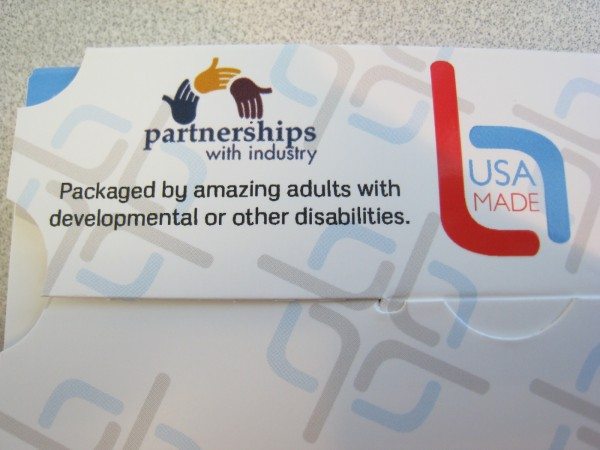 USA made, and apparently, packaged by adults with disabilities.  I tried repackaging the Bumpies to see what it was like.  Let me tell you, it's not quite as easy as it looks!  There must be some trick…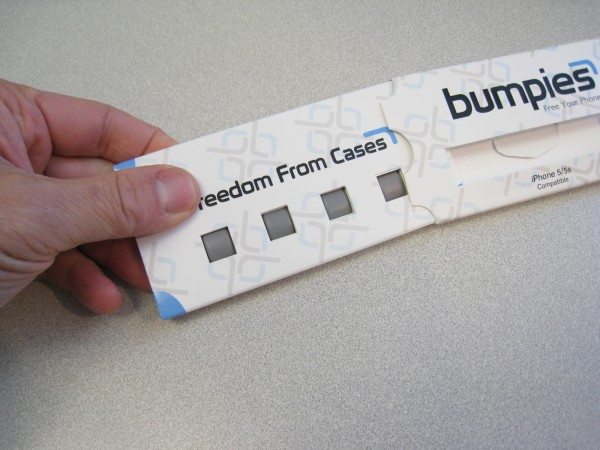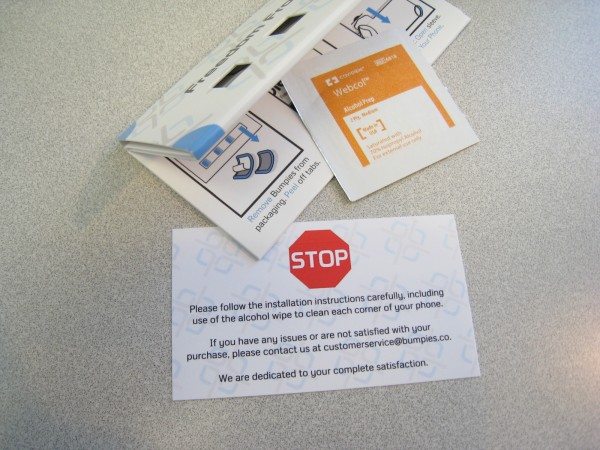 Bumpies gives you a little alcohol wipe to clean the corners of your smartphone.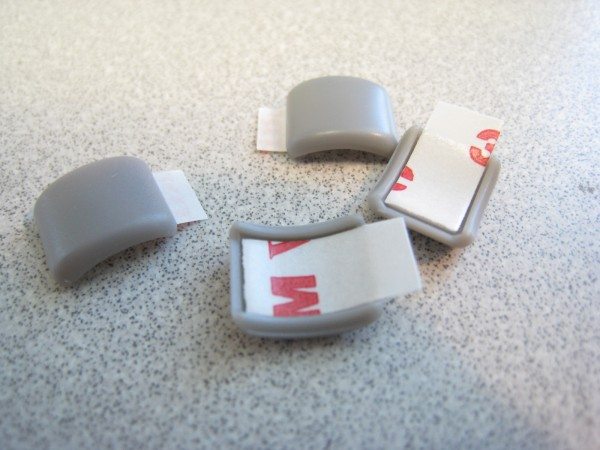 Extreme closeup of the Bumpies themselves.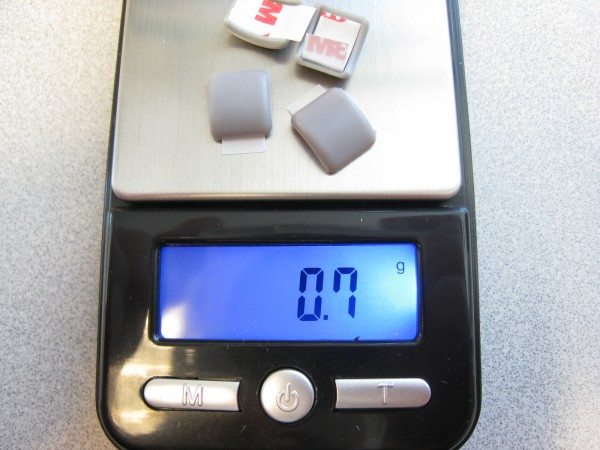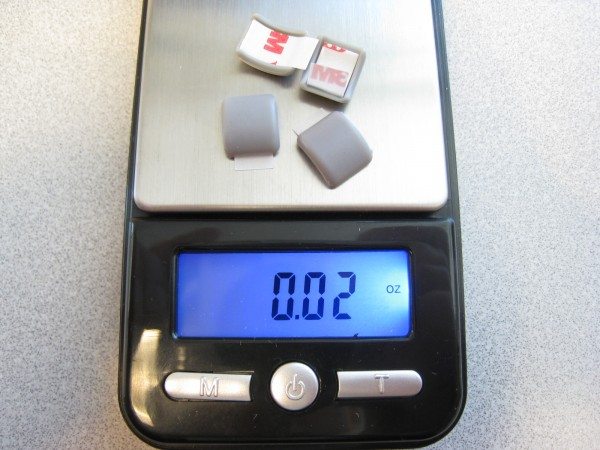 Did I say minimal?  Also very lightweight.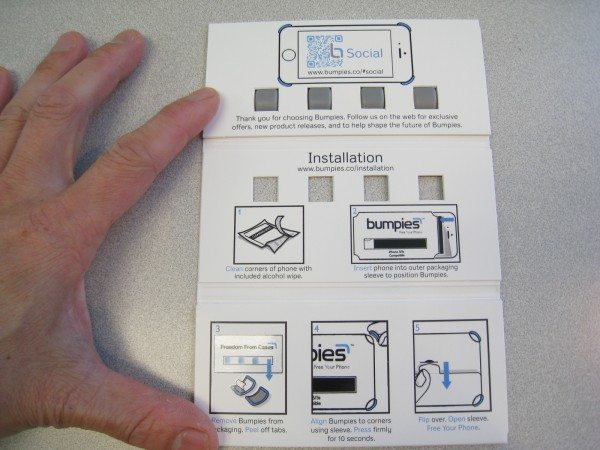 The instructions are cleverly printed in the packaging.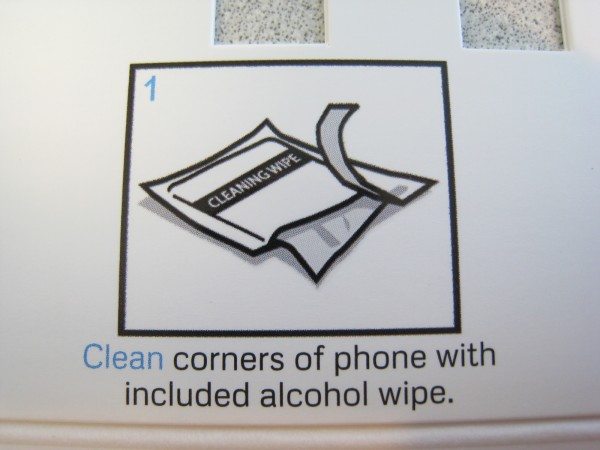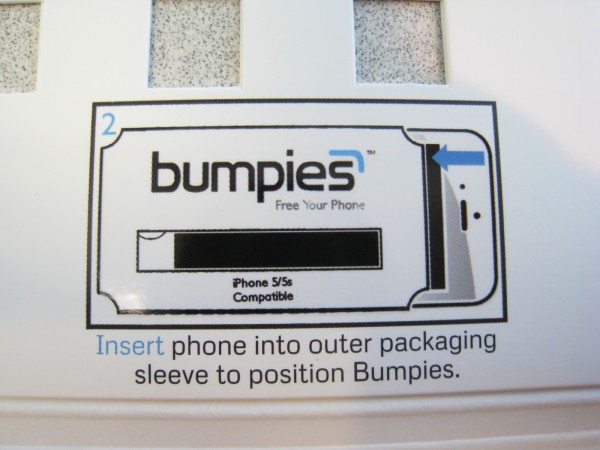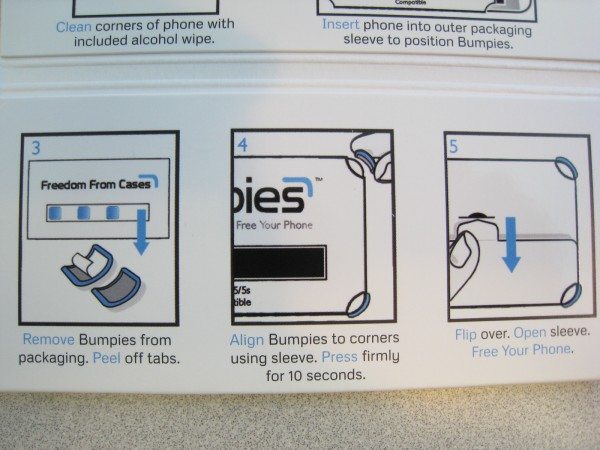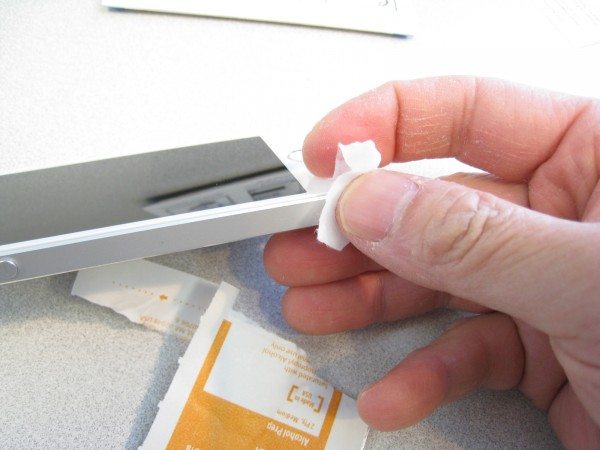 I wanted to slap on the Bumpies, but I followed directions.  First, wipe corners clean.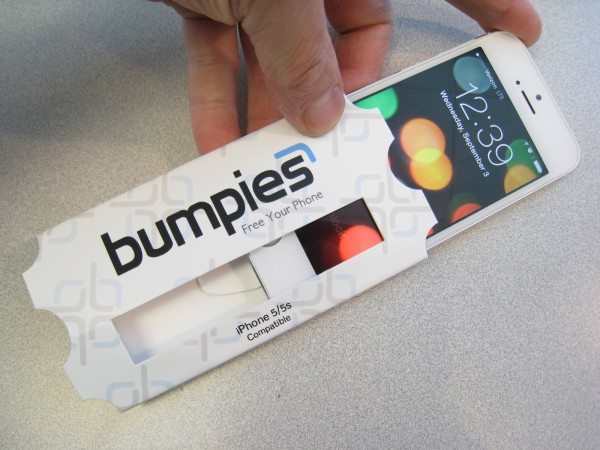 Here, I'm sliding in my iPhone 5S into the included sleeve.  This reminds me of a McDonald's Hot Apple Pie.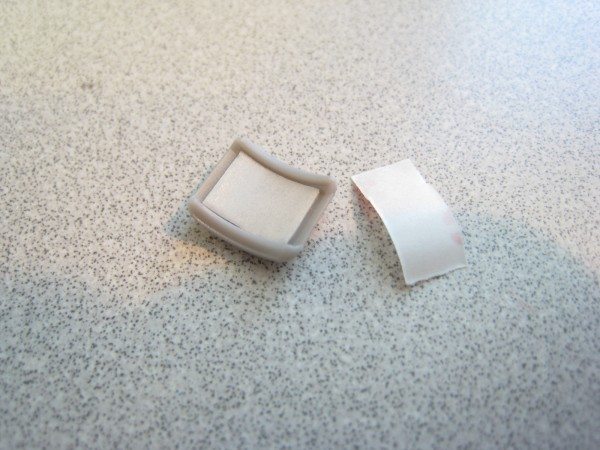 Here I've peeled off the protective adhesive backing.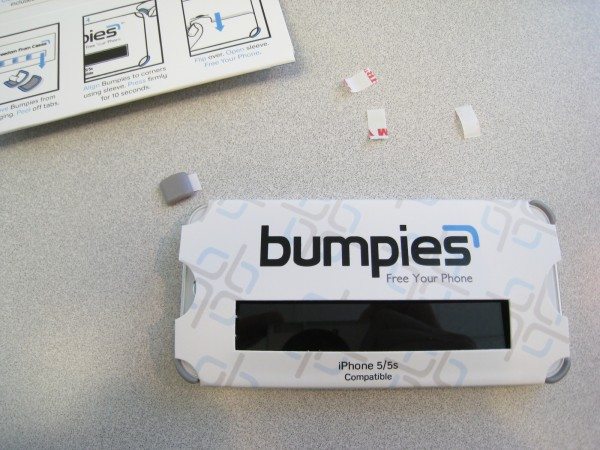 Attach Bumpies to the corners, with help from the sleeve guide.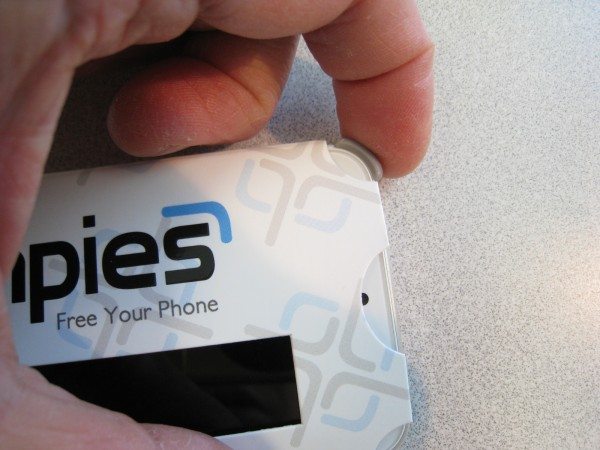 Press firmly on the corners to make full contact.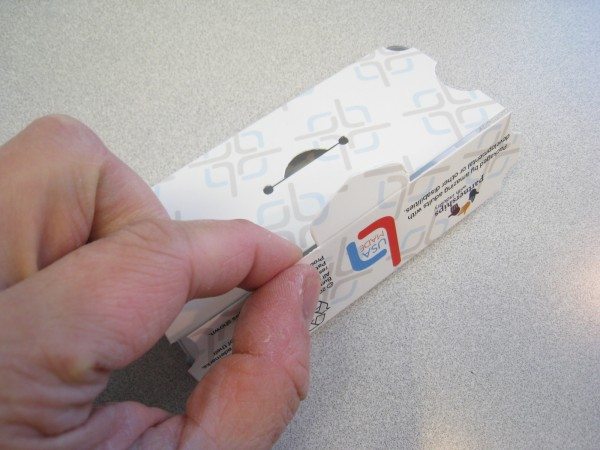 Open the sleeve to free your smartphone…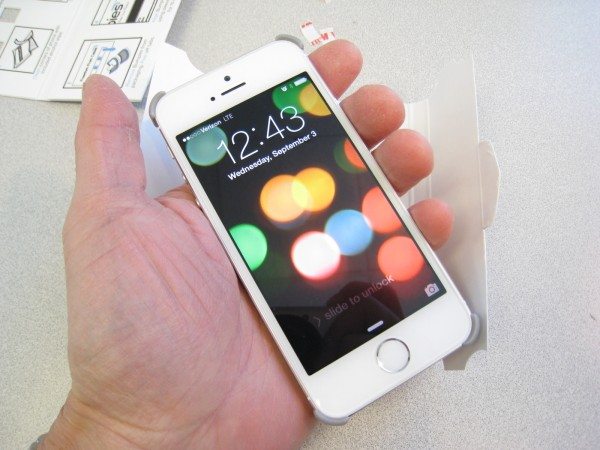 Free at last with Bumpies!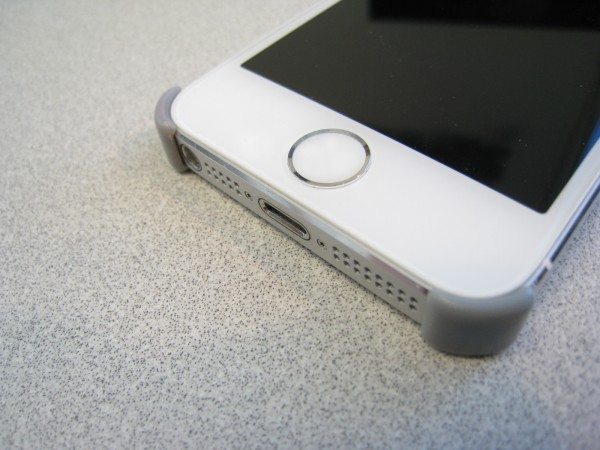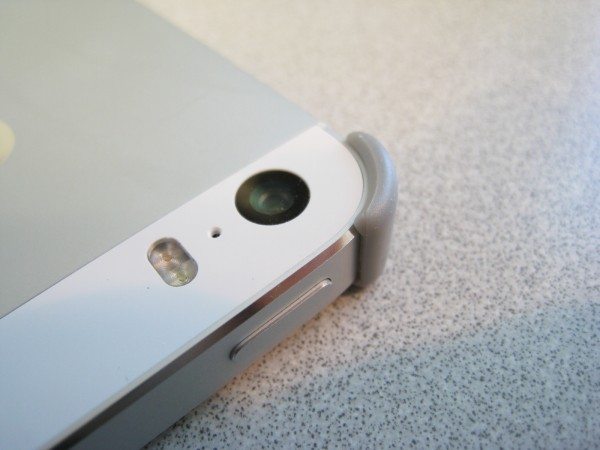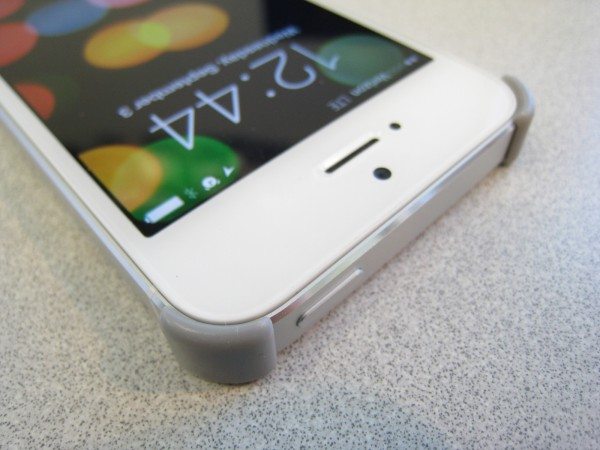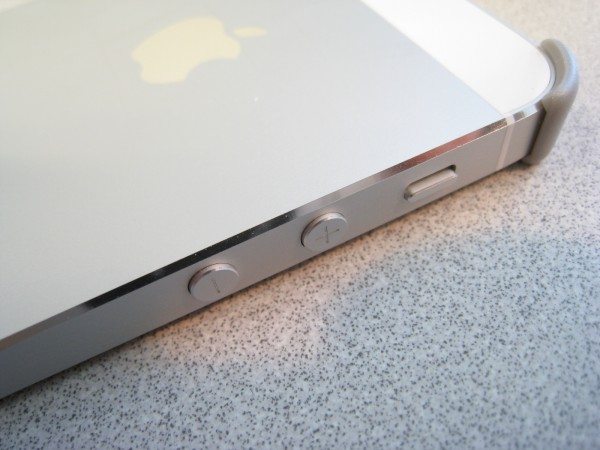 The Bumpies fit quite well on my iPhone 5s.  The gray works well with the white iPhone.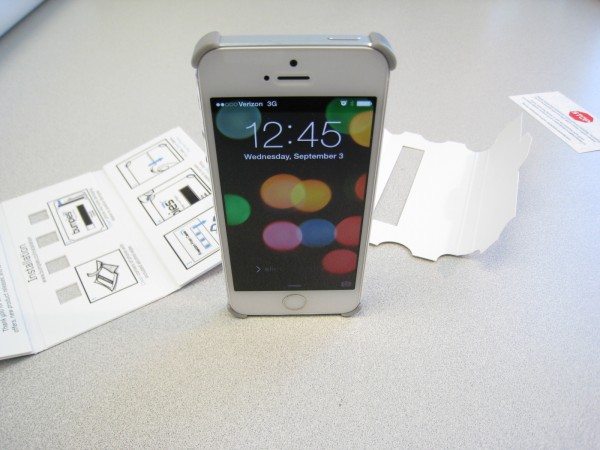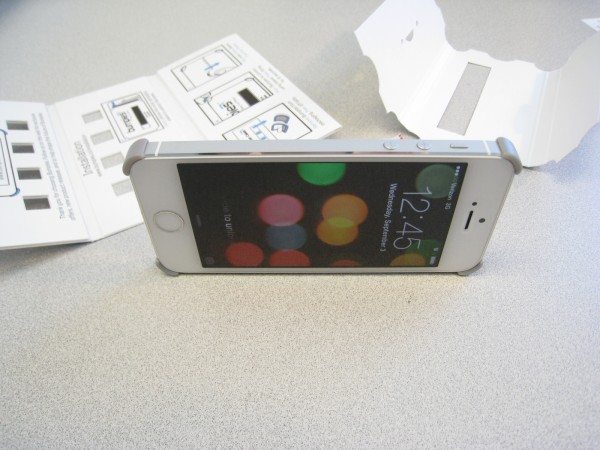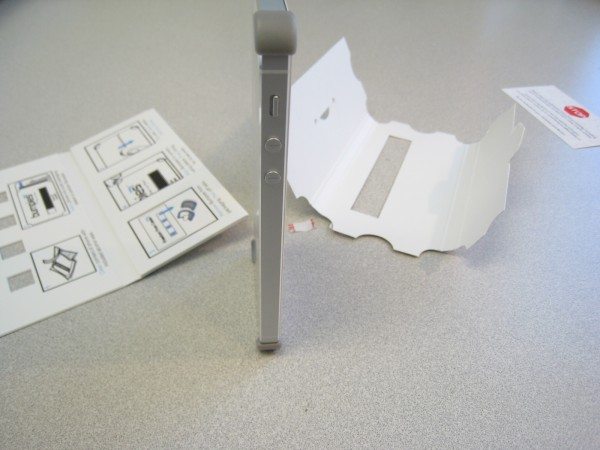 If you're careful, you can even balance your smartphone on end.  It won't stay like that for long, as it's still pretty wobbly.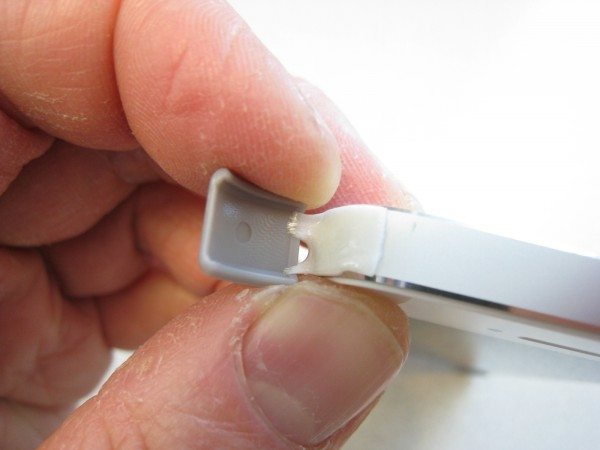 How strong is the adhesive?  After letting the adhesive sit for a few hours, I tried to see if I could accidentally knock the Bumpies off.  Nope.  In fact, the adhesive is really, really strong.  I had to really dig with my fingertips to remove the Bumpies.  Here you can see the adhesive clinging on for dear life.  It just doesn't want to let go.
Obviously if you're the kind determined to keep your smartphone looking pristine, Bumpies may not be for you.  All but the corners are still exposed to the world.  However, those four corners will keep your device from most everyday hazards of scooting around a tabletop or a casual tumble on the floor.  I like how you can lay your phone face-down without the screen touching.
At $24 (single color as tested for iPhone 5s) Bumpies aren't exactly cheap for the 0.02 ounces of plastic you get.  However, if you're looking for the bare minimum, you've found it.
Source: The sample for this review was provided by Bumpies. Visit their site for more info.

Product Information
| | |
| --- | --- |
| Price: | $24 (for single color, iPhone 5/5s) Other devices and colors available. |
| Manufacturer: | Bumpies |
| Requirements: | Compatible smartphone (see website) |
| Pros: | Minimal bulk, catch-free corners, access to ports, strong adhesive. |
| Cons: | Only protects corners and not much else. Expensive for what little material you get. |