We use affiliate links. If you buy something through the links on this page, we may earn a commission at no cost to you. Learn more.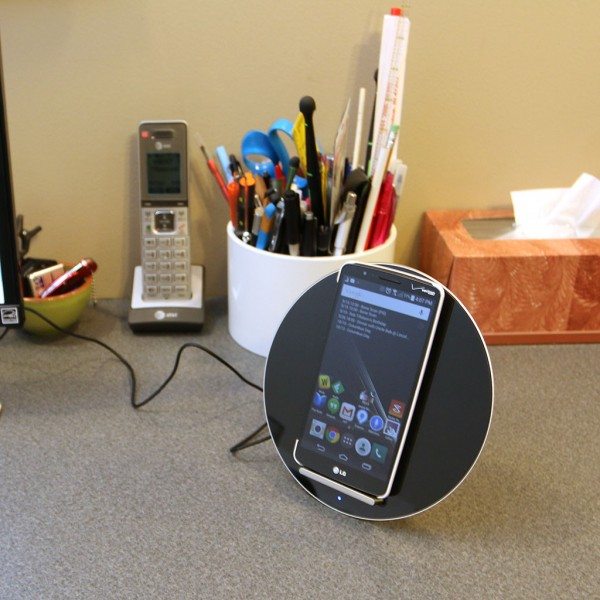 Ever since I bought a Qi wireless charger for my Samsung Galaxy S3, I've become a Qi snob. I even hacked my Samsung Galaxy Note 2 to add that capability to it. Now if a smartphone doesn't have the ability to charge wirelessly, I'm not interested in using it as my primary device. Qi charging is so convenient and easy to use that when I don't have it, plugging in a USB cable feels like a colossal hassle. Am I being a little melodramatic? Yes, but I still love Qi and hope I never have to give it up. The latest Qi charger that I've had the opportunity to review is the stylish Aukey Luna wireless charging dock. Let's check it out.
Note: Images can be clicked to view a larger size.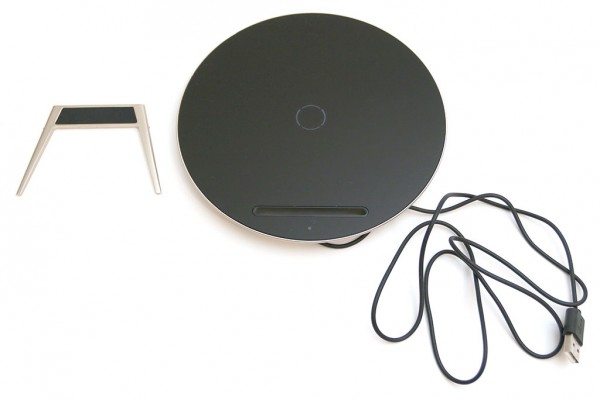 The Aukey Luna is a two piece dock that has a polished glass top and a Zinc alloy exterior and stand. Attached to the dock is a USB cable that plugs into a computer or the included AC adapter.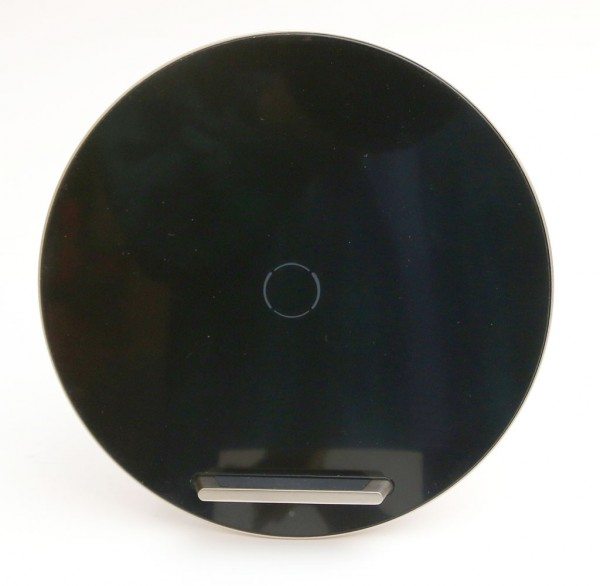 The Luna is the largest Qi charger that I've had the chance to try. It has a footprint of 6.81" (L) x 6.81" (W) x 0.47" (H). The glass disc has a slot at the bottom for the metal stand and below that is a blue LED that flashes when there is a problem charging the device and glows steady during charging.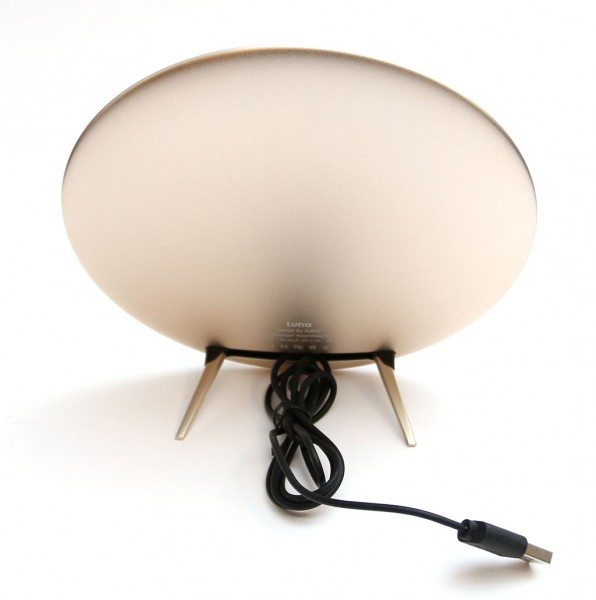 The Aukey is available in gold as seen here or silver. The gold color is actually more obvious in this picture than it is in real life.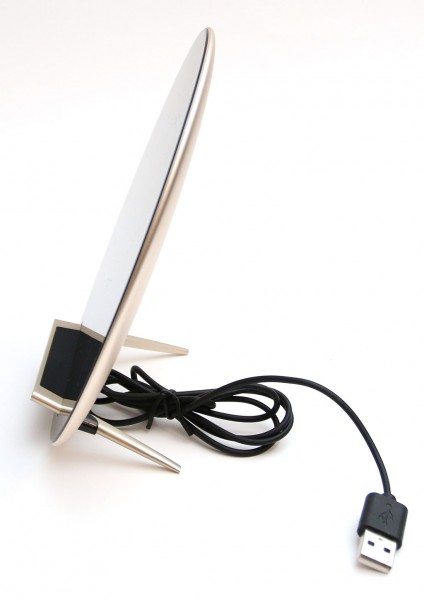 The pronged stand slides from the back to the front and is held in only by friction. The ledge has a rubber surface to protect your device.
Here you see my LG G3 with the Quick Circle charging cover (I chopped off the cover's flap).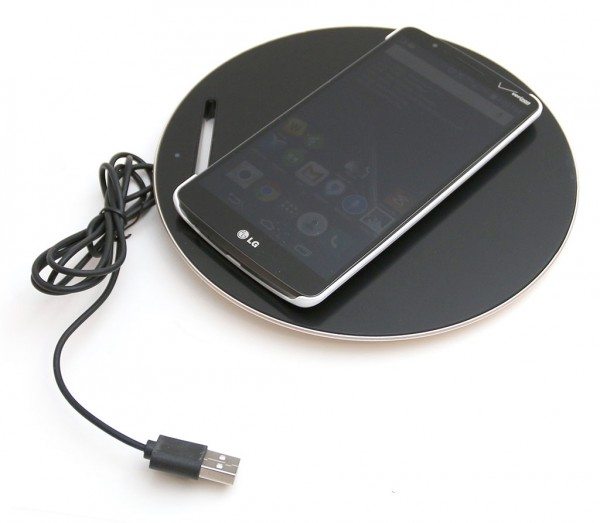 If you prefer a flat charging surface, you can remove the pronged stand and position the Luna flat on a desk or table. It would be nice if there was an insert included to fill the stand's slot when it's not being used.
How does the Luna differ from other Qi charging docks? Here's what Aukey has to say about this dock:
The Luna Qi Wireless Charger utilizes three overlapping planar charging coils for the maximum possible charging surface area. Thanks to its consistent output of 1.3A (1.5A MAX) and charging efficiency of 75% MAX, you can charge your devices 15-20% faster than an average QI wireless charger.
So with that info in hand, I set out to do some charging using an LG G3, Nexus 7 2013 tablet and a Samsung Galaxy Note 2…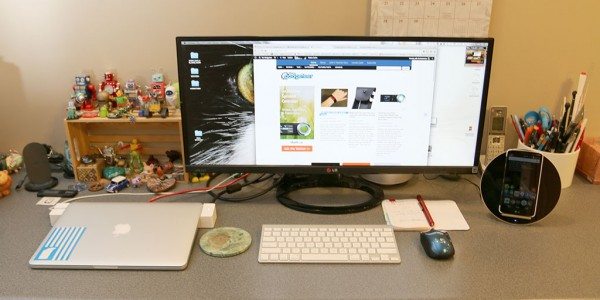 First I tried charging my LG G3 with the Luna. I also installed the special Luna app that is supposed to automatically turn on and either show a clock, play your music or show pictures while it charges.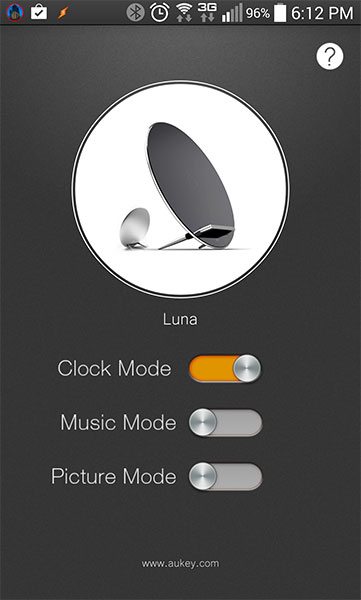 The app installed just fine, but it didn't work reliably with my LG G3 or my Nexus 7 tablet. I didn't try it on the Note 2. Of the three features: clock, music and pictures, only the clock worked (sometimes). But it didn't always come up automatically. I had to turn on the phone for it to show up and even then it didn't always work.
As for charging the LG G3 with the Luna wireless charging dock, I had problems with that too. Even though the Luna is supposed to have 3 charging coils, I had a hard time positioning the phone so that the dock would charge it. Nine times out of ten the LED status light would just blink letting me know that it knew there was something there, but that it wasn't able to charge it. After nudging the phone a little this way or a little that way many times, I would finally find the sweet spot and it would charge. However, with the dock in the standing position it would not charge the LG G3 in landscape orientation no matter how much I tried to get it to work. Placing the Luna flat on the desk didn't seem to help much either.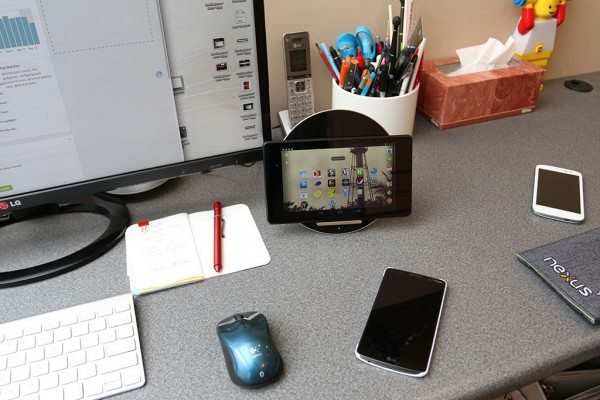 Charging the Nexus 7 2013 tablet was a lot easier. It charged in landscape mode without any problems at all. But it would not charge in portrait orientation unless the dock was flat on the desk so the tablet could be positioned in the center of the charger. I had the same experience with the Samsung Galaxy Note 2. It charged fine when the Luna was standing up and the phone was in portrait orientation, but would not charge with the phone in landscape orientation unless the charger was flat so the phone could be positioned in the center.
After fiddling with the Aukey Luna wireless charging dock for a several days, I've decided that it takes too much fiddling for me to use it with my current phone. It's also overly large. I'll just stick with my Nokia DT-910 and TYLT VU chargers which have a smaller footprint and are not picky about device placement.
Source: The sample for this review was provided by Aukey. Please visit their site for more info.
Product Information
Price:
$99.90
Manufacturer:
Aukey
Pros:
Cons:

Large
Placement seems picky for some devices (LG G3)
App doesn't work consistently