We use affiliate links. If you buy something through the links on this page, we may earn a commission at no cost to you. Learn more.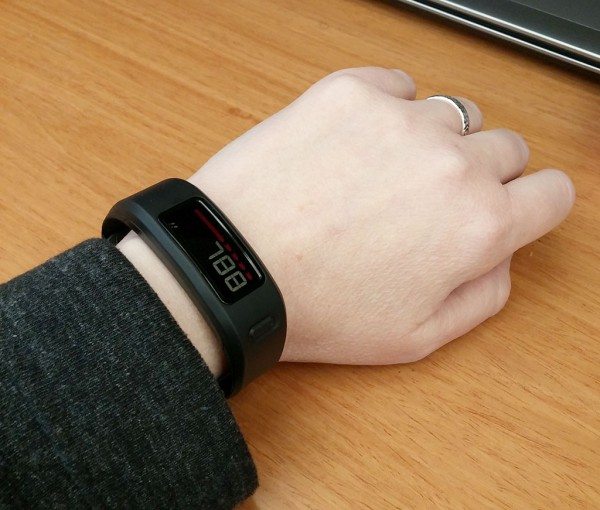 I have a thing for activity trackers, fitness trackers, pedometers or whatever other name you like to call them. I've reviewed at least a dozen of them in the last couple of years and don't see an end to their popularity anytime soon. The latest tracker to track my steps is the vivofit from Garmin. The vivofit is a wrist worn tracker capable of tracking your steps, calories, sleep, activity and even your heart rate if you opt to purchase the bundle that includes a heart rate strap monitor. The vivofit has been strapped to my wrist for the last week. Let's take a look.
Note: Images can be clicked to view a larger size.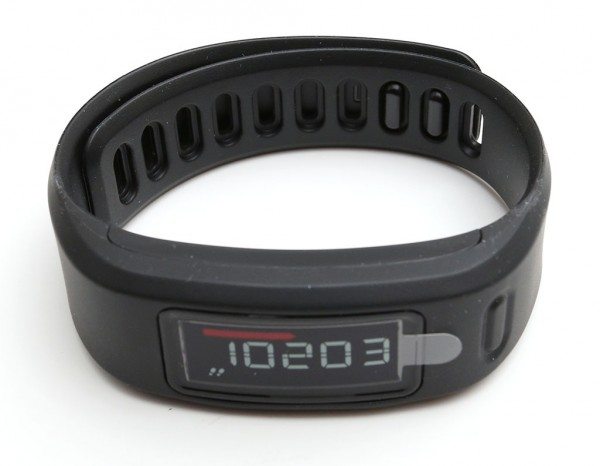 Package contents
Garmin vívofit with large and small band
USB ANT Stick
Quick Start Manual
The vivofit won't win any fashion awards with its slightly utilitarian style. Available in a variety of colors, I was sent the vivofit with the black band. The straps are replaceable, so you could purchase several different colors to coordinate with your mood or clothes.
The tracker is water resistant so you can wear it in the shower or the rain. It features an always on reflective white on black display which is easy to see in regular light, but since it has no backlight, it's completely dark when you're in… the dark.
A button to the right of the display allows you to toggle through the various screens.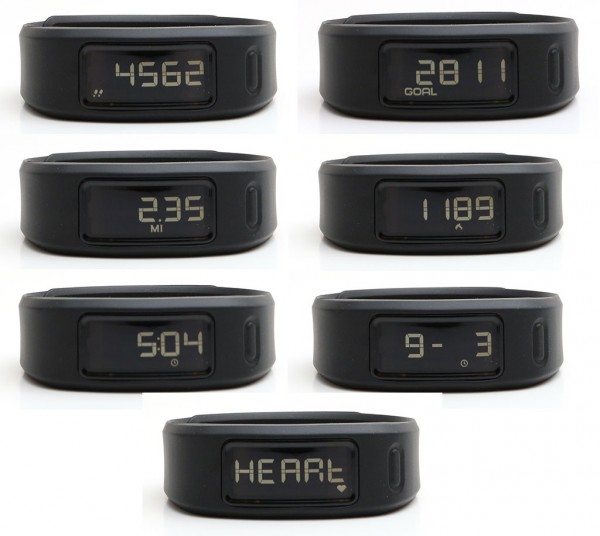 Each press of the button cycles through to the next screen including accumulated steps, steps till you reach your daily goal, miles walked for the day, calories burned, time of day, date and heart rate. The date only shows for a few seconds before going back to the time of day. The heart rate screen will only work if you have a compatible heart rate chest strap monitor from Garmin.
The vivofit also keeps track of your activity or lack thereof. By that I mean that it will show a red bar across the display that starts at the left edge and gets longer over time if you don't get up and move around. You can see this bar in the first image of the review… Once you get up and walk around for a a few minutes the bar disappears. This is supposed to motivate you to not be sedentary, but it's only effective if you look at the vivofit display often and do something about it. I think a better motivator would be if the band would vibrate after a predetermined length of inactivity.
The best feature of the vivofit is that it does NOT need to be charged every day or week. It has an internal battery that should last up to one year. I'm not sure what happens once the battery dies though. I have found no info about how to replace the battery or if it can even been replaced at all, so that is a concern if this is just a throw away tracker after one year.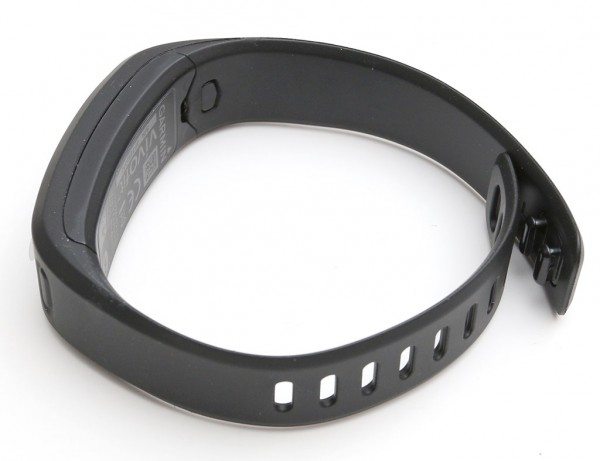 The vivofit comes with two straps for average and smaller wrists. I kept the larger strap on mine and was able to wear it just fine, but I had to use the next to last strap insertion slots. I'm not a fan of the clasp style of this tracker. You have to force the two prongs into the slots and it's a pain to do. Literally.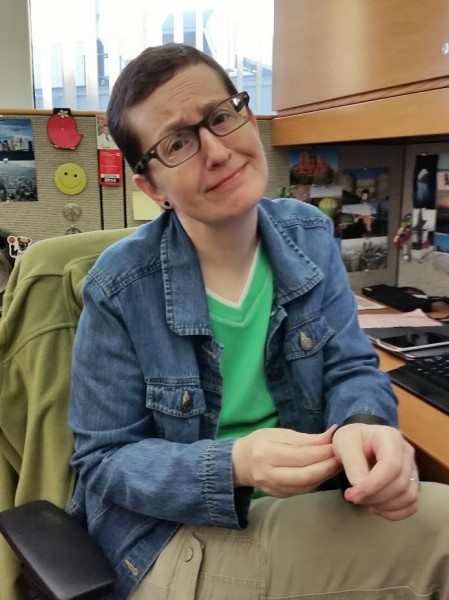 I had my friend Bill try it and he was able to snap it to his wrist without any trouble. He said you just need strong wrists. When I told him it hurts to just press it in into my wrist instead of pinching the band between my fingers he told me I was a wiener and insisted on taking my picture and having it posted in the review. Ugh… the things I have to do… 😉
You can use the Garmin vivofit all by itself and just view the data on the built in display, or  you can sync it with your smartphone and online Garmin Connect dashboard.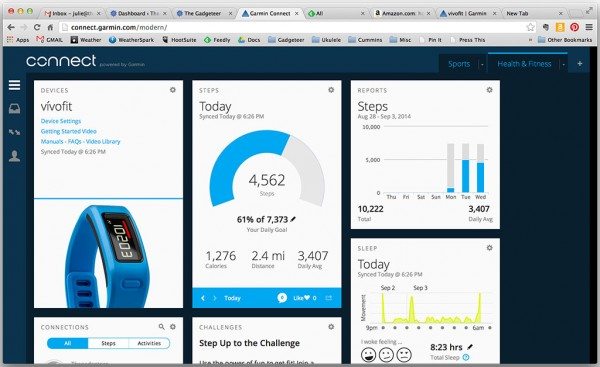 The Garmin Connect dashboard can show various blocks of info about your daily steps, sleep and activity. From the web app you can set your daily step goals. By default this is set to 7500 steps per day. It can be changed or even set to automatically adjust based on your activity. The web app is also where you set your normal sleep hours. Once set the band will automatically detect when you're sleeping instead of manually having to hold the button on the band down until it goes into sleep mode. Setting it manually can be a problem if you forget to do it and you're already in bed. Since the vivofit doesn't have a backlight, you'll have to turn on a light in order to verify that the watch is in sleep mode.
The web app is a pretty good way to see fitness details but I prefer using my phone and installed the Garmin app on my LG G3 Android smartphone.
My opinion of the Android app isn't overly positive. Like the web based dashboard, you can configure the app to show different things. However the only data it will show from syncing the vivofit is steps, calories and sleep.
Other data like weight, courses and segments are things you have to input manually through the Garmin Connect web site various connections to other services like MyFitnessPal. You can't adjust the daily goals on the mobile app. This has to be done through the Garmin Connect web site.
The main reason why the app didn't delight me is that syncing seemed to fail more than succeed. The vivofit doesn't sync automatically, you have to hold down the button on the band while the app is active to initiate syncing. It will then connect and sync… or try to. More often than not, it would fail halfway through. This was with my LG G3 and the vivofit within inches of each other. I found that cycling power on my phone would usually fix the problem. The vivofit use Bluetooth to pair to the phone.
The vivofit seems to measure steps the same as my other pedometers. Wearing more than one, they all were within a 100 steps of each other. You have to realize that these trackers will never be 100% accurate because they are worn on your wrist, so various movements will cause the tracker to think you're walking when you might be doing other activities like  brusing your teeth, washing dishes, etc. That's why I personally prefer trackers that I can put in my pocket or waist band.
I have to be honest and admit that Garmin's vivofit was a disappointment to me. Coming from Garmin, I was expecting it to be a lot more impressive especially with the number of activity trackers on the market these days. You really need some good features to stand out, or why even bother. Interestingly enough, Garmin just announced another tracker a few days ago that does sound like the one to get. The Garmin vivosmart has more features including vibration alerts, auto syncing, touch screen and more. The down side is that the vivosmart will need to be charged every week and it's $40 more expensive than the vivofit. Maybe I'll get a chance to try it.
Right now I would probably not look twice at the vivofit when there are other trackers on the market that are not as expensive and have built in heart rate monitors, track stairs, auto sync, and more.
Source: The sample for this review was provided by Garmin. Visit their site for more info.
Product Information
Price:
$129.99 ($169.99 with heart monitor strap)
Manufacturer:
Garmin
Pros:

1yr battery life
Always on display
Works with a heart strap monitor
Shows inactivity status

Cons:

Intermittent problems syncing with smartphone
Display doesn't have a backlight
Mobile app is weak