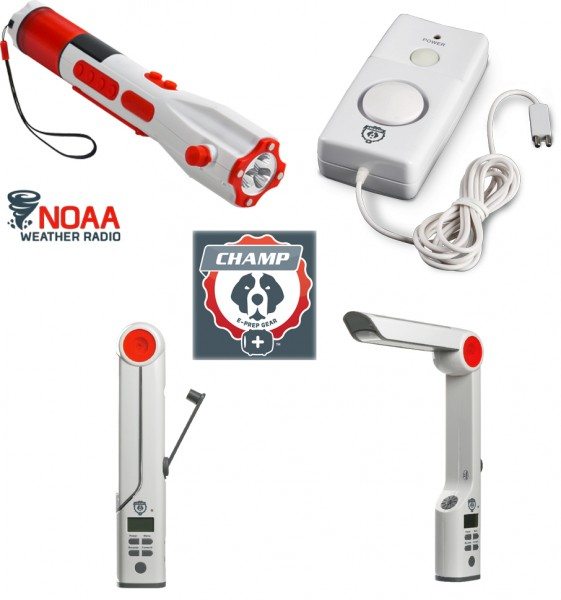 Were you aware that it is National Preparedness Month?  Are you part of the sixty percent of Americans determined by the American Red Cross that are wholly unprepared for a disaster?  Emergencies don't have to be huge things, like hurricanes, tornados, or floods; they can be smaller things like car accidents or smaller damages to your home.  The Champ Prepared company offers a line of preparedness tools that can get you ready for large or small emergencies.
Their Survival Sidekick 10-in-1 Multi-Tool looks like a flashlight, and it has a 3-LED flashlight, but it also has a AM/FM/NOAA weather radio, an emergency phone charger, a glass breaker tool and a seatbelt cutter, distress light, siren, and a compass.  The magnetic base sticks to your car, and it has a hand-crank for charging.  It can charge Android and iOS devices, and it comes with a microUSB cable.  It's available in black or white for $44.99.
If your basement is prone to flooding in rainy weather, the Water Sensor Alarm lets you know when water is getting in.  Or you could put it near a water heater, clothes washer, or dishwasher, if you fear leaks.  The sensor is battery operated, so you can use it anywhere.  Its loud alarm will alert you to  water before damage is done.  It's $13.49.
The Survival LightStick Weather Radio is an AM/FM/NOAA weather radio, a reading light, and a flashlight.  It has an internal battery that's charged via USB or with the hand crank or built-in solar panel.  Keep it on your nightstand to be sure you are aware of dangerous weather conditions, and you'll also always know where a flashlight is when the power goes out.  It's $62.99.
Go to the Champ Prepared website to see their emergency checklist and check out the other preparedness gear they offer.  Then head over to their Facebook page to enter their contest to win a Champ Prepared kit.
Support The Gadgeteer
:
We may earn a small affiliate commission from purchases made from buying through links on our site. As an Amazon Associate I earn from qualifying purchases. Learn more.