We use affiliate links. If you buy something through the links on this page, we may earn a commission at no cost to you. Learn more.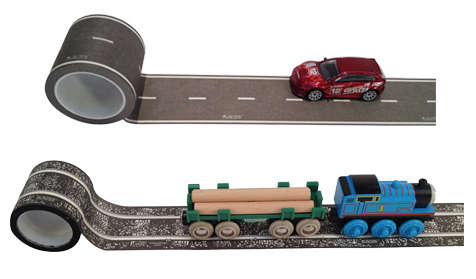 PlayTape is a roll of tape similar to painter's tape that looks like a 2-lane blacktop road or railroad tracks. It's a low-tack adhesive tape that is easy to tear and sticks to any flat surface without leaving behind sticky residue. Kids can stick it to hardwood or low pile carpeted floors to create race tracks or cities for imaginative play. It is non-damaging and can be re-positioned however your child desires 3-4 times before it starts losing its adhesive properties. PlayTape comes in a few different types/sizes:
Roads: 2″x 60′ and 4″x 30′
Train tracks: 2″ x 60′
Tape widths are compatible with most common wooden trains including Thomas the Tank Engine, BRIO, Melissa and Doug, Ikea, Big Jigs, and some LEGO trains. The 1:64 scale road PlayTape is compatible with popular toy cars like Mattel Hot Wheels and Matchbox.
PlayTape is priced starting at $7.99 a roll up to $12.99 and can be purchased from InRoad Toys and Amazon.