We use affiliate links. If you buy something through the links on this page, we may earn a commission at no cost to you. Learn more.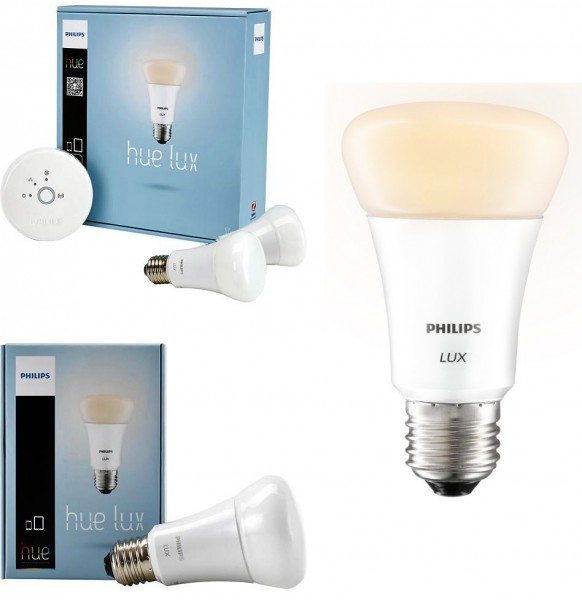 My mission is to automate the lighting in my house.  I don't have to have every light connected to the internet, but I would like to have WiFi-connected and controllable bulbs in certain rooms in my house.  I got the Hue Starter Kit for Christmas last winter, and I use them in my living room in some vintage Mid-century Moderne spaghetti lamps.  I love how the various color schemes look in those special lamps, but I don't need or want to have such "fancy", expensive bulbs in all my rooms.  I have some table lamps connected using Belkin WeMo Switches, which works great with regular CFL bulbs.  I'd like just some white bulbs for my foyer, long hallway, and the bathrooms.  I don't want to use more color-changing Hue bulbs because they cost $60 each.  Adding the Belkin WeMo LED Lighting system would mean I'd need another WiFi-connected hub.  Using Hue bulbs would be very convenient and cheaper, though, because I already have the Hue bridge hooked up and connected in my house.  Luckily, Philips now offers the Lux bulbs, which are compatible with the color-changing bulbs system but aren't color-changing themselves.
Lux bulbs are 9W LED bulbs that produce 750-lumens of "high quality, dimmable warm white light" (2700K color temperature).   (They use 0.5W of standby power and are only dimmable using the Hue app.)  If you don't already have Hue lights and a bridge, you'll need to buy the Starter Kit.  It contains two Lux bulbs and the bridge for $99.99.  If you already have a Hue system set up in your home, you can add Lux bulbs for $29.99 each – still not cheap, but better than $60 each.  Best Buy has the Hue Lux starter kit and the individual Lux bulbs ready to ship within 1 day.  Learn more about the Hux Lux and the other components of the Hue Personal Wireless system at Philips' Meet Hue website.  You'll need the Hue app for your mobile device to control the lights.  The app is available for devices running iOS 6.0 or later, or Android 2.3 or later.