We use affiliate links. If you buy something through the links on this page, we may earn a commission at no cost to you. Learn more.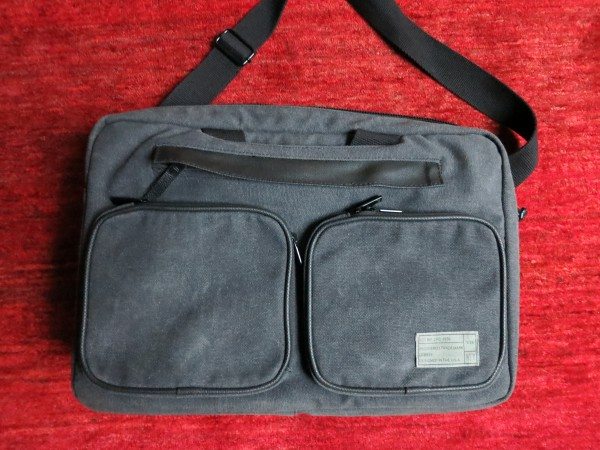 I can work anywhere, as long as I have my laptop computer. Sure, with cloud access I can manage pretty well with just a smartphone – and even better with a tablet – but the laptop still makes it much easier to work and store or access everything I need. Therefore, I rarely travel very far without it. 
I love my Tom Bihn Brain Bag backpack, which holds so much that I've even used it for overnight journeys. However, I've always wished that I had something a bit slimmer and more professional for everyday business use. The problem with many such products is that they are little more than a traditional briefcase with a pocket added to hold a laptop. They're still boxy and uncomfortable to carry long distances, such as through airports. The HEX Convertible Laptop Briefcase attempts to address this problem with a slim, soft-sided briefcase that converts to a laptop backpack. The pockets and straps are designed to work in either a horizontal or vertical orientation. I decided to give it a try. Because I work from home and don't take frequent business jaunts, I also recruited my lovely wife, Emilie, to commute with the bag and provide feedback.
From first sight, the HEX briefcase met my criteria for slim and professional. It's made from water resistant, waxed charcoal canvas that's elegant without being stiff. The dimensions are listed on the HEX website as 16.5" x 11.5" x 8.75" but those seem on the high side. The empty case measures 16" x 11" x 4.5", so a bulging case will get larger but it would be hard to nearly double the thickness because it is not inherently expandable. I'm happy with the smaller dimensions because it seems to hold just about everything that I'd want for a commute or a business meeting. Below I'll give you a tour of the bag as I load it up!
Note: All images from this point on can be clicked to view a larger size.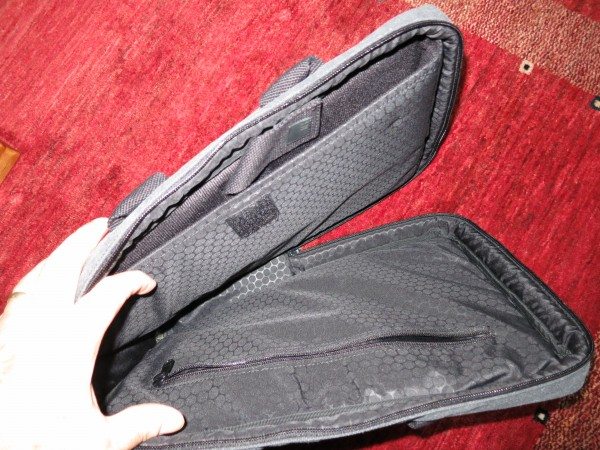 The picture above shows the inside of the case. Note that the compartment zipper goes all the way up one side, around the end, and halfway down the other side. This is one of the modifications to allow bag access from the "top" in either a vertical or horizontal orientation. This works well, despite the fact that the pockets themselves are aligned lengthwise. The patterned nylon lining is good quality as is the stitching – I did not notice any loose threads or other assembly defects.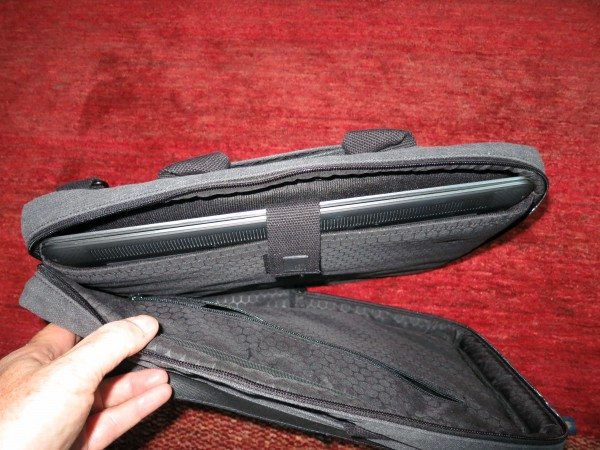 Here I've inserted my Dell XPS 15 laptop, which fits like a glove in a fleece-lined, padded pocket. HEX says that it was designed for a 15" MacBook Pro "but will fit most 15" laptops." I would modify that statement to include only modern, thin 15" laptops. My Dell XPS is a near clone of the skinny MacBook Pro, but my 5-year-old Dell Studio XPS 15 – svelte at the time but chunky now – had no chance of fitting in the pocket. So many people have laptops smaller than 15" or ultrabooks, however, that this choice for the pocket size is probably for the best. The size was perfect for Emilie's 14" laptop.
A larger red flag should be raised for the other interior pocket, which is the only viable location to stash the AC adapter. Apple's nice little MagSafe adapter poses no problem, but if your laptop uses one of those monster brick adapters then you may be pushing the bulge limit on the bag out to that 8.75" spec limit! You'd also have a tough time packing an iPad or other tablet in the external pocket that backs onto this interior pocket. Overall, I'd say that the bag will accommodate large AC adapters (and other bulky accessories) in a pinch, but for everyday commuting I would make sure to have an adapter at home and at work. For business meetings, I'd be tempted to risk getting by without the charger; otherwise, I might switch to my larger Tom Bihn bag.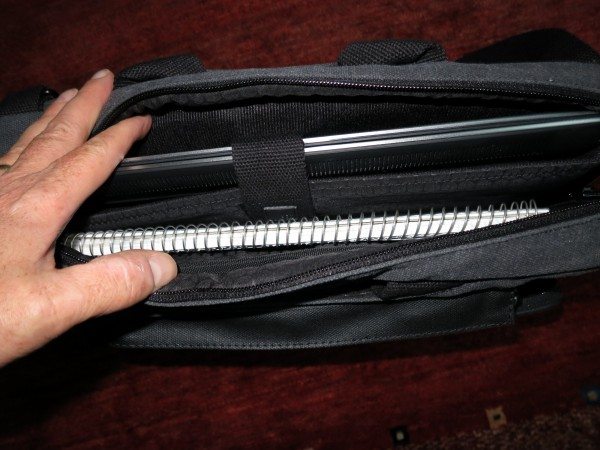 Here I've added a notebook to the other half of the interior space. An inch or so of notebooks and papers will fit comfortably here. The space is large enough to accommodate legal-sized manila folders and you could even stretch the zipper around the extended hooks on a hanging legal folder if you needed to. There are no pen loops, clips or other organizational aids, which I suppose is consistent with the sleek, minimalist design. This is a functional bag, but not a carryall.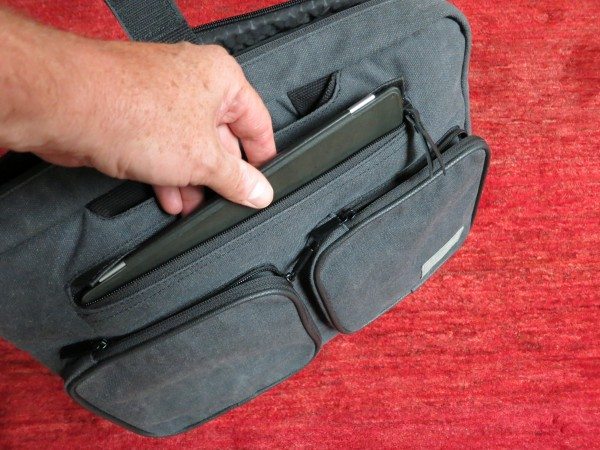 Here is the iPad pocket. It's on the outside of the bag adjacent to the internal gear pocket. You can see that's it's a fairly tight fit for my iPad 4 with the Apple SmartCover, but it doesn't feel like I'm mistreating the bag by inserting it. There is a leather-lined flap that folds over the zipper (with leather pulls) to help keep the rain out.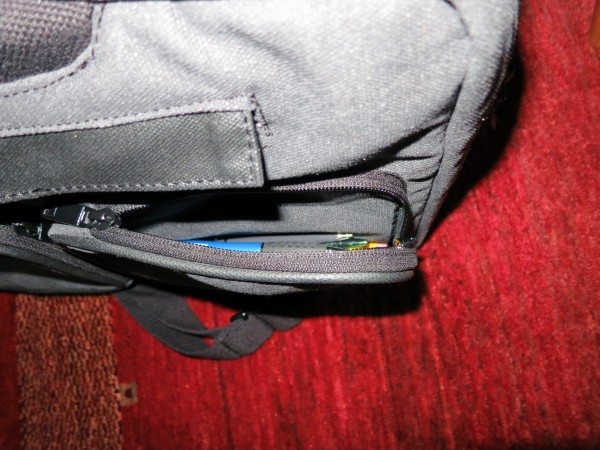 Also on the outside are two small gear pockets. They also have wraparound zippers for access in either bag orientation. This is good because they are likely to be stuffed with small items that could fall out, like keys, glasses, phones, pens, USB sticks or travel mice. As with the primary compartment, there are no little interior pockets or clips for keys and pens, a feature I find handy in my Tom Bihn bag. Each pocket measures about 6.5" x 6", so it should fit most phones, but they aren't expandable to fit bulky items like, say, an apple. If you commute with this briefcase, you should probably plan on bringing a second bag for lunch. Emilie used these two pockets for her laptop's AC adapter, which fit only by putting the brick in one pocket and the cord in another. This led her to suggest that the pockets would be more useful if combined into a single, larger pocket. Other users may appreciate two separate pockets.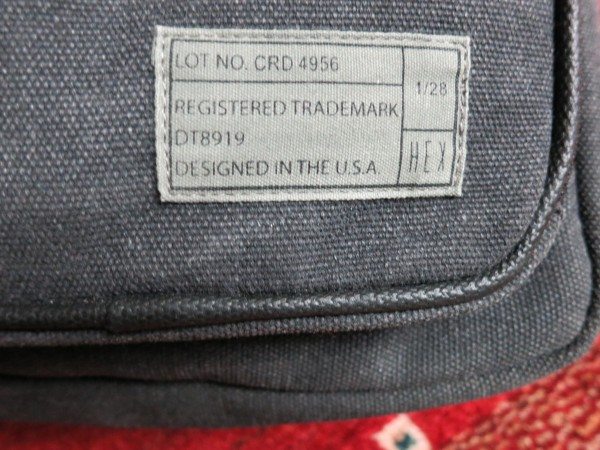 While we're looking at the front, I wanted to show a close-up of the label. It's less of a logo than an industrial-looking tag and, judging from their other products, this is part of the trademark HEX look that they describe as "way cool." As a non-hipster, I confess to being confused by it, but it's somewhat understated and not a hideous logo, so it wouldn't deter me from buying the briefcase. (I'll also confess that I had to go look at my Tom Bihn backpack to see if it even had a tag or logo. It does and, while more traditional-looking, it's also understated.)
Having covered what the bag carries, I want to show you the many ways to carry the bag. By "many," I mean four, and the favorite approach for both Emilie and me is a bonus method that isn't mentioned on the website.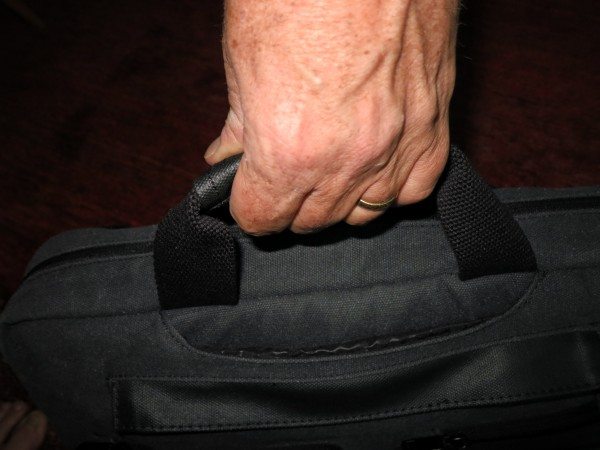 Because it's called a briefcase, I'll start with the standard briefcase handle as shown above. There are two leather-wrapped handles that will let you comfortably carry the briefcase for short distances. Below each handle is a pocket to stow them away to maintain the sleek look when you're using different straps – a nice touch that I wish I had for the carry handles on my Tom Bihn bag.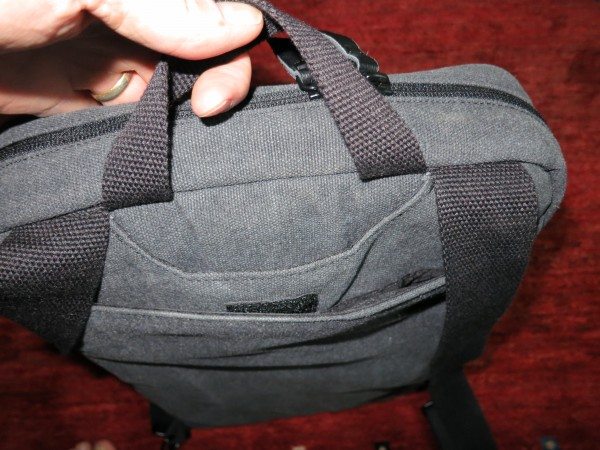 There are also two handles – not wrapped in leather – on the short side/end of the briefcase for when you're in backpack mode. These can also be hidden away when not in use. In this picture you can also see the large pocket covering the entire rear of the bag that is used to stow the large backpack straps. Below you can see how these straps are deployed.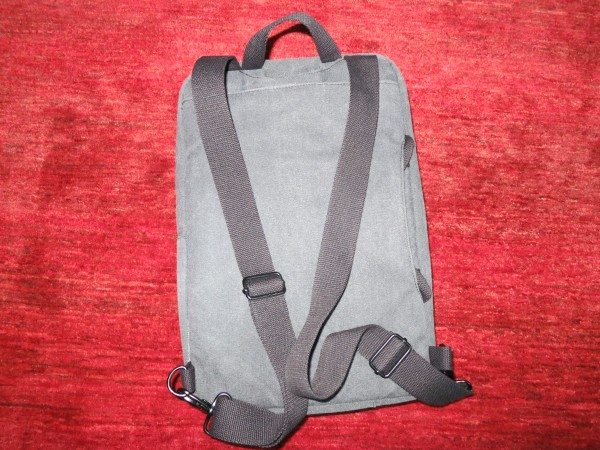 The wide, adjustable straps of nylon webbing are permanently sewn into the end of the bag and clip to rings on the other end of the bag. All the hardware is metal and the clips are spring-loaded and easy to operate. The straps are not padded but, under the light loads you can expect to carry in the bag, surprisingly comfortable. Most important, the conversion process between horizontal briefcase and vertical backpack is quick and easy enough that you won't mind switching between modes.
Here I am carrying the loaded bag in backpack mode. Note that all three pockets can be accessed from the "top" because the openings have bidirectional wraparound zippers. This means you can open the pockets without items falling out. You do need to access the laptop and iPad pockets from the side, but the laptop pocket has a Velcro strap to secure the laptop and prevent accidents.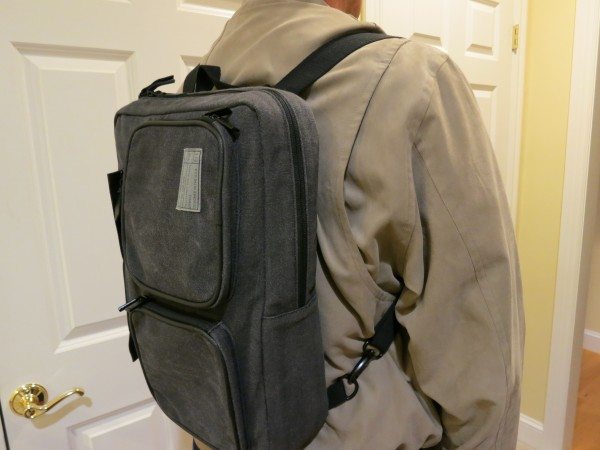 Now for the fourth, unadvertised carry mode! Unclip and tuck one of those backpack straps away and you've got a great strap for an over-the-shoulder briefcase.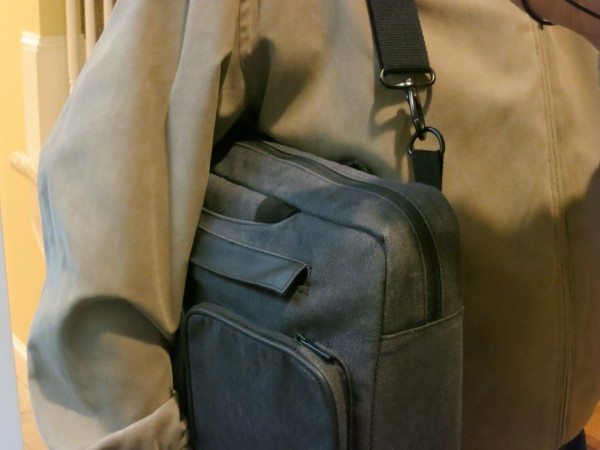 This is a very comfortable carry method that Emilie used almost exclusively. She found that it's more businesslike than backpack mode and still leaves a hand free when carrying both the briefcase and a cup of coffee. The picture below shows that the briefcase hugs the body comfortably in this mode because the strap is attached on the inside of the bag.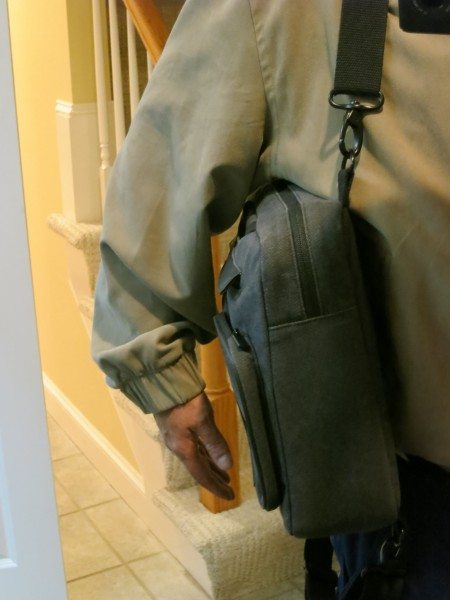 Emilie felt that the shoulder strap was a good width and length, and appreciated that the bag didn't flop around on her shoulder. She would have appreciated a padded strap, but it wasn't a deal breaker, and that might be hard to design into a convertible bag like this one. Other comments after two weeks of testing were that the zippers worked well and she liked the color. I noticed that the canvas had acquired the usual smudges and scuffs that are part of the "canvas look," which you might notice if you compare my photos in this article to the pristine ones on the HEX website, but there were no other signs of wear or damage.
So, my overall impression of the HEX Convertible Laptop Briefcase is positive. I would recommend it for the daily commuter who needs to carry a laptop and a bit more, especially if you want a professional look that's not too stuffy. Very good as a standard briefcase, the convertible aspect makes it a great bag if the commute includes a long walk or a bike ride. The bag is designed around the Apple MacBook Pro and iPad products and, at $109.95, has a price to match. But if you fit the target user profile, don't have excessive everyday-carry gear or a large brick of an adapter, and don't mind the price, then this briefcase might be just what you're looking for.
Update 12/24/14
My wife, Emilie, is enthusiastic about "her" HEX Convertible Laptop Briefcase. I see it on a daily basis because it goes back and forth to her work. It is invariably overstuffed and only used as a standard briefcase for laptop and papers, so the convertibility feature doesn't get used, but Emilie really likes the functionality and looks of the case. It seems to be holding up well.
Source: The samples for this review were provided by HEX. Please visit their site for more info about this product.
Product Information
Price:
$109.95
Manufacturer:
HEX
Requirements:

Laptop computer, 15" or smaller; if 15", then a slim design

Pros:

Slim and casually professional design
Easily converts between briefcase and backpack
Comfortable to carry in either orientation
Designed with quality and fashion in mind

Cons:

Slim, non-expandable design may require transfer to a larger bag for trips
Minimalist design means no organizational pockets or clips for pens, keys or other gadgets
Not ideal for laptops with bulky AC power bricks