We use affiliate links. If you buy something through the links on this page, we may earn a commission at no cost to you. Learn more.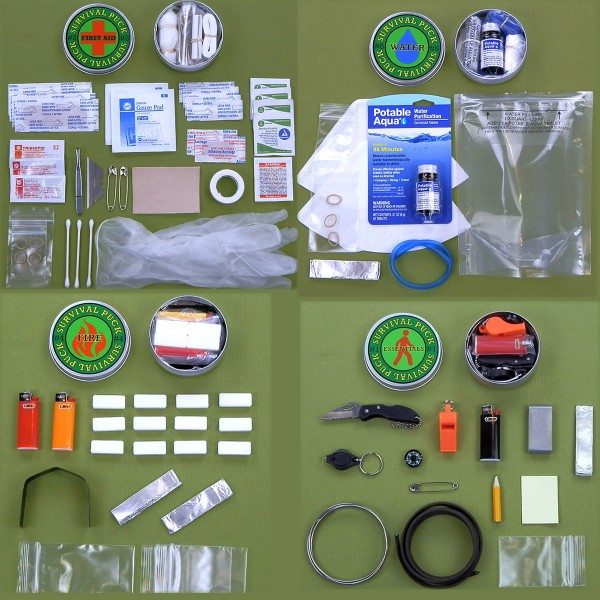 Each of these little 3.25″ diameter X 1.1″ thick canisters contain emergency supplies.  The containers are made of 5000-series aluminum and have knurled screw-on lids; they are waterproof and have waterproof labels.  When you pull the label off, the the lid is a serviceable signal mirror.  What's inside these little canisters are the kits that can stand between you and disaster.  There are six different survival kits that are small enough, light enough (under 4 ounces),  and inexpensive enough that you can stash them wherever you might need one – the car, at home, in your hiking kit, in your purse.  Each kit addresses one emergency situation:
Light: 2 mini flashlights, 1 mini Bic lighter, 4 5-hour candles, and a sheet of aluminum foil. $12.70
Water: 50 water purification tablets (for 6.25 gallons of drinkable water), 2 water pre-filters, water pouch, drinking tube, and a sheet of aluminum foil. $17.75
Fire: 2 Bic mini lighters, 12 solid fuel tablets, 1 steel bar grate to hold the canister (100ml capacity) while you heat water in it over a fuel tablet, 2 sheets of aluminum foil (to keep the fire off the wet ground as you try to light it or to act as a wind break or a heat reflector).  $15.25
Medicine: packets of extra-strength pain reliever, aspirin, ibuprofen, menstrual relief, anti-gas/antacid, antihistamine, electrolyte replenishment, antibacterial ointment, first aid and burn cream, anti-itch cream, and a pill bottle for your own medicines.  $14.75
First Aid:  waterproof bandages, butterfly bandages, alcohol wipes, cotton swabs, sterile gauze pads, latex exam gloves, safety pins, adhesive tape, moleskin, antibiotic, burn, first aid, and anti-itch creams, metal tweezers, and a utility knife blade.  $15.25
Essentials:  s

errated 440 stainless steel lock-blade folding knife, mini LED flashlight, mini Bic lighter, signal whistle, magnetic compass, duct tape, aluminum wire, paracord, pencil, paper, safety pin, and a sheet of aluminum foil.  $15.75
Learn more and purchase these kits at the Survival Pucks website.