We use affiliate links. If you buy something through the links on this page, we may earn a commission at no cost to you. Learn more.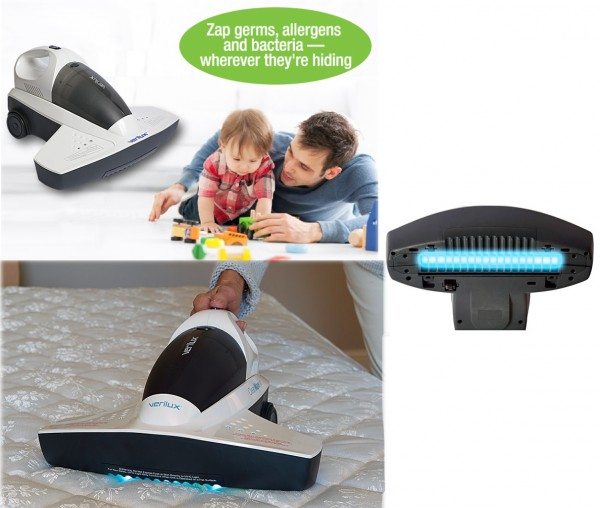 When my daughter recently moved into her dorm room, the first thing I did was put a mattress encasement on that mattress that had been used for years by people doing who knows what.  shudder!  I wish I had had this Verilux vacuum with me, too.  The CleanWave Sanitizing Portable Vacuum is a hand-held model that is not only convenient for vacuuming mattresses, sofas, and other upholstered furniture, but it also has a UV-C light in the head.  This UV light is the "same UV sanitizing technology  that's been used for over 30 years in hospitals, food processing facilities and water treatment plants, CleanWave's germ reducing  light can penetrate a micro-organism's cell membrane damaging the DNA, preventing growth and killing the organism."  Verilux says it has been proven in the laboratory to kill 99.9% of of H1N1 and MRSA in 1 second.  It can combat certain molds and allergens without harsh chemicals or liquids, and it can even reduce pest eggs like bed bug, flea and dust mite eggs.  The vacuum has a 400 watt motor and cyclonic action for effective cleaning, and a bag-less collection cup and 2-stage micro-allergy filtration.
You can order the CleanWave Sanitizing Portable Vacuum directly from Verilux for $129.99.