We use affiliate links. If you buy something through the links on this page, we may earn a commission at no cost to you. Learn more.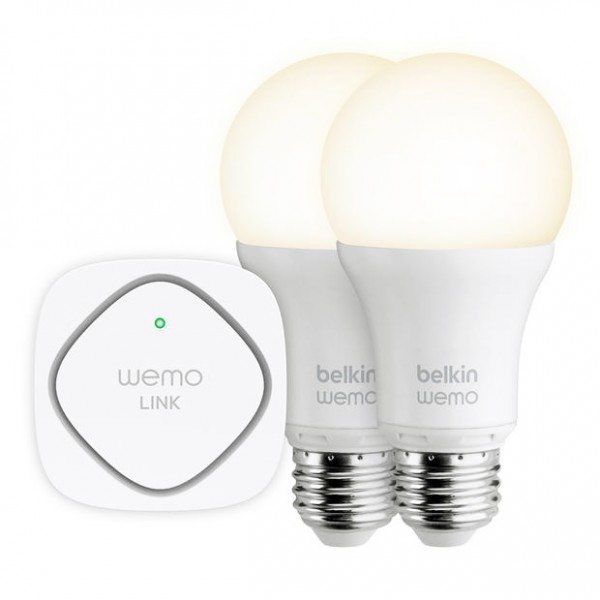 Actually, they'll be shipping on September 18, 2014, but Belkin is finally taking pre-orders for these WiFi-controllable light bulbs.  I've used Belkin WeMo Switches for a long time now.  I have lamps plugged into them around my house, and the Switches are programmed to turn my lights on at sunset and off several hours later.  The Switches work well with lamps, but I have a few rooms around the house that don't have lamps, like my bathrooms and the hallways.  I can't use the Belkin Wall Switches with these ceiling fixtures because my house wiring doesn't match.  I don't want to put the Philips Hue bulbs in those rooms for two reasons:  I don't need color-changing bulbs there, just white lights, and I don't want to pay $60 for a bulb for those rooms.
The Belkin WeMo LED Lighting Starter Set has been "coming soon" for a long while, but Belkin has just updated their site to offer the set as a pre-order.  It's $99.99 for the set of two bulbs and the controller hub.  The bulbs are "warm, bright light bulbs similar to traditional 60-watt incandescent, and they only consume 10 watts of energy and produce very little heat."  You'll be able to turn the bulbs on/off or dim them from anywhere you have an internet connection.  They'll be controlled through the same WeMo mobile app that's used for the other WeMo home automation devices, so you'll be able to schedule them to come on or go off at specified times or at sunset/sunrise.  You can use geofencing to turn bulbs off as you leave or turn them on when you arrive home, and you can just use the mobile app to manually control them at any time.  The app is available for the following mobile devices:  Apple (iOS 6 and higher), Android (4.0 and higher), and Kindle Fire (3.0 and higher).
You'll need the Starter Set so you can get the bulbs connected to the internet with the hub.  You'll only need one hub, though, and you can add more bulbs throughout your house – up to fifty in total.  If you want a way to easily connect your lighting system without any rewiring so that you can program and control your lighting from anywhere in the world, head over to the Belkin website and pre-order the WeMo LED Lighting Starter Set.