We use affiliate links. If you buy something through the links on this page, we may earn a commission at no cost to you. Learn more.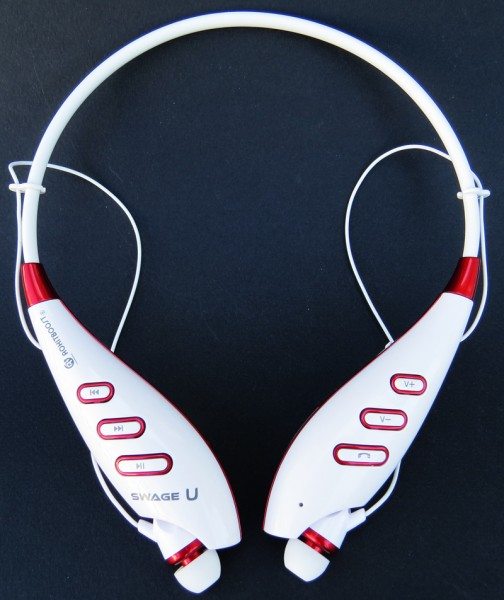 When I go out for a walk around the neighborhood, I always have to have music to listen to. Normally, plugging in my headphones and dropping my iPhone in my pocket works well, but lately I've been using an arm strap instead of my pockets. While it feels better for walking, the cord is starting to get annoying. So, when the Rokit Boost SwageU Bluetooth headphones came up for review, I thought I would give them a chance and see if Bluetooth headphones are really worth it. Did I think cutting the cord was worth it? Let's see.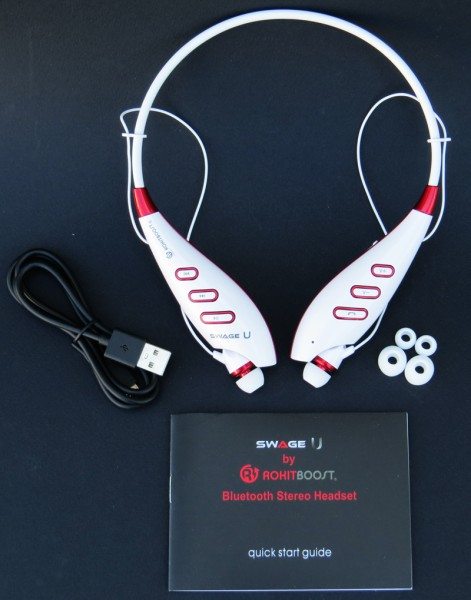 Inside of the box you'll find a micro-USB charging cable, an instruction manual, two different sizes of earbud tips, and of course, the headphones themselves.
The specs of the headphones are as follows: Bluetooth 4.0, built-in microphone, 8 hours playback & 100 hours standby battery life, ~30 ft range, and can connect to two devices at a time. I found the range to be less than advertised, and significantly less if there's a wall in between. The sound started cutting out one room away. As for pairing with two devices, they worked just fine. I had my husband connect and use the headphones while they were still paired with my phone, and he had no problems connecting or using them.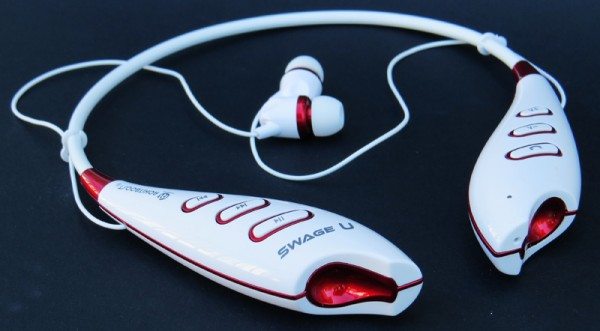 I took the headphones out of the box, charged them up, and paired them with my phone. To pair, you just turn on the headphones and they will start pairing (or connecting) automatically. It took quite a while to find the headphones when pairing. So if you aren't seeing them right away, be patient. It took about thirty seconds of staring at the pairing screen before they showed. After they were paired, connecting each time was quick.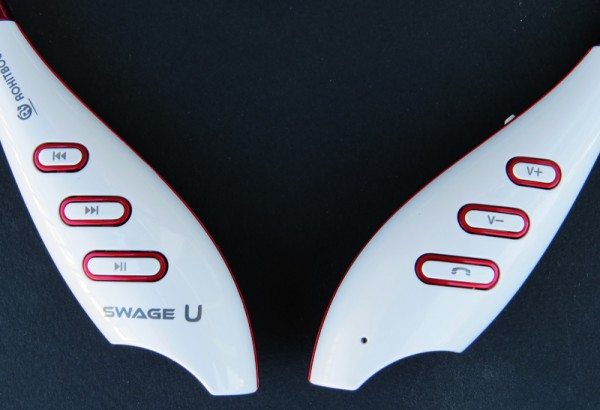 On the base part of the headphones you find the controls for play/pause, back/forward, volume up/down, and the call button. The little dot on the right side is where the power light is. When it is blinking blue, it is connected. When it is flashing blue and orange, it is looking to pair. And finally, when charging, the light will be orange while charging and turn off when finished. The buttons are easy to use if you can remember where they are, since you cannot see them once the base is around your neck. The only thing I'd change about the buttons is to perhaps put a raised bump on the middle button on each side. This would make it easier to figure out which button you are about to press.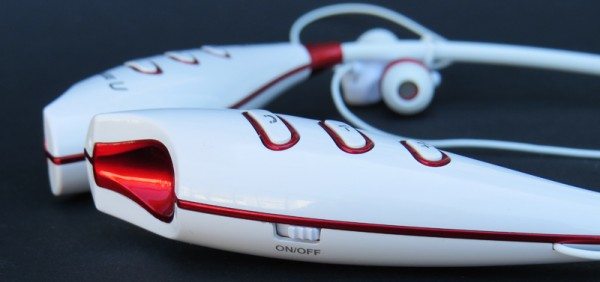 The on/off switch is pretty easy to use. At first I forgot to turn the headphones off, but they will go into a standby mode to preserve battery life. Good idea, because that wasn't the first time I forgot to turn the switch off!
Each earbud piece is magnetic and will attach to the red area on the base. They connect pretty well and they will stay connected if I moderately shake the base. I would not recommend traveling with these unless you have a protective case to put them in, since the base seems flimsy and the earbuds will most likely disconnect from the base and tangle. These headphones seem fitting for a home environment or for walks.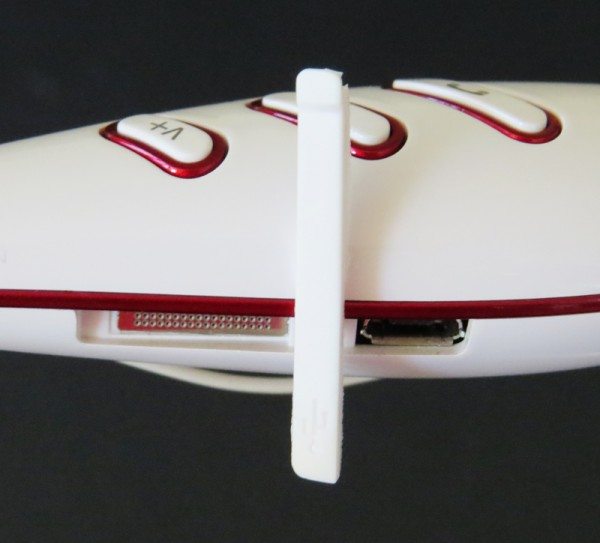 The specs for the battery life were as advertised. I let my music run on the headphones all day, and it lasted around 8 hours. After leaving the headphones off for a week, they had drained to maybe 20 percent. There is no way to tell on the headphones how the battery life is doing until they are nearly dead. Then they will start buzzing at you every minute until you charge them.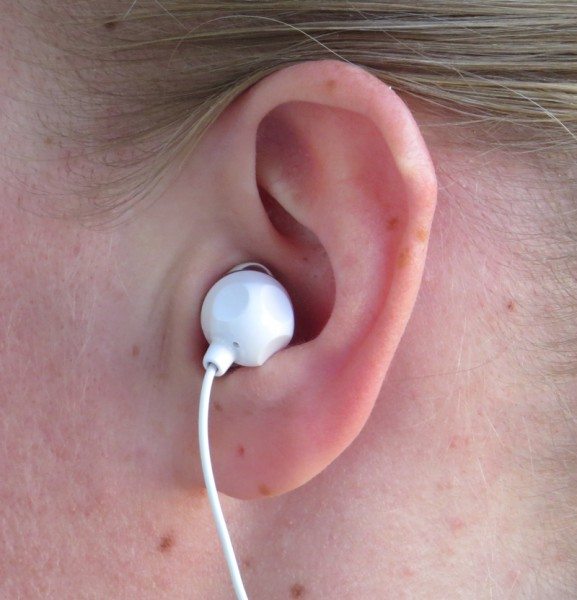 I have small ears, so a lot of earbuds do not fit well. These were no exception, due to the size of the back part of the earbud (the white part above) being too big for my ear. They sat fine as long as I did not move around much. My husband, who uses earbuds all the time, said they fit just fine and didn't fall out when he went running with them on.  If most earbuds fit, these will probably work just fine.
When it came to call quality, my husband told me that at first, it sounded like my mouth was too close to the microphone. After adjusting the base slightly, he said I sounded normal. On my end, he sounded as though he was on speakerphone. I could hear him just fine, however.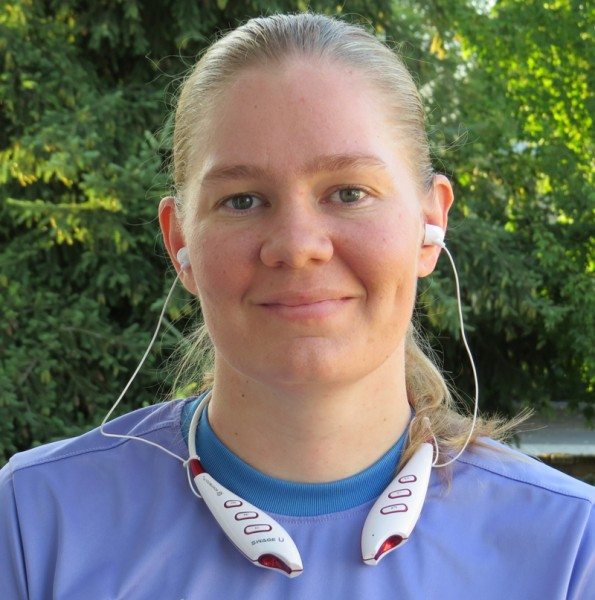 When I went for my walks outside, the base around my neck was comfortable unless I started sweating, which they'd become a little itchy on the back of my neck. My husband reported the same, but said that it was not enough to really bother him. The base unit stayed in place and didn't move around a lot.
I would give the sound quality of these headphones a 5/10. There is really no bass to them, and the sound is what I would expect from a $20 pair of headphones. Also, you have to turn up the volume quite a bit because the sound is quiet. That is one major complaint my husband had when running; he could not get the volume high enough.
Overall, I'd say these headphones are of average quality and cheap sounding. While it is convenient to have a pair of Bluetooth headphones, I will still most likely use my wired headphones since they have a significant better sound quality, even though they were cheaper than these headphones. Finally, there are several other pairs of headphones on the market in this price range, and nothing about these headphones stood out enough to make me recommend them over others that are out there.
Source: The sample for this review as provided by Rokit Boost. Visit their site for more info.
Product Information
Price:
$54.99
Manufacturer:
Rokit Boost
Requirements:

Bluetooth compatible device

Pros:

Good battery life
Easy to use

Cons:

Seem flimsy
Needs a case to make them portable
Can be louder
Not the best sound quality