We use affiliate links. If you buy something through the links on this page, we may earn a commission at no cost to you. Learn more.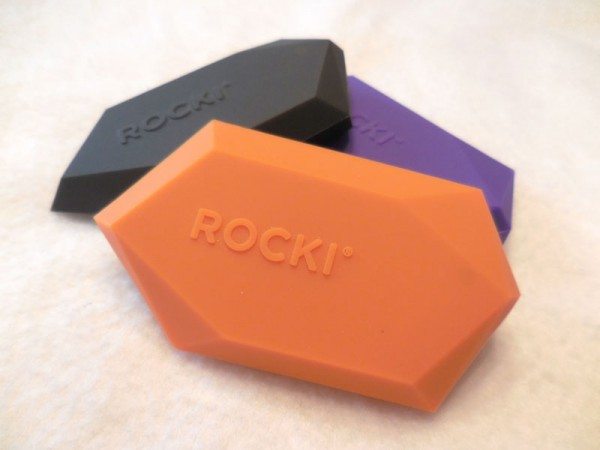 Many people would agree with me if I said that the Sonos wireless speaker system is the gold standard if you want to play music wirelessly in your home or business.  The feature set and options for Sonos are pretty extensive and performance is great. But it comes at a 'gold standard' price in my opinion.  And my budget lately hasn't been in the range of 'gold standard'.  So I have looked hard for wireless speaker systems that fit my budget, and didn't require Bluetooth to work.  I have reviewed several Bluetooth speakers here on The Gadgeteer, and still use several of them.  But Bluetooth speakers won't get you a truly wireless system for your house.  Enter: Rocki Play.  Wireless music to any speaker for $49. Is it all that?  Let's find out.
So what is Rocki?  It is a device that connects via wires to any speaker that accepts 3.5mm or RCA connections, and then connects to your home/business wifi network.  You then use the Rocki Android or iOS app to play music to the device over your wifi network anywhere your network can reach. Pretty simple.   This is the first generation of the device, hot off a successful Kickstarter launch, so there are some features missing, which I'll cover shortly.  But inside this strange, odd-angled little package is a pretty awesome device that I think is going to change things for this wireless music space, with new announced features that are coming soon.
So how does it work?  You plug the Rocki up to any existing speaker in your home/business that can take a 3.5mm or RCA connection. Then you install the free Rocki app on your phone/tablet and follow the steps to connect the app to your Rocki device (I'll list that process below). Then you play music on your device and it comes out of your speaker.  And just in case you were wondering, the Rocki does not have a built-in speaker like those Sonos devices have, so you will indeed have to already have a speaker of some kind or purchase a speaker to use with Rocki.
First, the basics:
Specifications
Wifi 802.11b/g/n (AP / Hotspot mode supported)
Music Formats Supported : MP3, FLAC, WAV, AIFF
Music Streaming Services Supported : Last.Fm, Soundcloud
ROCKI App versions : Android, iOS
Connectors : 3.5mm Stereo (Audio) / MicroUSB (Power/Charging)
Included in the box : 3.5mm to 3.5mm Audio Cable, 3.5mm to RCA Audio Cable, USB Charging Cable, USB Charger
Battery : 900 mAh
Dimensions: 3.6 in x 2.1 in x .7 in
Weight:  1.7 oz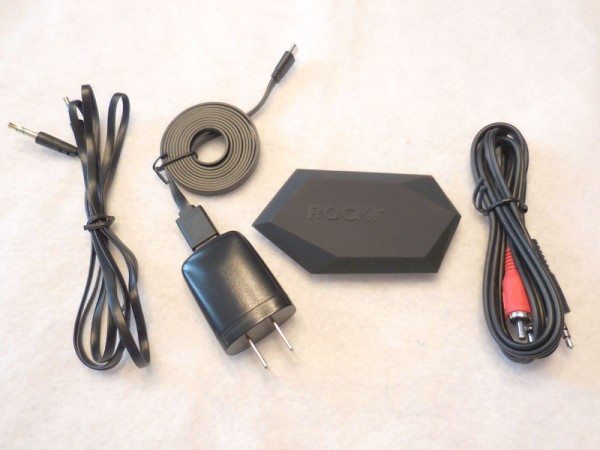 Device features
The Rocki is a little smaller than a deck of cards, and has a neoprene-rubberized-kinda cover (which comes in many colors) that you can remove. That helps when you accidentally drop it on a hard floor like I did. The cover protects it.  On the device you'll find a power button, a micro-USB charging port, and a 3.5mm jack. On the back is a small pin hole for doing a hard reboot if you need to do that.  In my testing I was able to get 5 hours of music playback before the Rocki died. But if you plug the Rocki's power cable up all the time, that isn't an issue.  I am not a music audiophile, so I can't speak much to the technical performance of the Rocki compared to other music devices.  But I will tell you that I was more than pleased with the sound that played through the speakers from the Rocki.  I didn't get any distortion even when I turned up the volume really high, and I was impressed with the low base tones that sounded really nice.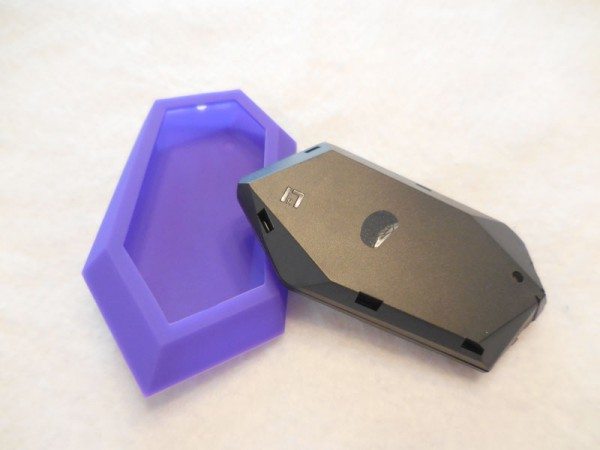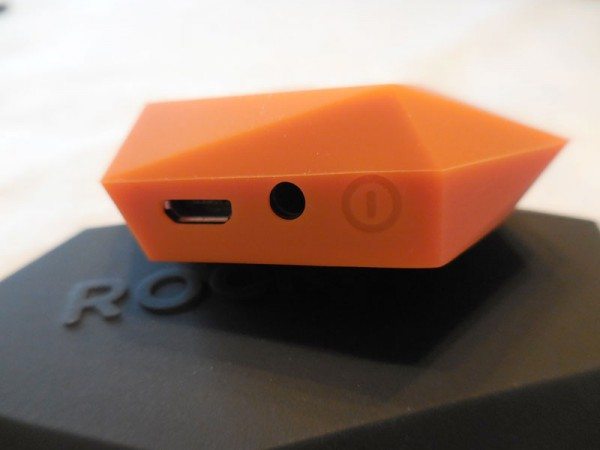 The Rocki, as I said, connects to your wireless network so anywhere your wireless network can reach you put the Rocki. Keep in mind however that the farther away from the wireless router you get, the more signal drops you are going to get in your music playback.  And there are times when you don't have access to a wireless network, so an additional feature that is pretty cool about the Rocki is that if you can use it without a wireless network because it can be used as a hotspot allowing you to connect directly to it with your phone/tablet. So you can take it to the outdoors with you, or perhaps to work if your work network is closed and protected from devices such as this.
App features
The Rocki app will look for any music that you have on your device and let you play that music.  The only 2 streaming music services that are provided right now are Last.Fm and SoundCloud, neither of which I use.  I use Spotify, Pandora, and Google Music, and was disappointed to find out that those are not supported. But Rocki says more streaming services are coming once they work out the licensing deals. So for now, the music on my device will have to suffice, which is fine since I have about 2,000 songs on my phone anyway.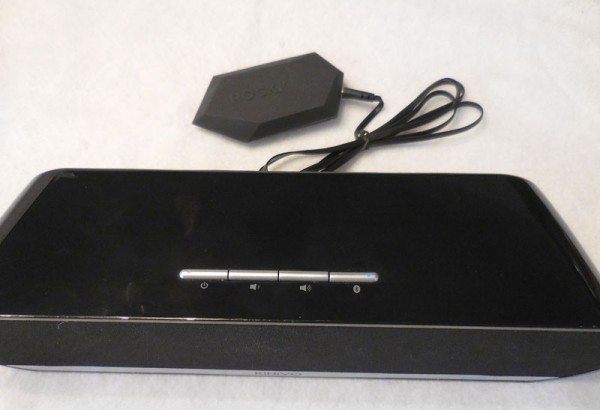 The app setup screens walk you through the dead-simple process of connecting to your Rocki devices over your wifi network.  And I do mean dead-simple. You can even turn on voice prompts in the app and it will tell you when it completes each step. It allows you to name your Rocki devices in case you have more than one, so for example, you could name them 'red rocki' or 'kitchen' or 'back patio' or whatever you want, so that it is easy to identify which one you want to play music to.
And that brings up my next disappointment, which is that you can connect as many Rocki devices as you want to your app, but you can only play your music to one device.  Said another way, I can play any song I want to any of the Rocki devices, even playing music to every Rocki device in the house at the same time, but I can't play one song to all the Rocki devices at the same time. Make sense?  One of the best features of the Sonos system is that you can play a song to all speakers at once in your house for a truly whole-house wireless music system. Rocki can't do this.  Yet.  They say that feature is coming soon in the form of a hardware update, so I will post back on this review when that happens, after I test it.  As promised, here is the setup procedure for connecting your first Rocki:
Setup procedure
Install free Rocki app on your phone
Turn on Rocki
Go to Settings in the app
Select "Start Setup Procedure"
Select "Start" (app begins scanning for local Rocki devices)
Select the Rocki device that is listed on the screen (the Rocki LED begins blinking red)
On the app screen select the color of the Rocki you have
Then you create a name for the Rocki, for example, 'orange Rocki' or 'Living room Rocki'
then enter your local wifi network password
Your Rocki then connects to the wifi network and reboots
You then go back to the app main screen where you select the button labeled "Rocki Me Now"
You press the green bar across the top of the app, then select which Rocki on your network  you want to connect to
Then the app shows you the music on your phone and you pick what you want to listen to.
Bottom line
For the price of $49, I don't think there is any other device out there that can provide you what the Rocki does. As long as you have a speaker of some kind, the Rocki can provide you true wireless music in your home. And anybody with the Rocki app can control the music, so each member of your family or your friends can install the app and play their music to the Rocki they choose.  The iOS app just recently came out and I have read some comments about that app being buggy, but the Android app is solid in my opinion.
I do wish that Rocki would provide a web-interface that allows me to control my devices from my computer's web browser, like you can with the Sonos system.  That may be a tall order to expect  however considering the price point of this device.  I also wish that I could use my streaming music services and I hope they do indeed bring that feature to the Rocki. If they do that, then this truly is bringing wireless music to the masses at a price that anyone can afford.
Update 12/18/14
I am still waiting on the promised firmware update to test the multi-room playback feature.  And according to the customer forums on the Rocki website, the Rocki team appears to be significantly behind in development.  3 months and waiting.
Source: The sample for this review was provided by Rocki. Visit their site for more info.

Product Information
Price:
$49.00
Manufacturer:
Rocki
Requirements:

Existing speaker that accepts 3.5mm or RCA connection
Android or iOS device

Pros:

Dead-simple installation
Great app
Awesome price

Cons:

Lack of music streaming services
No web interface for PC
Limited battery life with 900 mAh battery