We use affiliate links. If you buy something through the links on this page, we may earn a commission at no cost to you. Learn more.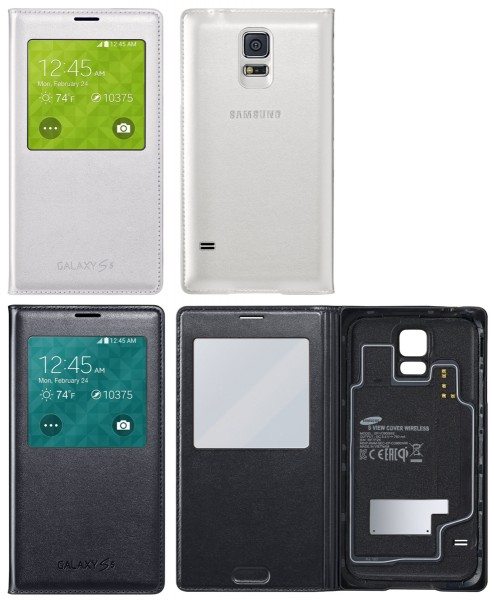 While sitting in Starbucks over the weekend, I noticed the gorgeous white phone and case belonging to the lady sitting at the next table.  It was so beautiful that I wanted to ask her what phone she had.  The case and phone were incredibly thin, and the cover had a window that showed the top half of the screen.  I kept sneaking glances at it until I decided it was a Samsung Galaxy S5 phone.  When I got home, I started looking for the case; turns out it was the official S-View Flip Cover case from Samsung.  There are two versions of the S-View covers.  Both have windows on the cover so you can "easily view key indicators, time, date, alarm, missed calls, new messages, etc. without flipping open the cover"; you can also answer or reject calls or access the camera without opening the cover.  When you do open the cover, the sleep/wake function will wake up your S5.  Both cases replace the phone's battery cover; the S-View cases have rubber gaskets that maintain the phone's water resistance.  And both cases protect the phone and its touchscreen.  
The Galaxy S 5 S-View Flip Cover comes in black, white, rose gold, and pink smooth faux leather or gold, blue, or green perforated faux leather.  The phone recognizes the color of the case and changes the background to a complementary color – or you can choose your own background image.  This case is $49.99 at Samsung.
The Galaxy S 5 Wireless Charging S-View Flip Cover is available only in white or black smooth faux leather.  It also replaces the S5's battery cover and has rubber gaskets to maintain the water resistance.  It contains an integrated Samsung ID chip and utilizes the global Qi standards for inductive charging.  You charge your S5 simply by placing the cased phone on the Samsung Wireless Charging Pad.  The Galaxy S 5 Wireless Charging S-View Flip Cover is $69.99 at Samsung.