We use affiliate links. If you buy something through the links on this page, we may earn a commission at no cost to you. Learn more.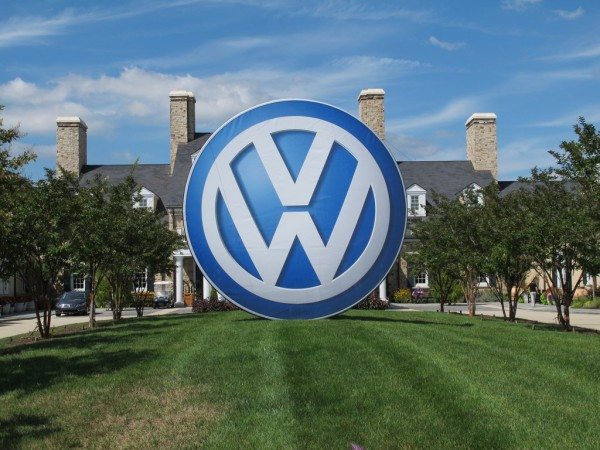 One of my dreams is to own an all-electric vehicle, but I've never actually driven one until my recent trip to attend Volkswagen's Full-Line Press event in Middleburgh, VA.  I, along with two dozen other bloggers, were invited to attend this event and hear about VW's plans and get a preview of several of their products.  For me, this included a short drive in the eGolf electric car through the Virginia countryside.The event was held at the Salamander Resort and Spa in Middleburgh, VA.   I suppose this venue was selected to impress, and it did, but I was more interested in playing with the hardware than staying in a $450 per night room.  The hospitality was 5 star and the Volkswagen folks made us all feel welcomed.
I arrived one evening and left the next afternoon.  That didn't leave much time for hands on with the cars, so my total driving consisted of 10 miles with the eGolf and 10 miles in a Jetta TDI.  There is nothing too remarkable about driving the Jetta except that it is a diesel-powered car.  I'm not a car reviewer by trade, so all I can say is that it handled well and seemed to function like any of the hundreds of vehicles I've owned or rented over the years.  What was interesting was how quiet the diesel engine is.  The only time I noticed it was when punching the accelerator to merge into traffic and then it really wasn't annoying.  However, my real passion was to get behind the wheel of the all-electric eGolf.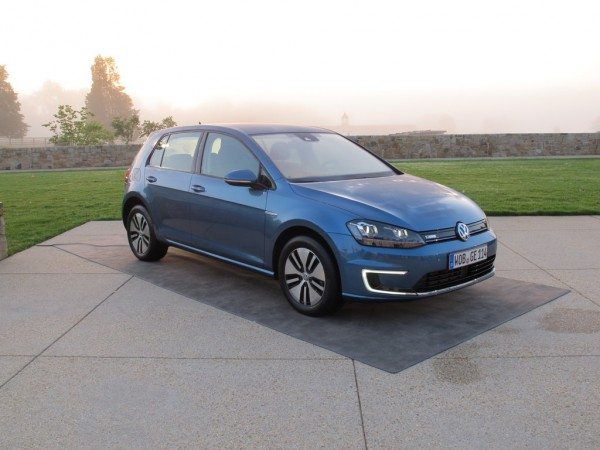 Here's the car I was going to drive, after the fog burned off.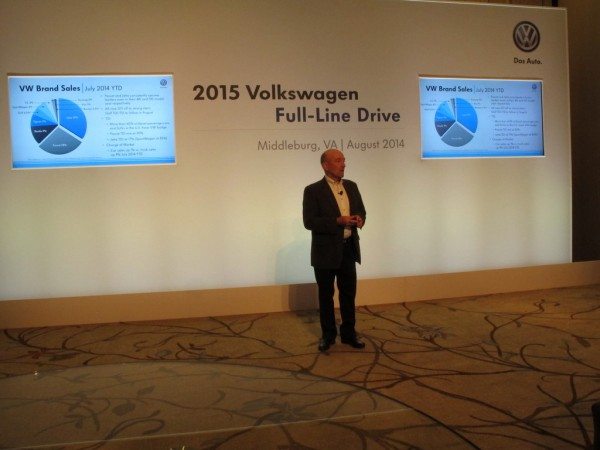 But first, before we set out to tour the country side we listened to a marketing presentation by some execs from Volkswagen.  They spoke about market share and their commitment to the US market.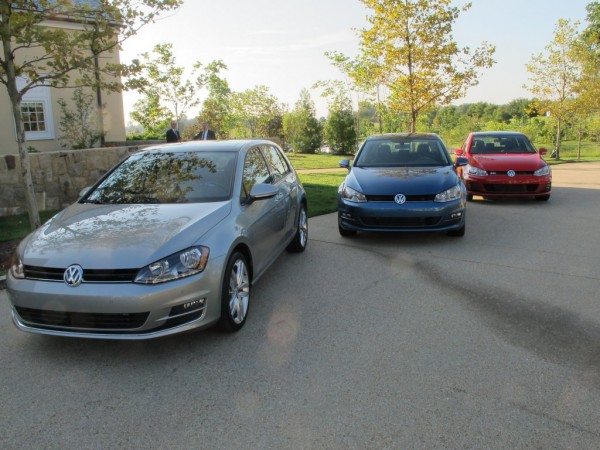 They lined up the cars and each participant was paired with another participant.  Then one of the pair would drive for half of the route and we'd swap for the other half.  I drove the first half.  Before we hit the road, we were warned several times that the Virginia Police were aggressive in enforcing the speed limit, even on the private property of the hotel.  This made me paranoid for the whole trip and because the pre-planned route took us over small country roads, we drove most of the time no faster than 45 mph.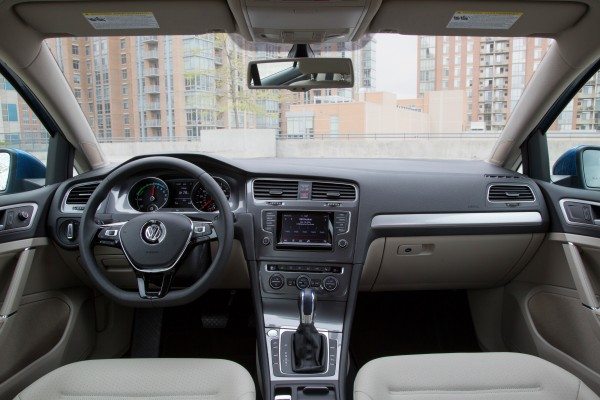 Here's an interior shot of the car I grabbed from the press kit.  VW purposely kept the car true to the Golf line.  Both visually and functionally, the eGolf resembles the gas version.  I think doing so makes it easier for people to accept a new technology.
Driving the eGolf is no different from driving a conventional gas-powered vehicle.  Step on the brake; push the start engine button; pull the gear selector to drive and go.  What is noticeable is the torque available when you punch the accelerator.  This is a benefit of all-electric powered vehicles.
Here are some specs:
Powered by an AC motor delivering 115 horsepower to the front wheels via a single speed transmission
Delivers between 70 – 90 miles per charge on the lithium-ion batteries
Onboard charger connects via standard 110 V outlet to charge the battery in 20 hours
Optional 240 V charger brings the batteries to a full charge in less than 4 hours
Using a DC fast charger (available at dealers and many other locations) charges up to 80 percent in 30 minutes
Three selectable driving modes  (these progressively limit the horsepower and/or accessory draw) to extend the range
Three selectable regenerative braking modes, feeding power back into the battery also extending the range
A dedicated smart phone app allowing the owner to remotely adjust certain charging parameters and read back car functions
A roadside assistance plan that will tow your dead battery vehicle to a charging point, plus pay for taxi or transportation fees of the owner
Standard 3 year 36,00  mile new car warranty plus 5 year 60,000 mile powertrain warranty
Additional 100,000 miles 8 year battery warranty against 70 percent capacity
3 year roadside assistance and 1 year scheduled maintenance for free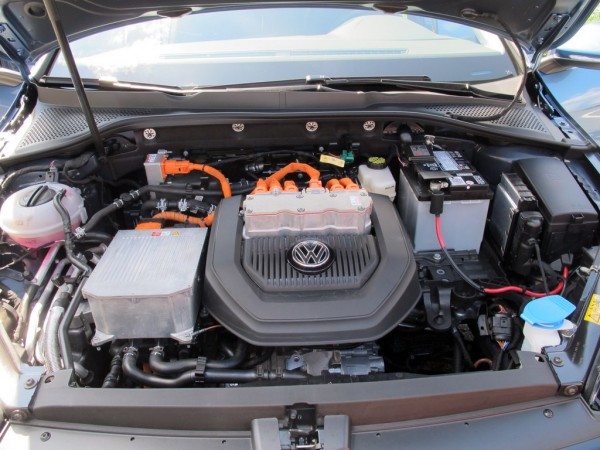 A look under the hood.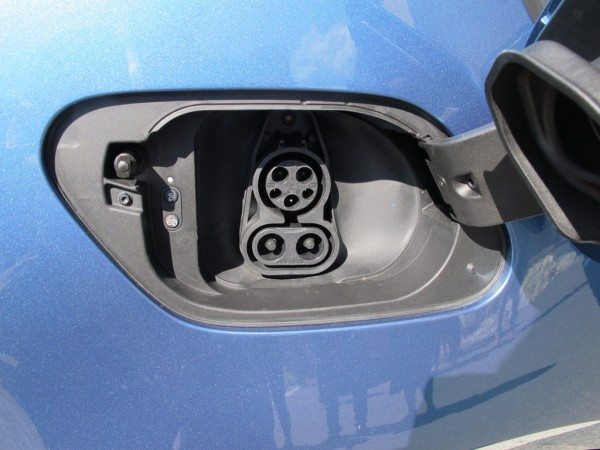 They put the charger port where the gas filler is on the conventional Golf.
Would I buy a VW eGolf?  Not yet and here's why.
The MSRP is $35,445 plus $820 for destination charges.  Then you'll need the 240 V charger which costs $500 plus another $500 to have it installed.  Now we're up to $37,265.  There may be a $7,500 tax credit, but in my case it wouldn't apply.  VW does offer a 3 year lease at $299 per month and you will still need to add about $1,000 for the charger.  All this for a short-range around town compact vehicle.
The cost is only part of my concern.  Because I only had a 10 mile test and it was in optimum conditions with the ambient temperature being 75º F and driving at speeds between 30 and 45 Mph on flat roads, I have no idea what the range would be like in a real world situation.  Here in New Hampshire it gets cold in the winter;  we have mountains and hills and our speed limit tops out at 70 Mph.  We asked what effect temperature would have on the range and weren't really given a clear answer,  I have read though, that one can expect a 20% drop in range at temperatures below freezing.  Worst case this would mean the range for the eGolf in the winter could be 56 miles or less if the heater is on.  This range anxiety concern is mitigated somewhat by the VW roadside assistance towing plan, but it's still worrisome.
The VW eGolf was a pleasure to drive.  It was comfortable for the short trip and as expected, amazingly quiet.  It had a host of convenience options, but surprisingly no USB ports for charging handheld devices.  Even my 4-year-old Fusion Hybrid has those.  I've asked VW if I could have  an eGolf for an extended test, after it's commercially available in November.  This would give me a better idea if it makes sense for someone like me who drives less that 5,000 miles per year, but doesn't live in Southern California, to purchase one.  Until then, I'll keep the dream of owning an electric vehicle on my bucket list.
Source: The trip to this press event was paid for by VW. Please visit their site for more info.