We use affiliate links. If you buy something through the links on this page, we may earn a commission at no cost to you. Learn more.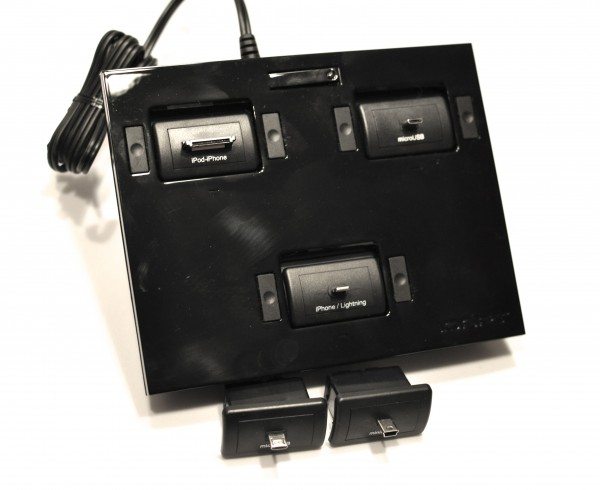 Chances are pretty good that you have at least one universal charger already.  One was probably even given to you as a gift over the holidays from a relative who thought it sounded "techie." I may be just a little bitter because I find one in my stocking every year from my mother, and they all find themselves at the bottom of my same catch-all drawer never to be heard from again.
So why would I want to review one of these chargers?  Because I still believe the holy grail is out there–a multi-device charger that is convenient to use, is slim and unnoticeable on a counter or table top, doesn't have a bunch of wires feeding into it, and most importantly is fast.  I have yet to find absolute perfection–but the IDAPT i4+ universal charger does come very, very close.
What's in the Box
IDAPT i4+ universal charger base
AC power unit
5 interchangeable tips (2 microUSB, Apple Lightning, miniUSB, Apple 30-pin)
User's Guide
One of the very few criticisms I have for this charger is just the style and materials of the base itself.  The entire charger is made of hard plastic.  The high shine, reflective images on the manufacturer's website gave me the idea that the very top would be glass.  Granted the description says nothing to make me think that, but that was what I was expecting when I pulled it out of the box.  Instead, it's very lightweight plastic.  This doesn't detract from the product's functionality, just the style. The faceplate is available in six different colors.  I was sent black to review, which I quickly discovered shows each and every fingerprint.  I tried to clean them as best I could for the pictures, but I apologize in advance for all of the finger smudges.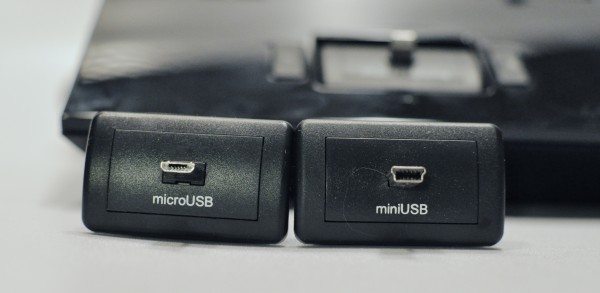 The charger came with four of the most common adapter tip types (microUSB, miniUSB, Apple lightning, and the original Apple 30-pin), and a second tip for microUSB.  Every electronic device I use with any regularity falls under one of those four.
In the event a specific tip is needed, for the Nintendo DS handheld system for example, additional tips can be purchased from the manufacturer's website.  If they're purchased alongside the charger, those additional tips are half price, otherwise they range from $10-$20.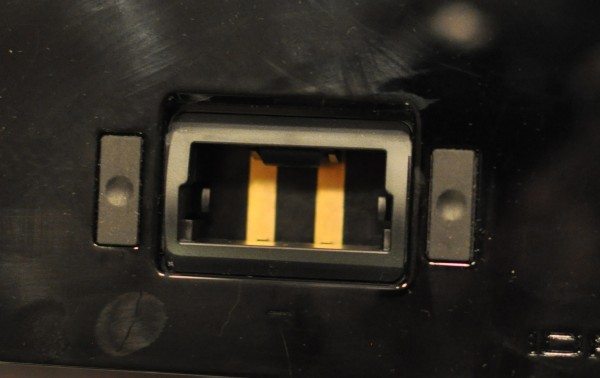 The IDAPT i4+ charger has three top-loading ports, each pulling roughly 5Watts of power.  Since each port is getting powered separately, there is no difference in time for a full charge if one device is connected or three.
The instructions claim it will charge a phone just as fast as when using the original manufacturer's cable, and I have to say that that definitely seemed to be the case for my and my partner's iPhones.  Even my Kindle Fire went from a completely drained battery to fully charged in about three hours.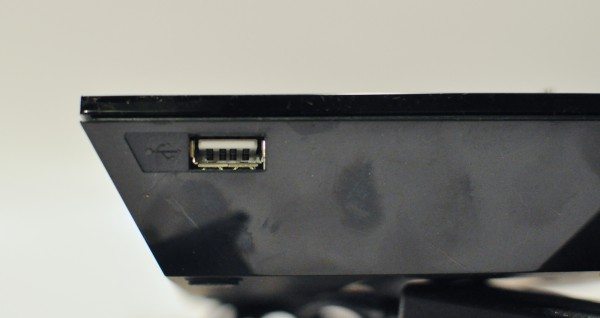 For anything needing just a standard USB, there is a single full-size port along the side pulling a minimum of 10Watts.  Again, it is getting its own power, regardless of what is hooked up to the other ports.  In total, four devices can be charged simultaneously.
Now just because it's possible, doesn't mean it's easy.  Depending on the size of the device you want to charge, it may block the additional ports.  Luckily they are staggered, two on the back row and one in front.  As I'm writing this, I'm charging my Kindle Fire which is taking up the entire back row and my iPhone is sitting in the front row position.  Cases for the most part do have to be removed if using one of the adapters.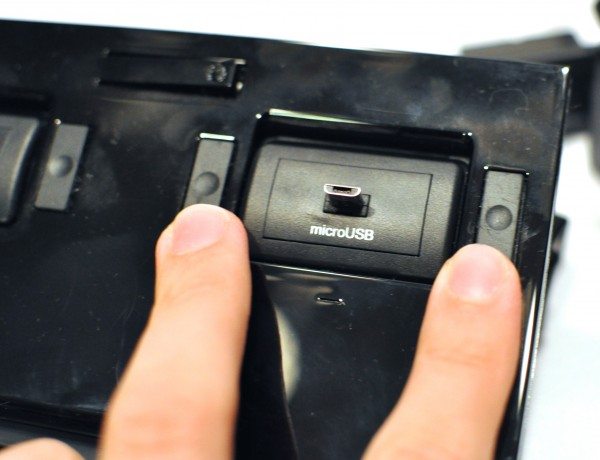 There is no "assigned" port for any of the adapters and they can easily be swapped and moved around to better suit your configuration needs. To remove an adapter from the port, you just press the release tabs at either side of the port.  The adapter is then quite literally ejected out.
I read several negative reviews about this unit on Amazon recently, claiming tips breaking off of the adapters and IDAPT units that immediately die or underperform.  I've used this charger consistently for about a month now and it has consistently performed.  I think it's just a matter of common sense, not jamming an adapter tip into a device or moving the device while it is docked in the charger.
For the picture below I have my Kindle standing on the unit, but in practice, I use the USB charger and lay it down to the side.  Since a device is only supported by the adapter tip, I'd recommend using the USB for the taller and heavier devices.  There really aren't any such warnings on the IDAPT site from what I saw, but it just boils down to erring on the side of caution.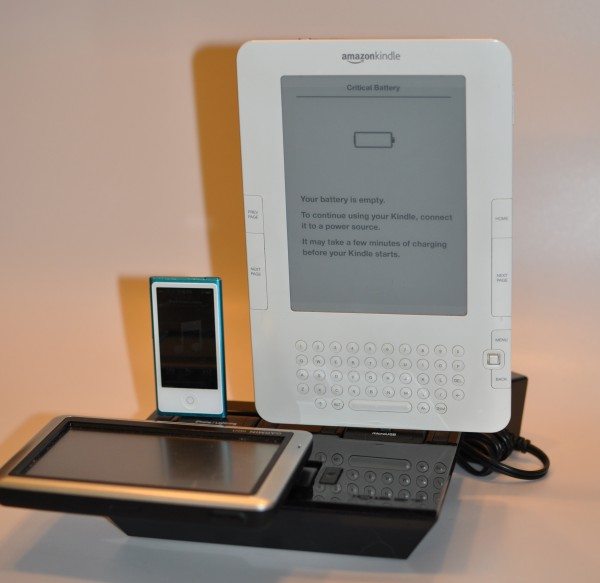 My only other criticism of the unit is that there is no onboard storage for the two adapters not currently in use.  It's a huge pet peeve of mine to be given additional cables, clips, or adapters for a product, but not a place to actually store them.
Other than those couple of design issues, I really found no flaws with the charger itself.  It has eliminated my nightly task of rummaging through drawers to find cell chargers and USB adapters and has also greatly reduced the wire clutter on my countertops.  Most importantly though, it just plan works, and works well.
The IDAPT i4+ universal charger is available in your choice of faceplate color–black, blue, pink,  green, yellow, white– for $49.99.
Update 12/4/14
Since reviewing, this charger has stayed out in my living room and gets daily usage from either me or my wife.  However, we only really use the iPhone attachment, as charging any other device is typically cumbersome due to the charged device needing to remain upright.  I wish there was an option when ordering to customize which adapter tips were included.  Even so, its slim profile and multiple ports still makes it my go to charger.
Updates 02/22/16
Actually, I do still use this–but its days are numbered. It's no longer a universal charger for me–my Kindle quickly broke the microUSB cartridge tip, due to the lack of onboard storage the other microUSB and Apple 30-pin tips are missing, nothing I currently use needs a miniUSB, and the USB port is nice but ultimately I'm using the charger because I hate wires so that port just collects dust. As is stands, it's just a really big iPhone charger for me but I've noticed that even that cartridge tip is starting to get wobbly and once it's completely loose it's lights out for iDapt.
Source: The sample for this review was provided by IDAPT. Visit their site for more info.

Product Information
Price:
$49.99
Manufacturer:
IDAPT
Requirements:
Pros:

Compatible with over 5,000 devices
Charges 4 devices at once
Additional tips available

Cons:

Lightweight plastic doesn't stay in place during one-handed removals
No on-board storage for unused tips