The Gadgeteer is supported by readers like you! If you buy something through links on our site, we may earn an affiliate commission. Thank you! Learn more.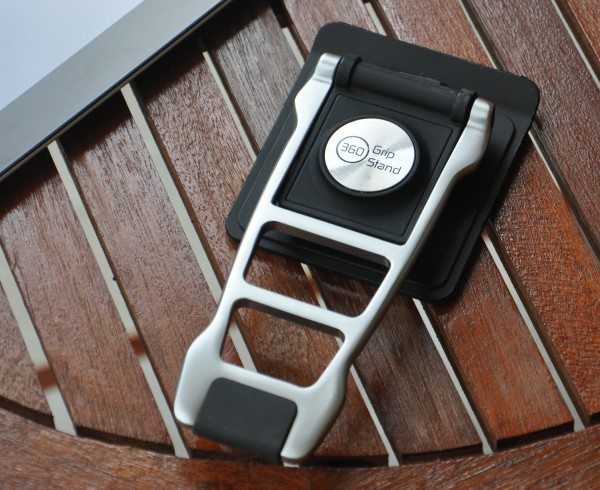 There's a new-ish technology being used in many items, and I'm kinda digging it. It's the microsuction tech being used by case and stand makers for securing items to smooth surfaces. The folks at Lynktec use it to hold their new GripStand to the back of an iPad or tablet – or even a flat, smooth clipboard, if you're of the paper-using type. Once it's attached (which just requires firm pressure for a few seconds), it's on until you peel it off. I was sent a test unit, and put it through its paces for a few weeks. Let's take a closer look at this little gizmo.Note: Images may be tapped or clicked for a larger size.
The stand is made from two parts – a plastic, rotating piece that attaches to your tablet via the aforementioned microsuction pad, and an aluminum arm that ends in a rubber, grippy, furniture protecting pad. (Here's a close-up of the pad on the end. Note how it totally covers the end of the smooth metal.)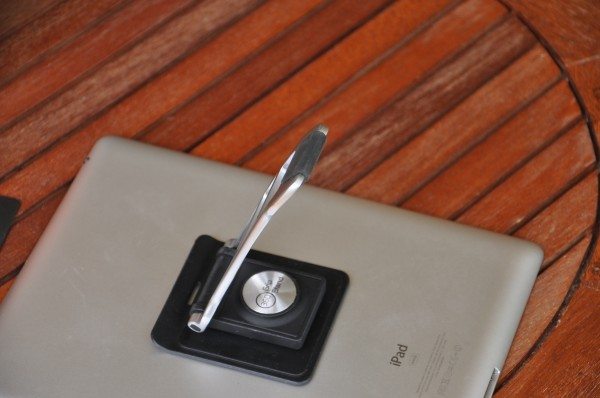 You can pivot the arm through 360°, with notches at all eight compass points where it can click into place. This makes it a cinch to lock it into portrait for viewing or landscape for reading or telecommunications. The arm also folds through 180º from being flat against your device through folding the opposite way. This has no "clicks" but is friction-locked. It is very stable and easily holds the weight of most modern tablets, as shown in the pictures below.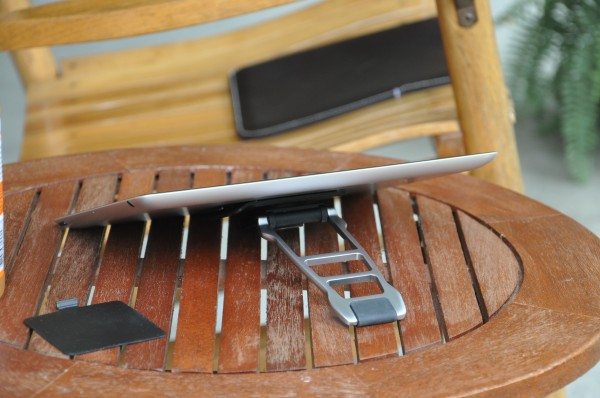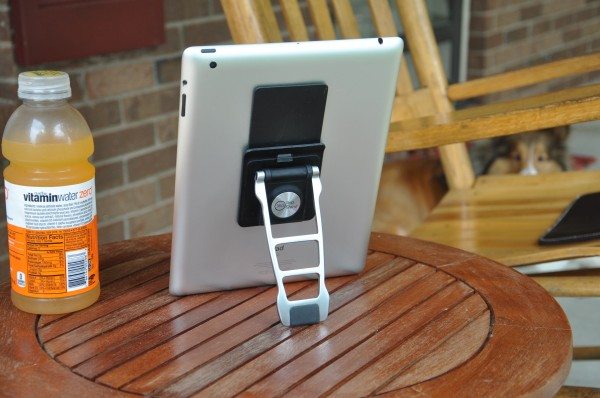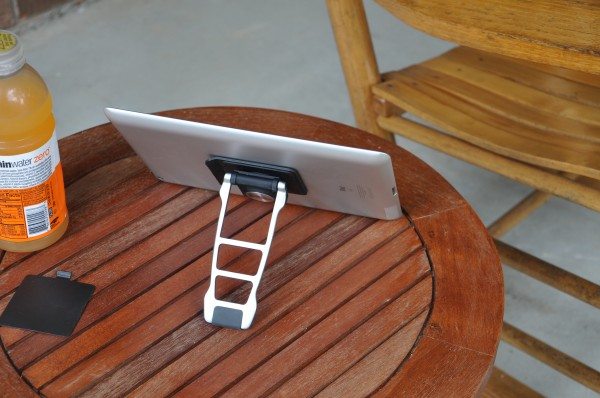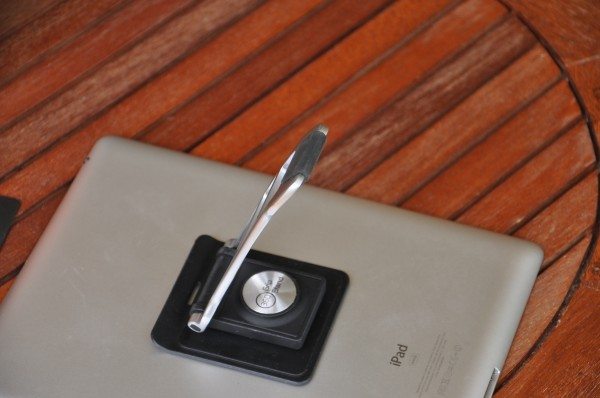 Included in the kit is a plastic cover for the microsuction pad that keeps it clean and prevents it sticking to any flat items in your bag. It even has a tab at the top, if you'd like to keep it attached while using the stand with your device. The top of the plastic piece with the suction pad is molded with a ~20° angle at the top, where you can get your fingers under to pry the stand from your tablet. That's where the cover tethers – in a small keyhole slot. (See it tethered in the portrait shot above. You didn't even notice it, did you?)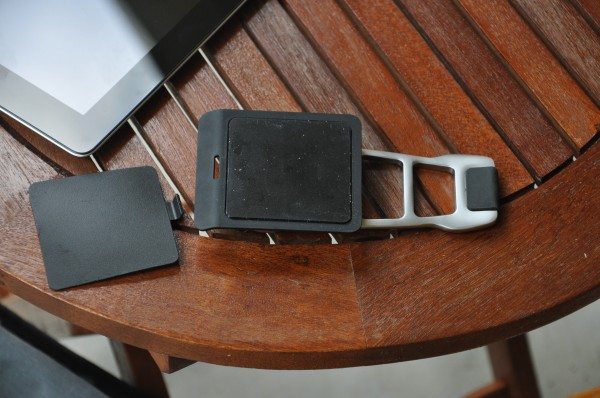 I've used it on my iPad in warm places like sunny cafe tables, cooler places like air-conditioned bars and coffee shops, and all around my home and office. I've never had it slip off or move at all, and I've had it on and off more times than I can count. The only reasons I don't leave it on all the time is that it will not fit into the stand I use by my sofa, and the iPad cases I have are a bit snug for using with it. Obviously, if you have a shell or form-fitting case on the back of your device, this isn't going to work unless it's smooth, but you may find that it can stick to your case and add more value along the way. (During testing, I had a friend try it with his Apple leather smart case, and it worked like a charm.)
Traveling with the grip stand is a breeze, even if you remove it constantly. It's a tad heavy in your bag, but it makes placing your device so versatile that, until you're packing to put your tablet back in its case, you'll probably not remove it. I found this to be true on a multi-day visit to my mother's house, anyway. So, other than the perceived need to remove it to toss into a bag for travel, I could find nothing at all wrong with this stand, which is unusual for me. At $50, it's not an impulse buy, but, as I said, it's quite a bit more useful than it looks at first glance. You'll find yourself using it all the time. Five out of five stars. Great job, LynkTec!
Source: The sample for this review was provided by LynkTec. Visit their site for more info.
Support The Gadgeteer
:
The Gadgeteer is supported by readers like you! If you buy something through the links on our site, we may earn a small affiliate commission. Thank you! Learn more.
Product Information
Price:
$50
Manufacturer:
LynkTec
Requirements:

Hard, flat surface for mounting stand.

Pros:

Versatile
Not too expensive, given the build quality and function
Easy to use and re-use with any device

Cons:

Requires flat, non-porous surface
Must be removed for many cases or stands
You will miss it if you leave it at home