We use affiliate links. If you buy something through the links on this page, we may earn a commission at no cost to you. Learn more.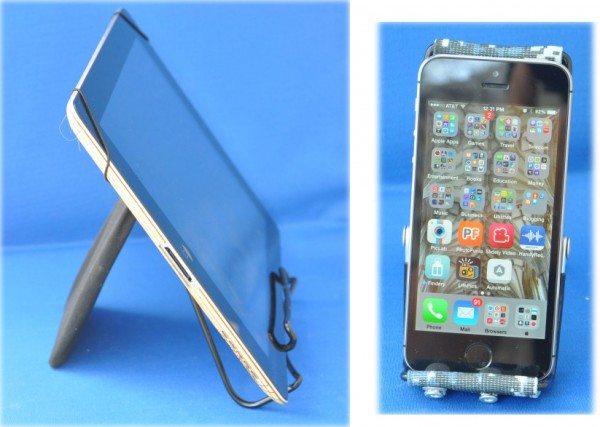 There are many types of stands for tablets. Some are a single angle, built for either reading and movies, or for typing and heads-down work.  Others (such as those from Apple and the kickstands on Microsoft's Surface) mandate that you cannot change the orientation – it's horizontal (usually), and that cannot be changed. But if you're reading news or a book, portrait gets more info on the screen at a time with a shorter line-length and is more like reading a traditional "dead tree" source. New entrants in the portable stand market from Gibson Holders are the Fold & Go tablet stand and the Smartphone Lounger for phones. They sent one of each of these stands, so that I could test both.
Note: Photos can be tapped or clicked for a larger image.
Both stands are similar in that they are made of a large gauge wire, bent into a squared-off form, and bolted together for adjustment. A fabric is used to cover part of the frame.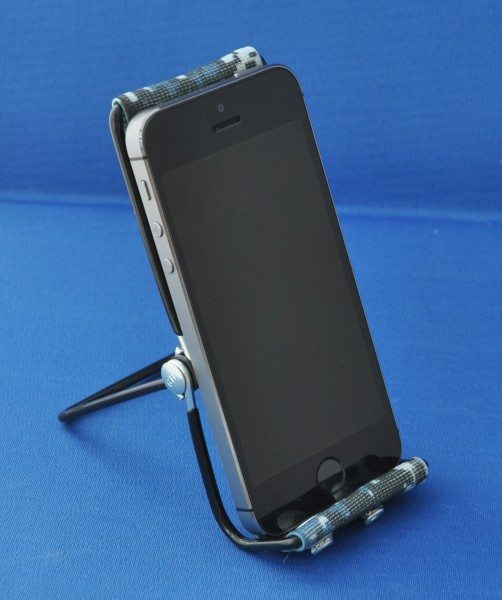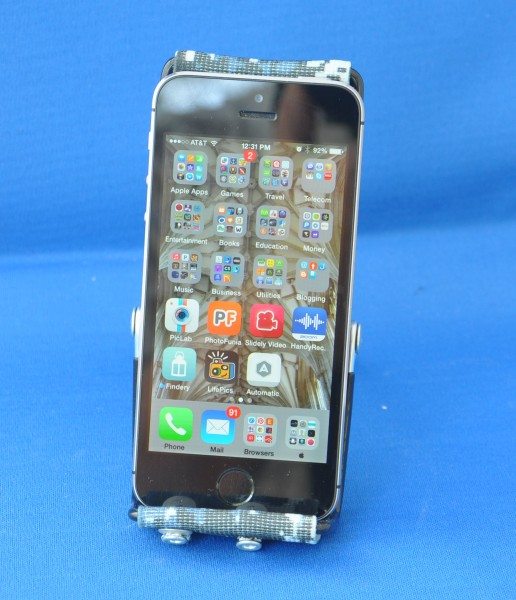 The Smartphone Lounger stand is functional, but kinda cutesy. It looks for all the world like a deck chair for your phone. The top and bottom are squared off and have an elastic sling attached. (The sling comes in several colors. I was sent the urban digital camo pattern.) The rear leg sits back, balancing the whole thing. You can use your phone in portrait or landscape, but you can't charge it in portrait, if the charger port is at the bottom. Not very useful, unless you need your phone propped up while doing other things in remote places. There are loads of similar units that offer similar or better takes on the phone desk stand, especially for $10.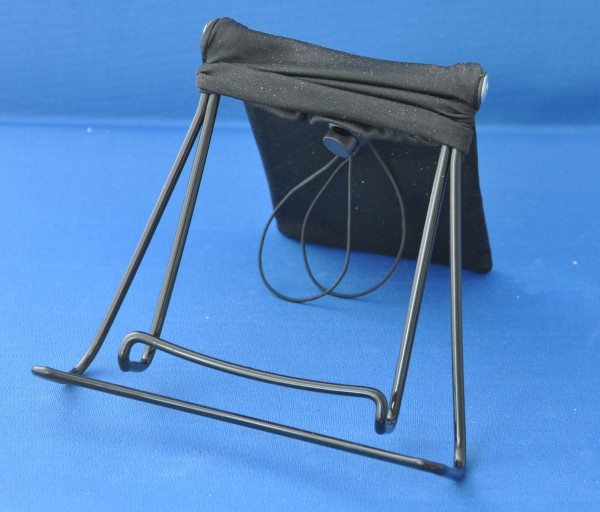 The Fold & Go tablet stand doesn't have a sling, and the two pieces that sit on the surface are independent of the single piece holding the tablet. It does, however, have a few loops of elastic thread which allows you to secure the upper ends of the tablet to the stand, resulting in an attached stand, reminiscent of the Microsoft Surface's kickstand. You can orient the tablet in either portrait or landscape, and the wire support is bent in such a way that charging can be done in either orientation. A nice touch.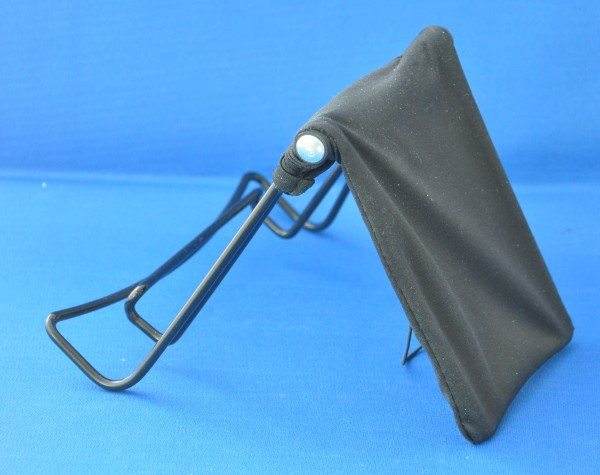 The fabric on the tablet stand covers the rear support leg and the hinge, but is open at the top to store cables, chargers, styli, or what have you. This appeared to be an issue when configuring the stand to hang from a chair or cabinet handle, but one of the online video tutorials quickly solved this for me. You flip the fabric off of the hinge, and swing the front legs forward and over the whole assembly, so that it hangs from the secured tray table, and the rear legs push it out from the seat. That leaves the lower stand to adjust the angle, while your iPad is secured to the whole with the elastic. Brilliant.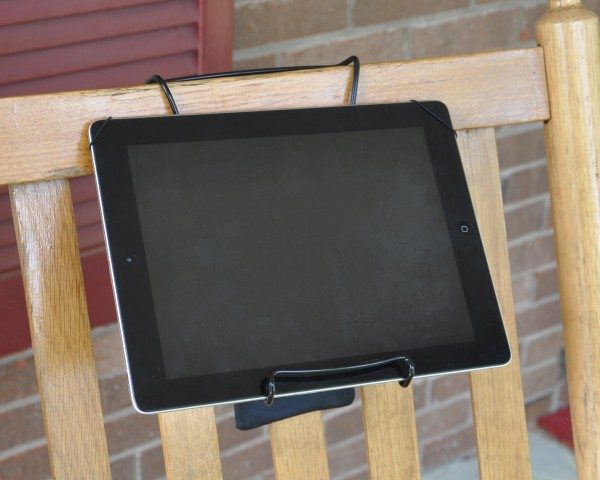 Having the tablet holder independent of the stand means you can also do things like hang the whole assembly over a chair back for a makeshift music stand, place it on a lectern and adjust the angle of the screen easily for speakers of various heights, and use it as a recipe holder while cooking without worrying about spills. On my desk, I find this to be a great stand, in that it is infinitely adjustable, so that I can have it at exactly the angle I want for the task at hand. And that keeps it above the tangle of cables that usually seem to manifest themselves.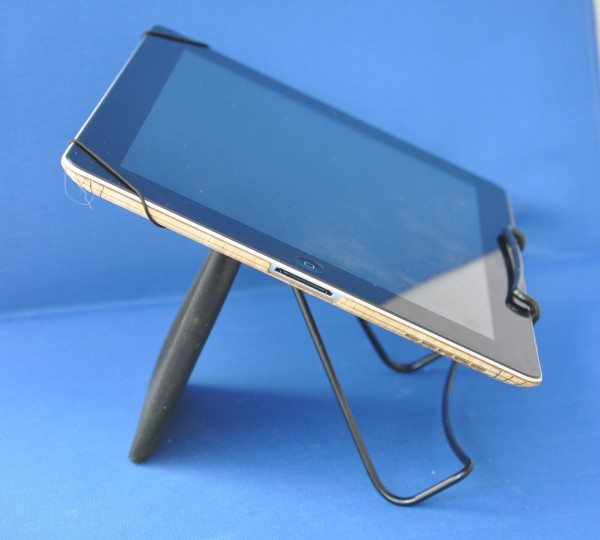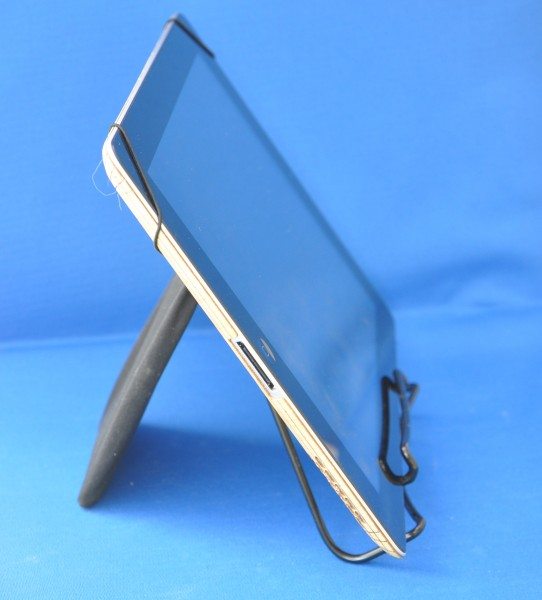 I don't mind that there's less mass to hold it steady, because for the most part, if I'm playing a game or typing directly on my iPad, it's gonna be in my lap, like it is right now. But when it's on the table or desk and I'm using a Bluetooth keyboard, having it easily adjustable, yet right there when I need to interact with the screen physically is a Good Thing™. And, for only $15 each, you can get one for every place that you think you'd need one: office, study, den, kitchen, car, travel kit, wherever!
Great product design, sturdily built of quality materials, and priced below what I would have guessed. Five stars out of five.
Source:  Both the Fold & Go and the Smartphone Lounger review samples were provided by and can be purchased from Gibson Holders.

Product Information
Price:
$10 for phone version, $15 for tablet version
Manufacturer:
Gibson Holders
Requirements:

Tablet/eReader for larger stand, phone/phablet/iPod for smaller stand.
Surface to sit stand on or a place to hang stand from.

Pros:

Extremely sturdy, yet portable.
Well-made from good quality materials.
Tablet stand is very creatively designed to solve many issues.

Cons:

Kindy fiddly to work with at first - looks like a kid's coat hanger wire art project.
Phone stand prevents charging in portrait orientation.
Elastic threads may not be secure for some larger, heavier tablets.