We use affiliate links. If you buy something through the links on this page, we may earn a commission at no cost to you. Learn more.
This post brought to you by Walmart. All opinions are 100% mine.
Years ago when my nephew was a toddler, Teddy Ruxpin was the ultimate in animated toys.  Old Teddy groaned and ground his way through a few eye movements as his lower jaw moved a bit while a cassette played.  There was no interaction with Teddy; you just sat and listened as he "told" you a story.  He was more a novelty than a companion for play – a little more than just a cassette player for books on tape.  He was pretty amazing for the time period, but today's kids are used to more sophisticated toys and would find him boring.  Kids now are used to using tablets; they get a reaction to their actions, and they expect to be an active participant. 
With the new Gabby doll from Chatsters™, your daughter won't just have a new toy.  She'll have a new BFF.  Gabby has a sassy personality, a sense of humor, a keen sense of fashion, a cute little puppy, accessories, and more than 25 fun activities and games so her human BFF won't get tired of her.  Gabby will sing, dance, chat, and charm your daughter as she gets to know her.
Gabby's big, doe-like eyes aren't just pretty to look at.  They light up and animate when she talks.  She's always "thinking" about learning more about her friend, and she'll ask questions of her human friends, ask for advice, play games, and make funny observations.  She knows more than three hundred words and phrases to keep the chatter and the fun going.
Her glasses aren't just a fashion accessory; they are a pair of high-resolution LED screens.  The screens function as her eyes, play animations, and are the screens for playing games with Gabby.    The glasses are also touch sensors that are used to communicate with Gabby.  When she asks questions – which do you prefer: dinosaurs or unicorns?, for example – you'll touch the glasses to answer.  Gabby's questions are designed to get to know you better – just like a real BFF.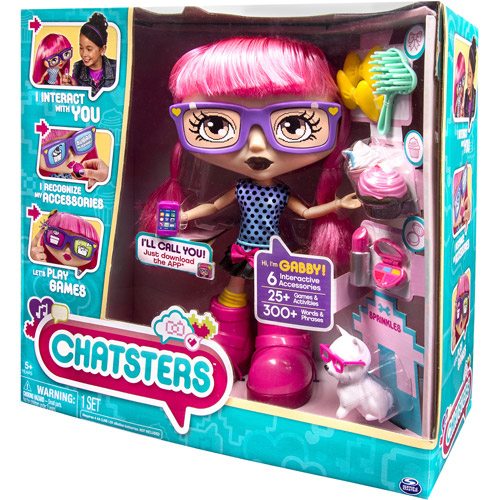 Chatsters™ provides Gabby with several fun accessories. She has a pet puppy named Sprinkles.  She has hair accessories, eye makeup, and lipstick, so you can give her a makeover. Just like most girls, Chatsters™ love their snacks, too, so Gabby comes with a cupcake and a smoothie.  No matter which accessory you choose to play with, Gabby has something to say about it and an animation.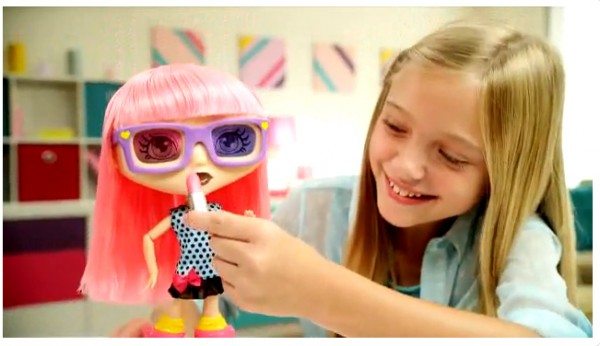 For example, you can change the color of her lipstick.  Her mouth lights up when you place the lipstick against it, and her lips change colors.  She likes music, too.  Play a song, and she'll dance along with you.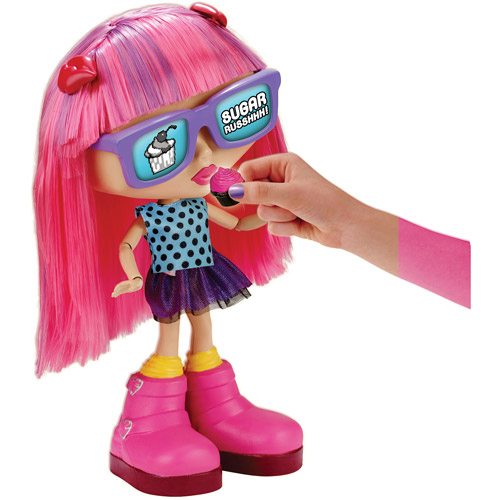 If you download a free app to your mobile device, Gabby can call you and send you text messages – just like a real BFF.  The app will also unlock new activities.  What with all the talking, playing, dancing, and texting, Gabby will get to know all about you!  (Check the Apple App Store or Android Marketplace for the Chatsters™ app.)
Gabby stands roughly a foot tall, and she's designed for children ages four and up.  She'll need four AA batteries, which you'll need to supply.
Chatsters™ is making Gabby available through Walmart.  She'll be available in Fall 2014, and Walmart is taking pre-orders now.  The doll is $79.97.  Be sure to get your order in early. What better holiday gift could you give your daughter than a funny, happy, playful, sassy new best friend?