We use affiliate links. If you buy something through the links on this page, we may earn a commission at no cost to you. Learn more.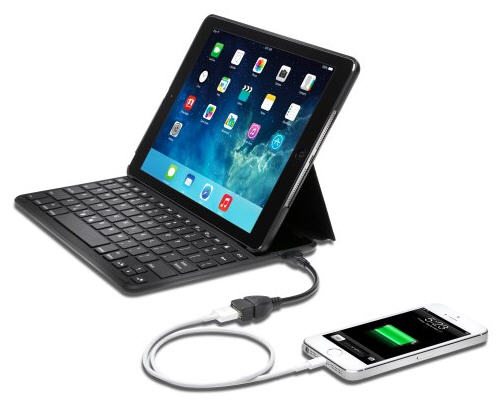 We review a lot of external battery packs here on The Gadgeteer. They come in all manner of shapes, sizes and colors, but they all suffer from one problem – they are just one more thing you have to carry around with you. One solution to this problem is to use gadgets that have a dual purpose like the new Kensington KeyFolio Thin X3 keyboard. The X3 is a Bluetooth keyboard made especially for the iPad Air that features what Kensington calls PowerLift technology which allows the user to draw power from their keyboard case to charge any smartphone. The battery capacity is only 1650 mAh, so it might not fully recharge your phone, but it will provide enough power to continue working for a few hours. The keyboard also offers high-performance scissor keys, a row of dedicated shortcut keys, and a KeySense Power Channel that automatically turns the Bluetooth keyboard on and off when it's opened and ready for typing.
The Kensington KeyFolio Thin X3 keyboard is priced at $99.99 and is available for pre-order through Kensington and Amazon. The keyboard will be available August 1st.