We use affiliate links. If you buy something through the links on this page, we may earn a commission at no cost to you. Learn more.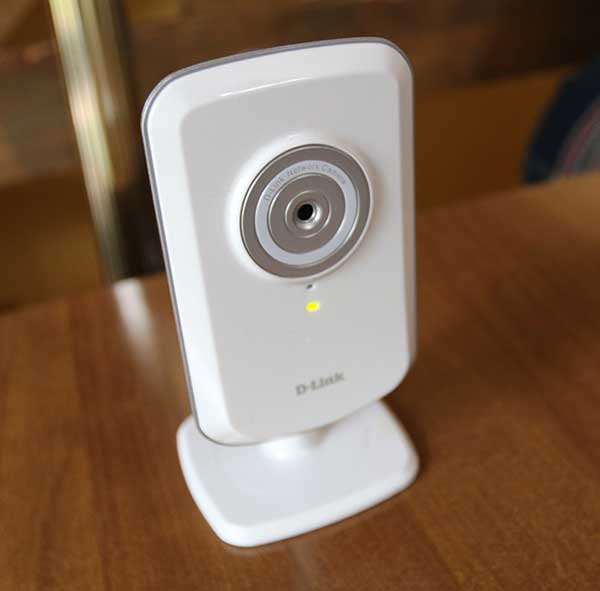 If you have ever been to a party where they say to BYOB – bring your own beer, then you'll understand the concept of the Cammy IP camera cloud viewing app that requires you to BYOC – bring your own camera. As a diehard fan of Dropcam cameras, I was intrigued by Cammy for one important reason. The app and the cloud viewing service are completely free.
Note: Images can be clicked to view a larger size.
Cammy is available for both iOS and Android devices. I installed it on my Samsung Galaxy Note 2 and my iPad mini. Like I mentioned, you have to supply your own camera to use with the viewing app. The folks at Cammy sent me an IP camera from D-Link for the review, but the app is compatible with quite a few other cameras from D-Link, Foscam and others. You can check Cammy's FAQ page to see if your existing IP camera will work with this software.
Setting up the camera with the Cammy app is pretty straight forward except for one caveat that tripped me up. But more about that in a minute. Basically all you do is plug the camera into power and your router via an Ethernet cable. Don't worry, you can use wireless too… but just not during the initial setup steps.
After you've plugged in the camera to power and your network, you can install the app on your iOS or Android device. I started out with my Galaxy Note 2. You'll be prompted to create an account with your email address and a password. Then the app will scan your network for devices. As you will notice in the image above, the Cammy app detected the D-Link camera.
You will name the camera and then verify your detected location. For some odd reason, the Cammy software thought I lived in Detroit instead of Southern Indiana even though it actually got the address and location right on the map.
The next step will ask you for the admin password for your camera. By default D-Link cameras have no password setup, but I had to google for help on this step since the camera that was sent to me came with zero instructions. The next step will ask you for the WiFi password of the detected network. This is where I ran into problems because I don't use a password and without one, you can NOT setup the camera to be used on WiFi. Grrrrrrrrrr…. So I setup a WPA password and completed the setup. I really do wish there was a way to bypass the password screen because it's a real pain in the rear to have to set a password and then reset all your connected devices. I guess I really should keep a password on my network, but I live out in the woods with no close neighbors. I can't even get a signal more than a couple feet from the house.
Once the Cammy application and the camera are setup, you'll be presented with a screen that shows thumbnails of the connected cameras. From there you can click on the thumbnail to be taken to the events screen. Unfortunately I had issues with the Android version of Cammy after a couple of days. I noticed that the app wasn't updating the motion detected events and would keep saying that it was loading and then would stop with the message you see above. After several attempts to stop and restart the app, reboot the phone and uninstall, reinstall the app, I gave up. I even uninstalled, used CCleaner, reinstalled the app and still received the error.
So I installed the app on my iPad mini. The layout of the Cammy app reminds me of Dropcam's app except for one major difference. With Cammy, you can NOT ever see a live streaming view of your camera. All you will ever see are snippets of motion that has been detected. You can scrub through a timeline of captured events, but that's it. You also can't save video clips or upload them to your favorite social media sites. You wouldn't want to save or upload them anyway, because the quality is… how can I put this nicely… The video quality is bad. Really bad. It's blurry, and choppy. I couldn't find any info on how many frames per second that gets captured, but I would guess 10-15 if that. If you're wanting to use this application to keep an eye on something important, forget it.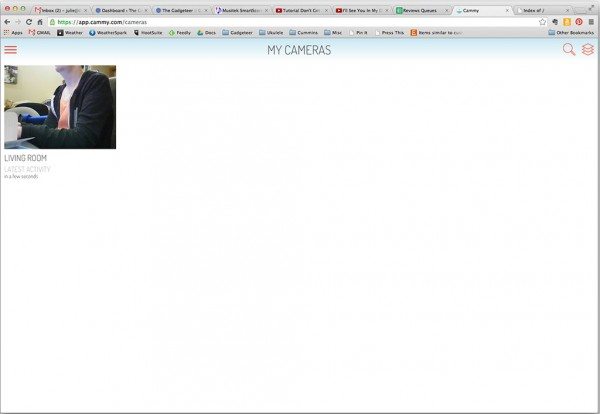 In addition to the iOS and Android apps that will let you remotely view captured events, you can also log in to the web based Cammy app with your laptop and favorite browser.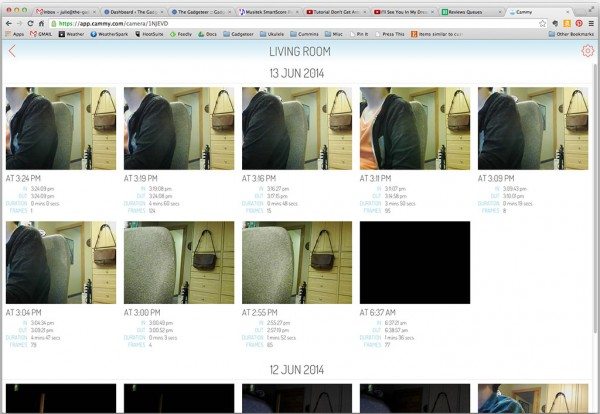 It has the same type of interface that the mobile versions do, just larger.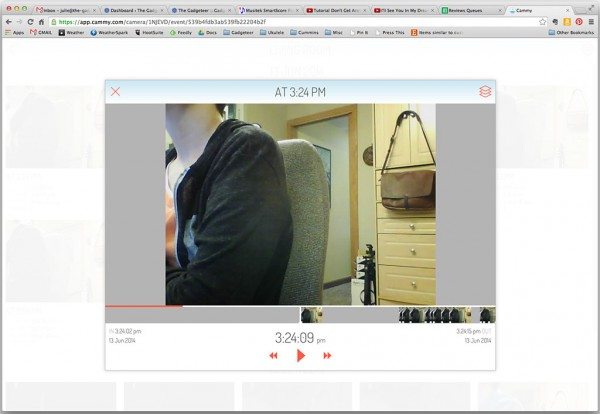 The best part about Cammy is that it's free. It saves your motion detected video clips online and doesn't charge you anything for that service. The problem is that the video it saves is choppy and blurry. Pair that with the fact that you can't view a live stream, setup email alerts for detected motion or save clips makes this service pretty useless in my opinion. The old saying "you get what you pay for" still holds true. Thanks Cammy, but I'm sticking with my Dropcam.
Response from Cammy:
Cammy is a very different proposition to DropCam. Cammy allow you to use a lot of different camera's from a lot of different manufacturers. DropCam sell their own camera's. DropCam uses HD video, Cammy uses a stream of photo's.

There are pros and cons with each product. The main advantages that Cammy offer are.

1)      You can install a lot of Camera's, even on low bandwidth connections

2)      Price

3)      Greater flexibility with camera choices

4)      The ability to quickly scroll through photo lists to get a summary of what is happening

Cammy camera's send a stream of photo's, but only when movement is detected. This means that even if you have ten camera's around your home or office, they will only send data when there is movement, so it's generally only a few cameras sending at a time. Cammy sends a series of photo's, not full video.

DropCam constantly streams full video in HD, if you have several camera's sending video in HD you are likely to overload many internet connections.

To properly secure locations like houses, its often necessary to have a significant number of Camera's. Cammy has been succesfully tested with up to 16 camera's sharing one standard ADSL connection, with that connection still being used for standard internet use.

The price is a big difference. If you were to buy four DropCam camera's it would cost 4*$149 for the cheapest Camera, so $596. You would also need to pay an additional 4* $299 per year for cloud storage, so $1,196. The total year one cost is $1,792, then its $1,196 per year after that. Camera's supported by Cammy are less than $40. So the initial cost is $160, but there is no ongoing cost.

Many people with homes and businesses are likely to have a lot more than four Camera's. Cammy makes it viable to have lots of Camera's.

DropCam offers two Camera choices only. Cammy can work with hundreds of different Camera's from low cost to high end. Many have advantages that DropCam can not offer such as outdoor waterproof camera's. You can also get Camera's with night vision capabilities that can cover up to 30 meters in complete darkness. The Foscam FI8906W wireless outdoor camera has both these features.

While full video is nice, for security reasons photo's are often adequate. Cammy allows you to easily scroll through a list of photo's. Photo's can be quickly loaded onto a Smartphone to get a summary of what is going on, even in situations where when you are in poor cellular area.

We like DropCam and while there are similarities with Cammy, they are very different propositions. If I wanted to watch my children in HD video I would choose DropCam. If I wanted to put six Camera's around my house to cover all the likely entry points both indoor and outdoor, without upgrading my internet connection, I would choose Cammy.
Product Information
Price:
Free
Manufacturer:
Cammy
Pros:

Free app and cloud service
Works with a variety of IP cameras

Cons:

Does not provide a live view
Video quality is bad
Does not provide email alerts for detected events
Android app has bugs
Requires password on WiFi network