We use affiliate links. If you buy something through the links on this page, we may earn a commission at no cost to you. Learn more.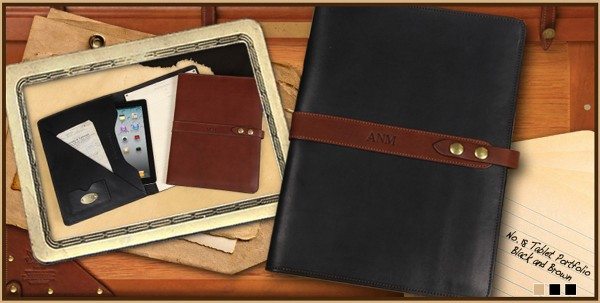 Last year I reviewed Colonel Littleton's No. 23 iPad Portfolio (see related links for the review), which was a great mix of new- and old-world functionality. The No. 23 portfolio was designed to specifically hold a full-sized iPad and tablet of paper. Colonel Littleton has recently released a sibling portfolio meant to safely transport a wide variety of tablets, while still incorporating the convenience of a pad of paper to write on. The No. 23 and No. 18 portfolios are similar in many ways, but Colonel Littleton's Tablet Portfolio is designed to remain relevant as technology evolves. With new tablets being released weekly, the No. 18's is a leather tablet case with the ability to hold nearly any tablet 10-inches or smaller, making it useful for years to come.
Note: Images can be clicked to view a larger size.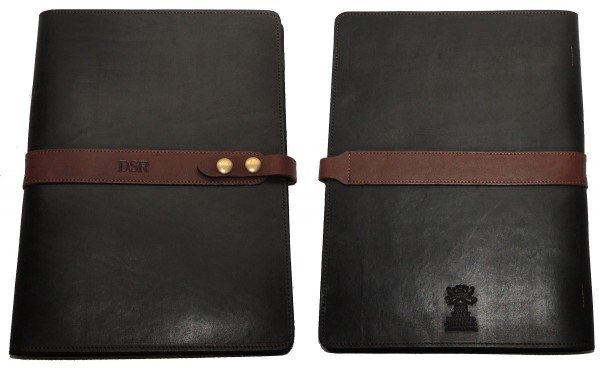 Like the No. 23 Portfolio, the No. 18 Tablet Portfolio is handmade, constructed with thick, soft, finely-finished roadster leather that the Colonel is known for. As with all of Colonel Littleton's creations, its craftsmanship and detail are second to none, and it does an excellent job of mixing old-world functionality and modern tech in a classic look and form. In this case, the portfolio I was sent has the Colonel's new color scheme of black & brown.

The portfolio is a typical size: 12"H x 9.5"W and weighs 1.75 lbs. However, the overall weight is dependent on what tablet you are carrying within.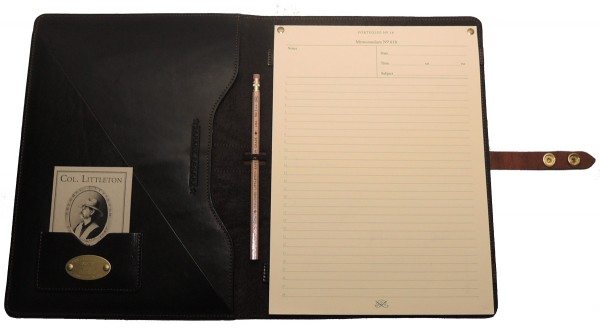 Tablet pocket dimensions are 11.5″H x 8.25″W. As I stated, the tablet pocket easily accommodates up to a 10 inch tablet but would be a bit too tight to fit Samsung's 12.1″ Galaxy Note Pro.
Never miss one of our posts again. Sent MON, WED, and FRI with the latest gadget reviews and news!

The No. 18 portfolio includes the Colonel's specially-designed memorandum pad, which may be re-ordered. There is also a built-in strap to hold a pencil or thin pen.

The edging and stitching are very nicely done. In addition to the brown closure strap, the black and brown color scheme uses brown thread to further highlight the look.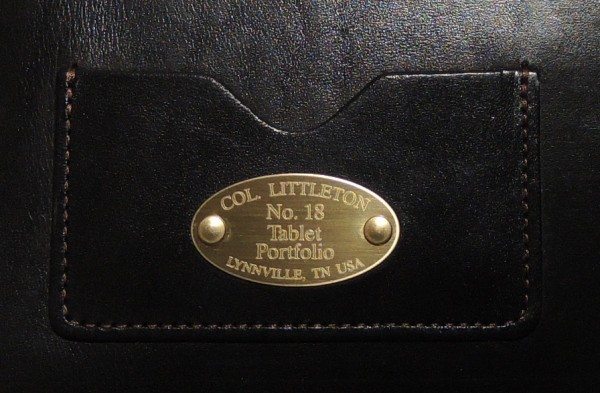 Unlike the No.23 Portfolio, the No. 18 has two nicely done slots on the inside front, a small one for business cards and a larger one for paperwork.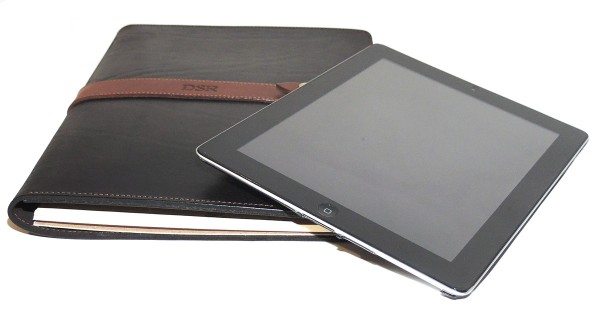 The main pocket works best with the larger tablets, like the iPad 2/3/4/Air, 10.1″ Galaxy Note/Tab Pro, etc. It snuggly and securely holds them in place, whereas my iPad mini slides around a bit but is still safely enclosed within the portfolio.

The No. 18 Portfolio is held securely closed by a re-enforced strap that encircles its middle and snaps shut. The snaps are brass and nicely integrated into the leather. The second snap enables you to carry additional paperwork inside and still be able to securely snap the closure strap. You have the option while ordering to have your initials stamped into the strap, as you can see here.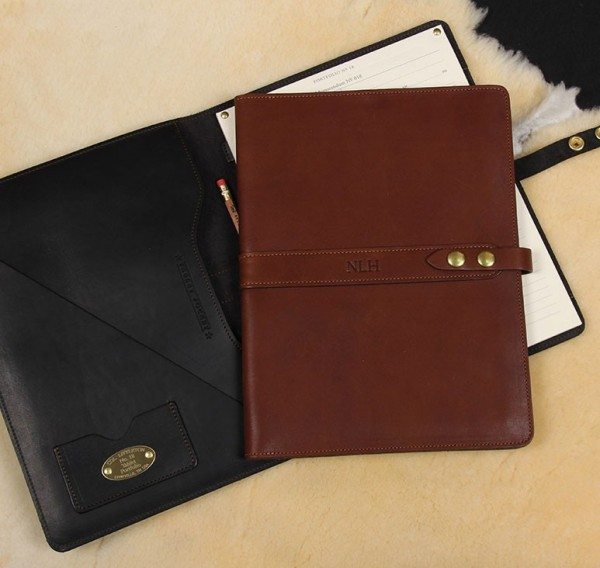 Colonel Littleton's No. 18 Portfolio is available in black, brown, and black & brown.
(I am stealing this from my No. 6 Pocket for Small Tablets and No. 20 Tablet Portfolio review because I still stand firmly behind this comment) Bottom line is that I love how the Colonel designs his creations to stand the test of time and evolution of technologies:
"In my way of thinking, hardshells are only for bugs," says the Colonel. In a rubber-coated, plastic, synthetic, polycarbonate, silicone world, words like 'homegrown' and 'handcrafted' seem to resonate."
Like all of Colonel Littleton's creations, the No.18 Tablet is extremely well made with the finest leathers, integrating Old World craftsmanship and functionality. But as the name suggests, the Tablet Portfolio is also designed to carry your tablet, whether today's iPad Air or the 2017 variant of the Galaxy Note Pro. In today's world, technology continues to evolve at an ever increasing rate and form-fitted accessories designed for a specific device last only until the next iteration hits the streets or shiny new tech catches your eye. Thankfully, the No. 18 Tablet Portfolio will not only weather the test of time physically, but from a functionality standpoint as well. Your ability to take handwritten notes and securely carry nearly any type of tablet makes this a great, useful, eye-catching accessory as you travel from meeting to meeting.
Product Information
Price:
$187.50
Manufacturer:
Colonel Littleton
Requirements:
Pros:

Incredible Old-World craftsmanship
Tablet slot not device specific
Nice notepad
Top-notch materials
Thick supple leather
Quality brass snaps
Strap allows for expandability
Comfortable to carry
Great warranty

Cons: