We use affiliate links. If you buy something through the links on this page, we may earn a commission at no cost to you. Learn more.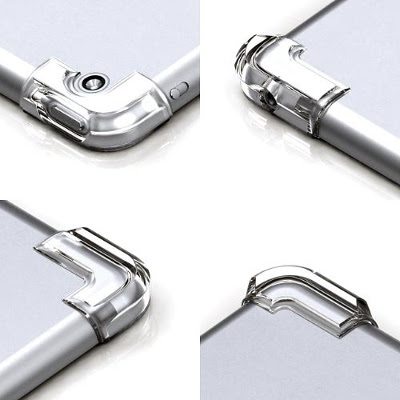 Two of my favorite things about the iPad Air and iPad mini are their size and style. Even though I'm more drawn to Android devices these days, I still really prefer the way Apple products look and feel. No one does product design like Apple. That's why I never can figure out why you would ever want to cover up such a great looking product with a bulky (ugly) case. Don't get me wrong, I understand that protecting your premium device from everyday abuse is important to a most people because no one enjoys discovering that first scratch on their iPad or even worse, a shattered display due to a drop. But there has to be a better (looking) way to protect an iPad without making it three times as thick and heavy as it is without a case. Maybe there is… Introducing iCorners (yeah, I hate the name too), specially designed injection molded stick-on corner protectors for the iPad Air and iPad mini with Retina display that will protect the tablet from drops and scratches. Made of Makrolon® polycarbonate, which is the same material used to make items such as safety goggles, helmets and riot shields, iCorners are virtually unbreakable, impact resistant, lightweight corner standoffs with glass-like transparency. They even enhance the use of Apple's own Smart Cover.
iCorners are a new Kickstarter project that is currently seeking $10,000 of funding. Pledge levels start at $12 and go up to $19 for one set of iCorners for either the iPad Air or iPad mini with Retina display. The project ends on June 18th with product shipping expected for June and July.
Visit iCorners.com for more info and their Kickstarter page if you want to pre-order a set.