We use affiliate links. If you buy something through the links on this page, we may earn a commission at no cost to you. Learn more.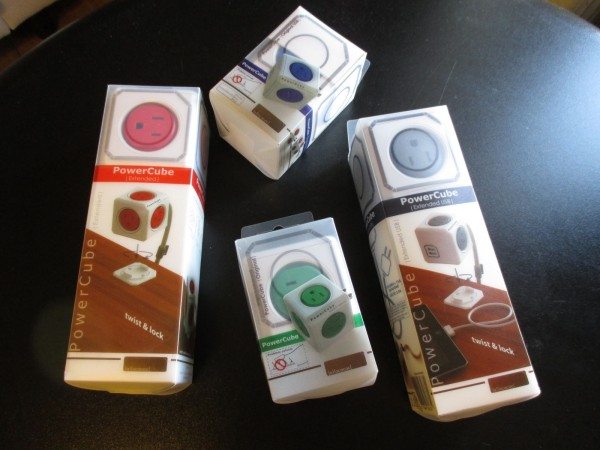 As a power electronics user, I have lots of gadgets, but never enough power plugs for them. At home I usually have cables that run from my power strip to my desk. But when I'm traveling, I'm always scurrying around to find a spare plug and find that I never have enough outlets.  I recently had the chance to review the PowerCube from Allocacoc, and was super excited to find out they sent me one of each style of their PowerCube!
Note: Images can be clicked on to view larger size
I received four different types of PowerCubes to try out:
PowerCube Original available in Kelly Green – this cube has outlets on all six sides.
PowerCube Original USB available in Cobalt Blue – this cube has outlets on five sides, and 2 USB ports for charging on the sixth side (Output 5V/2100 mA).
PowerCube Extended available in Boston Red -this cube is the same as the original with outlets on all six sides with a five foot extension cord fitted to it, so it can be mounted. A stick-on dock is included.
PowerCube Extended USB available in Trolley Grey – same as the extended with USB charging on one of the sides.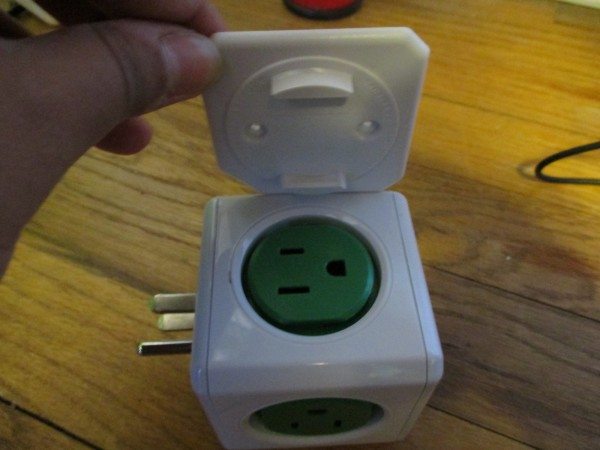 One of the advertised uses for multiple PowerCubes was to attach them in a row if extra outlets were needed. I decided to try this with the "Original" and "Original Extended".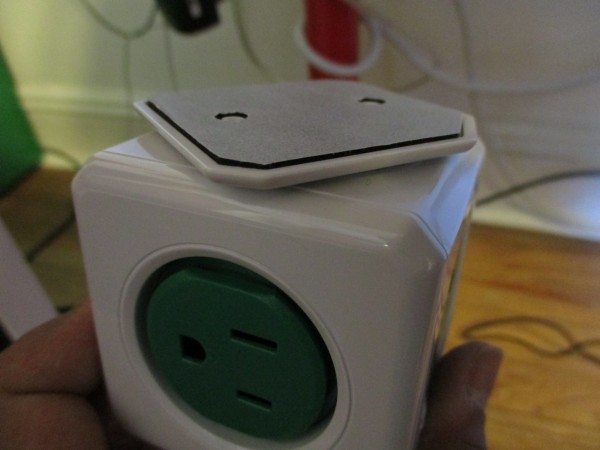 These are the little docks that are included with the PowerCube. You can add it to any side, and stick it to the top of your desk, or any surface.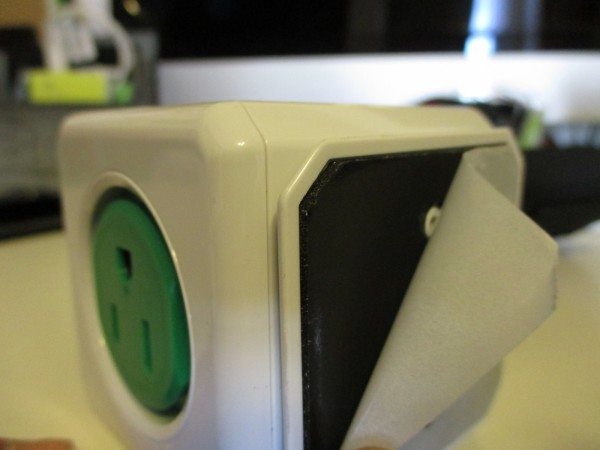 Never miss one of our posts again. Sent MON, WED, and FRI with the latest gadget reviews and news!
One thing I noticed is that they aren't branded with 3M or another well known strong adhesive, so I waited to see how long this would stick.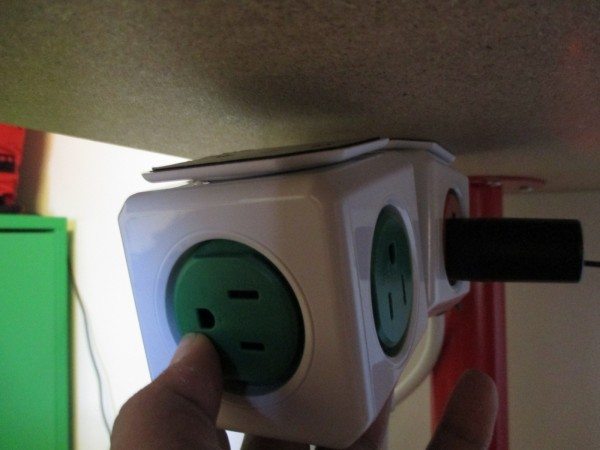 I added the Extended PowerCube to my wall outlet, and added the PowerCube Original with the sticky docks.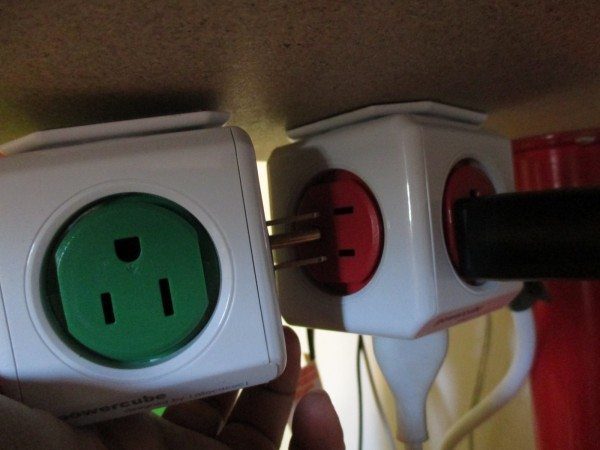 It was pretty easy to snap them in and off I went, plugging in all my devices.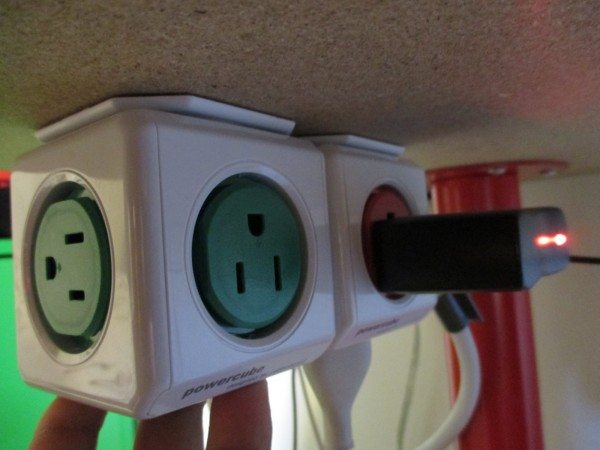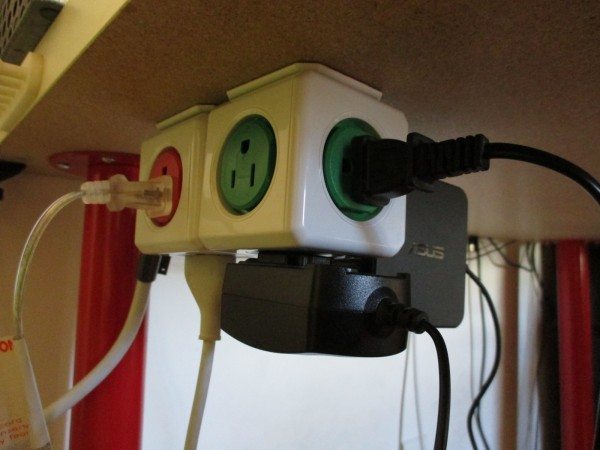 I was concerned that with all of my devices plugged in, the weight of everything would cause the adhesive on the docks to unstick. Sure enough, after three days, the cubes fell on the floor. So much for that idea! I should have stuck the cubes on top of my desk as they suggested.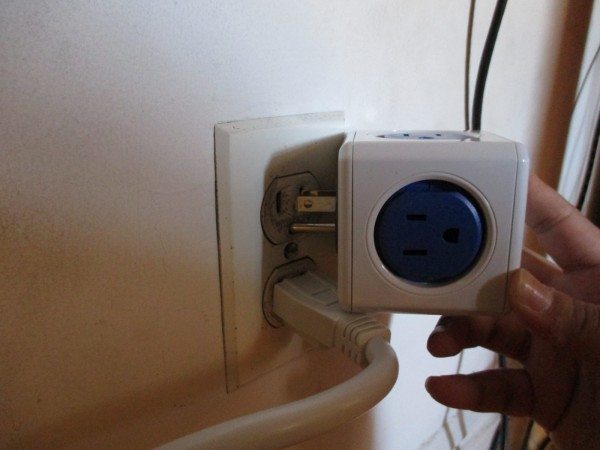 I used the other cubes around my house.  I wanted to see if the Original USB version would be good for my wall outlet, but sadly the cube was too big to fit alongside another three prong plug.  If only it was a bit thinner!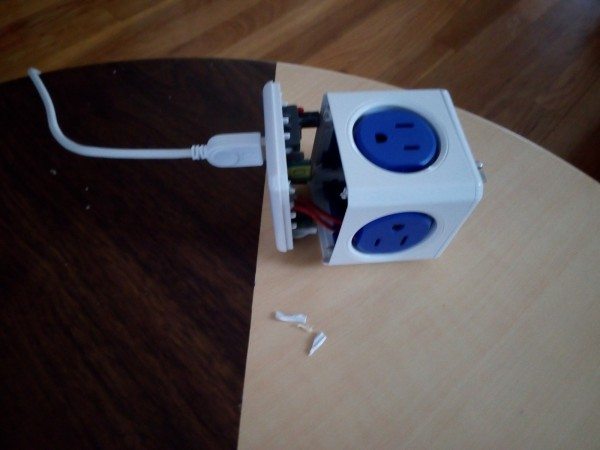 The PowerCubes were great and added some very useful extra plugs when needed. One bummer was that when I pulled out my USB cable from one of the USB PowerCubes – it broke!  Maybe the USB cable was too tight in the USB port, but I'm surprised that this happened.
PowerCubes are priced from $12.95 to $24.95 and are available from Allocacoc.
Update 02/13/15
These power cubes are one of my favorite gadgets that I still use daily.  I move them around my house and plug various items in, and they haven't given me any problems.
Source: The sample for this review was provided by Allocacoc. Please visit their site for more info or to buy.
Product Information
| | |
| --- | --- |
| Price: | $12.95 - $24.95 |
| Manufacturer: | Allocacoc |
| Requirements: | |
| Pros: | Adds multiple power outlets |
| Cons: | Easy to break apart if not careful |