We use affiliate links. If you buy something through the links on this page, we may earn a commission at no cost to you. Learn more.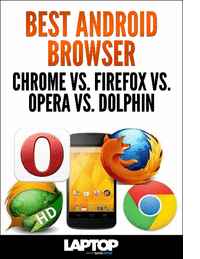 Best Android Browser: Chrome vs. Firefox vs. Opera vs. Dolphin is a free 17 page guide that talks about Android web browser applications. In addition to Chrome (Android's default browser) this guide looks at three other popular third-party browsers: Firefox, Opera and Dolphin. The browsers are graded on their user interface, speed, special features, standards and syncing capability. Which brwoser do you think wins the battle? I was surprised! With this free download you will also receive free weekly coverage on the latest technology news and developments from Laptop Magazines eNewsletter.
There are a few hoops to jump through to get this guide, but it helps The Gadgeteer to earn some some affiliate fees that can help us to bring you more cool product reviews.