We use affiliate links. If you buy something through the links on this page, we may earn a commission at no cost to you. Learn more.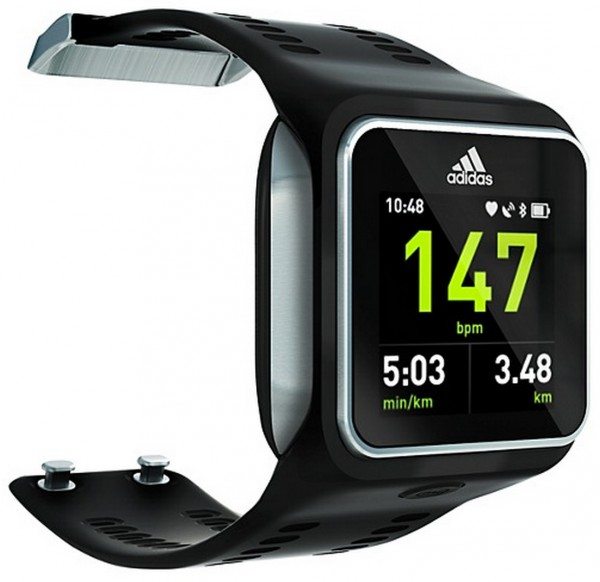 Winter is nearly over and it is time to get mentally prepared/excited for getting outside and exercising. For me that means tennis and running. As I age, the latter being less appealing than it use to be. Each year I do my best to augment my excitement for pounding pavement with fun and interesting tech, engineered to help me run more efficiently and train more effectively. That said, wearable health fitness tech is all the rage these days and recently Adidas has gotten into the game with their Android based miCoach SMART RUN watch. They sent me one to give it a go and see how it fairs against my rainy/sweaty get back into running shape training regime. Note: Images can be clicked to view a larger size.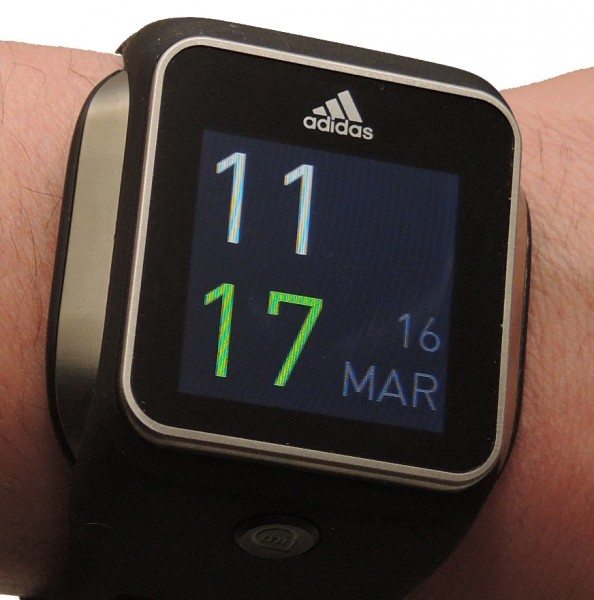 Adidas packs everything but the kitchen sink into their miCoach SMART RUN watch including built-in heart monitor, GPS, wireless mp3 player, smart running assistant, WiFi, Bluetooth, color touchscreen, etc… Even though this smartwatch has an Android backbone, it is very much skewed toward the runner's/athlete's needs versus being a smartphone companion like Google Gear.
What's in the box: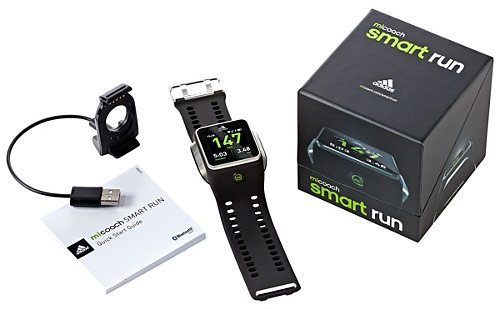 miCoach SMART RUN watch
Charging/Sync cradle
microUSB cable
Quick Start Guide
Features:
Real-time cardio coaching with miCoach training plans created by elite coaches; Animated strength and flexibility training; Customizable training data screens; Workout review; Watch and timer function; 4GB memory for music and data
Coaching delivered via visual messages
Fully integrated strap-free heart-rate sensor; GPS-based speed, distance, cadence and route; Single-button user interaction; Invisible sync to miCoach.com for automatic updates; miCoach SMART RUN requires Internet access over wifi
Display: 1.45″ full color transflective TFT LCD, 184px x 184px touch screen; Battery: 410mAh lithium ion, charging time max 4 hrs
Usage: Training mode (1 second data & music) up to 4 hrs; Marathon mode (5 seconds data) up to 8 hrs; Casual mode (watch only) up to 14 days
Materials: Soft touch silicone strap, stainless steel bezel, buckle and detailing, magnesium backplate; Weight: 2.8 ounces
Specifications:
Materials: glass, stainless steel & magnesium
Power Supply: Lithium ion rechargeable battery
Display: 1,45″ full color transflective TFT
Resolution: 184 x 184 pixels, with capacitive touch
Software Platform: Android Jelly Bean 4.1.1
Battery Life: Workout Mode (1sec data & music): ~4 hr
Marathon Mode (5sec data): ~8 hr
Casual mode (watch use only): ~14 days
Charging Time: max. 3 hours
Sensors: Optical heart rate, GPS, accelerometer, SPEED_CELL (external/optional)
Data Memory: 4GB (3GB dedicated to music)
Weight: 80.5 grams
RF Protocol: Bluetooth 4.0, WLAN
Size: Width 48.4mm
Height: 15.6mm
Length: 263.1mm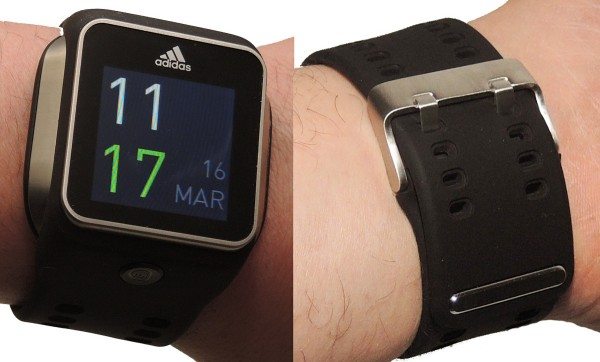 The Adidas miCoach SMART RUN watch is relatively large with a utilitarian, boxy look but let's face the facts…it screams athletic geek, which is fine by me. Considering its size, the smartwatch weighs in at a reasonable 2.8 ounces and really is not the dead weight on your arm some might expect. The watch is well made of glass, metal, and rubber/plastic. The thick rubber strap and locking buckle make it comfortable to wear and does not jiggle/flop around while exercising (something I hate while running).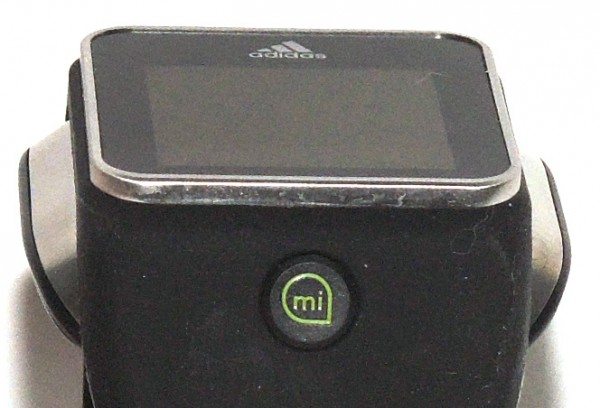 The Adidas Smart Run watch is relatively easy to use via touchscreen controls and a single physical button. The watch's interface allows for quick and simple access to its various functions. It has four primary menus: clock/stopwatch/timer, miCoach, music, and settings — all can be accessed by horizontally swiping in either direction. Each of these menus contain various submenus that display additional options, features, and functions. The only physical button on the watch is a small, rounded control centered below the screen. The button acts as the power control and quick jump back to the main miCoach/training screen. When the watch is tracking your running or biking, the button is your split, pause, and stop/done button.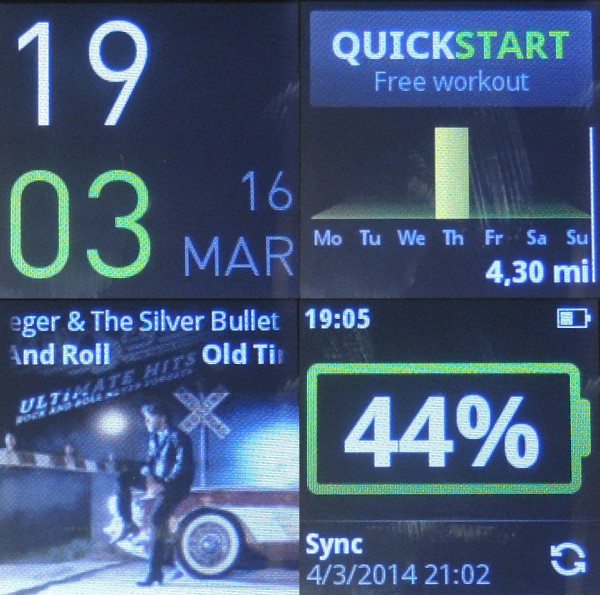 The watch runs on an Android Jelly Bean 4.1.1 backbone with a very sports-centric Adidas overlay. The watch does not pair with your smartphone thus does not let you know who is calling, if a text has just come in, or the latest tweet. The SMART RUN watch has a 184 x 184 pixel, 1.45-inch TFT square touchscreen display. As I mentioned, the interface is controlled by swiping and tapping the various screens, functions and buttons. The screen is a bit dim in direct sunlight. Even though it impacted battery life, I switched the screen brightness from Automatic to High for better viewing. Screen resolution and sensitivity are good enough but definitely do not compare to either my iPhone 5 or Note 3 in either category.

The built in heart rate (HR) monitor is one of the best features of the SMART RUN watch. I have always found the classic HR straps bothersome to run or exercise with. I compared its readings with the monitor grips on several elliptical machines and found the readings spot on. Though it occasionally took a few minutes to lock onto my heart beats.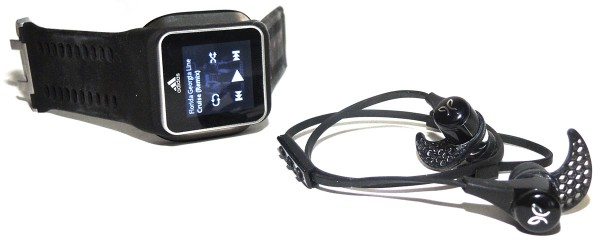 The SMART RUN watch has 3gb of storage space for music and data. The music is able to be streamed wirelessly to Bluetooth enabled headphones/earbuds…another great feature IMO. I paired the watch to the Bluetooth-enabled Jaybird BlueBud X earbuds I reviewed last year. The streamed music played almost flawlessly. It is awesome running without wires flopping around or getting tangled but I prefer to run with fitted earbuds and that means wires. I wish the SMART RUN watch had a 3.5mm port to plug into but I am sure there just was not room.
Due to its mediocre battery life, you really cannot use the Smart Run watch as a classic timepiece or have it track you 24/7 like the many of the wearable fitness trackers on the market today. Depending on what features you have activated, the 410 mAh battery only lasts hours on a charge. Though in airplane mode, it can act as a watch for days, if not weeks according to Adidas. When I had the GPS antenna tracking my run, heart rate monitor on, screen on bright and music streaming via Bluetooth to my BlueBud X earbuds, I burned through nearly 40% of the battery on an hour run. But on another outing, I was using just the GPS & HR on a 45 minute run which only used 10% of the battery…so, mileage may vary.
During a workout, the screen displays real-time information on your heart beats/rate per minute, pace, distance, time, and calories burned. If installed, virtual (mi)coaches will remind you to speed up or slow down during a run to reach your ideal heart rate or pace. Your virtual coach also lets you know when you have passed each mile or kilometer and your run time up to that point.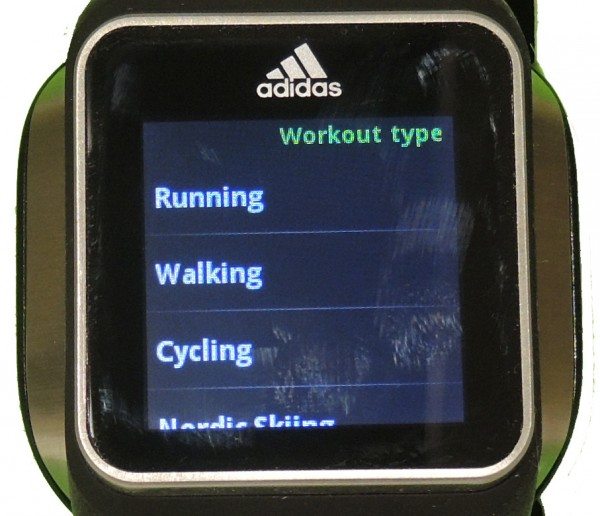 In addition to running, the miCoach system allows for multi-sport use for biking/cross-fit/elliptical/nordic track /etc ready to go.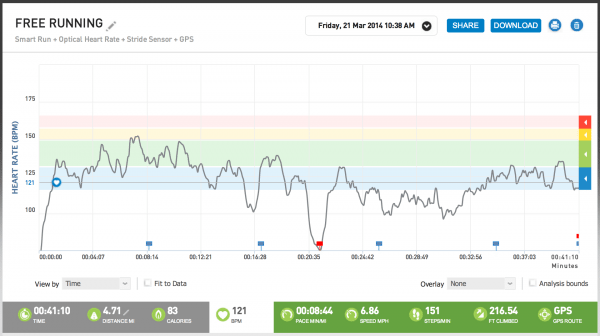 The miCoach website provides a wealth of training data, graphical visualizations, and multitudes of training programs to compliment the watch's features and functions. The watch wirelessly uploads your data to the miCoach website for easier, more detailed viewing. Hardcore athletes and/or statistics-geeks are able to data-mine the heck out of past efforts if they so choose. If you are training for a 5k, 10k, half, full marathon or beyond there are customizable training plans on the website available to download to your watch to help you get ready for your next big race.

Based on my knowledge of my running and routes I use, I would have to say that my data is within 10% or less of reality (with the exception of my calories burned). My distance (just under 5 miles) and HR (more like 140 bpm) were a bit low and my pace a little high (around 8:30/mile).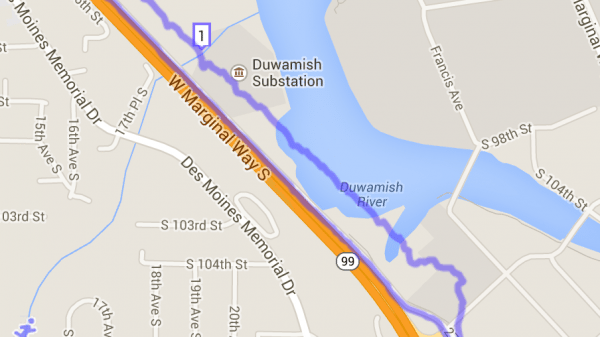 In addition on this particular run, the GPS was locationally off on the way out…I did not run thru the river. But on the way back, it was right on the money.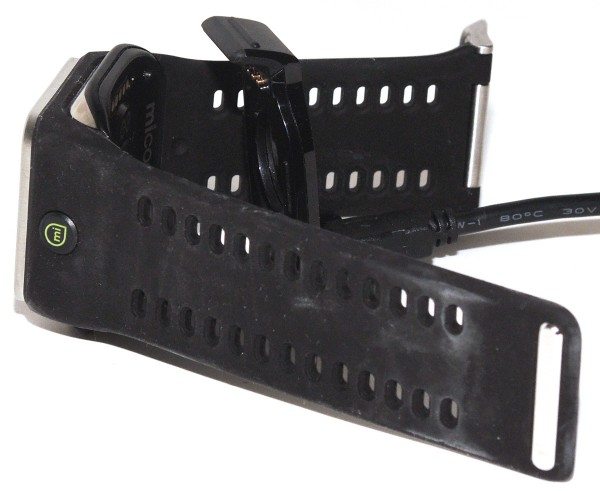 The watch charges via a proprietary microUSB powered dock that connects to five points on the back of the device. A full charge takes between three to four hours. I would guess that Adidas made this design/engineering choice (versus a microUSB port) to save space and thus make this sports smartwatch as small as it is.
Bottom line performance: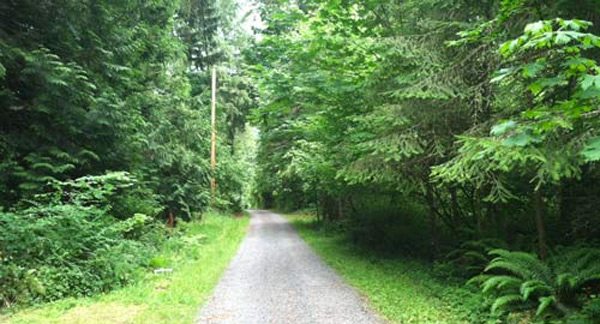 As I have said in past reviews, a majority of my runs are down tree lined trails, paths like this or the urban canyons of downtown Seattle. The tree canopies, cloud cover and tall buildings do not lend themselves to great, continuous GPS signal. Even when I took the SMART RUN watch to ideal conditions (aka open skies), it still took a long time (more than a few minutes) before locking onto enough satellites to begin tracking my speed and distance. I dislike having to wait before beginning my runs and more often than not, I had to wait five minutes before the GPS found enough satellites so I could start pounding pavement. Waiting 4-5 minutes before my watch is ready to go is, for the most part, unacceptable (at least to me), especially when half the time it is either raining, cold or both. Sadly, you cannot begin even timing your run until the watch has a GPS lock and a solid heart rate. It would be nice if you could start timing your run/exercise and when the watch has a satellite lock it automatically begins recording your telemetry.
Overall, this smart/sports-watch is a solid training companion and a good first try for Adidas. They continue to tweak the battery life and GPS sensitivity through firmware updates that hopefully only improve on both shortcomings. With a full battery and a clear line of sight to the sky, the SMART RUN watch performs pretty well…heart rate, distance, and speed are all relatively accurate. That said, there were other days and routes I could not get the GPS to lock on for the life of me; where the watch searched the entire run. Frustrating to say the least. Wirelessly streaming music and a strapless HR monitor are worthy pluses. In many ways, the Adidas SMART RUN watch is a mixed bag, sometimes the ideal running companion pushing you to train/run/exert yourself to your potential and other times, the loser you should have never agreed to bring along in the first place.
Product Information
Price:
$400
Manufacturer:
Adidas
Pros:

Well made
Comfortable
Wrist-based heart rate monitor (aka no chest strap)
Wireless music streaming to Bluetooth headsets
Relatively accurate telemetry
Robust miCoach software/website

Cons:

Poor battery life
Relatively expensive
Requires a charging dock
Sometimes long wait for to lock onto GPS & HR signals
Cannot start timing run without GPS/HR