The Gadgeteer is supported by readers like you! If you buy something through links on our site, we may earn an affiliate commission. Thank you! Learn more.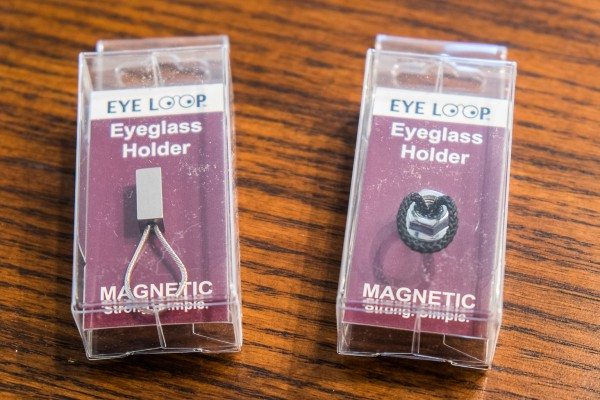 I have worn eyeglasses since I was in second grade.  My first pair was short-lived, I had not gotten used to wearing them yet and I took them off every day at lunch in the cafeteria.  For some reason, I had the habit of putting them in the brown paper bag that my mom packed my lunch in.  One day I forgot I had put them in there and threw them out.  It didn't even hit me until I was on the bus on the way home.  My parents asked me where my glasses were and I told them I left them at school.  The next day I tried to find them, but the trash had been dumped.  In my desperation to not get into trouble, I made a pair of glasses out of paper and colored it with crayon.  I wore them home.  My parents saw right through my deception and I decided that I had not done a good enough job with the mockups.  The next day I made another pair (though in retrospect, these were even worse than Version 1.0) and was finally busted at home.
I could have avoided this unpleasantness if I had only known about Magnetic Eyeglass Holders "Eye Loop" magnetic eyeglass holders for women and men.  And then invented it myself instead of flawed mockups.
Well, flash forward some forty years and this simple yet so necessary item has become a reality.  Made of a stainless steel cube with a plastic-coated stranded wire loop secured with a recessed set screw and a dual-pole neodymium magnet, the Steel-One is a simple and elegant solution for the professional who wants a discreet place to loop their glasses.  No longer do you have to stick them in your pocket or jam one stem down your shirt, simply hold the flat neodymium magnet to the inside of your shirt with one hand while placing the steel cube on the outside of your shirt.  Presto!  The attraction is so strong through a shirt that it withstands a really serious tug without popping off.  If anything, it simply slides a little, the cube never losing its magnetic desire for its mate on the other side of the fabric.  The neodymium magnet is dual-pole, which ensures that the cube sits dead-center on the magnet instead of shooting off to one side or the other.  This guarantees a very secure hold.
Here is the magnet of the Steel-One on the inside of my shirt: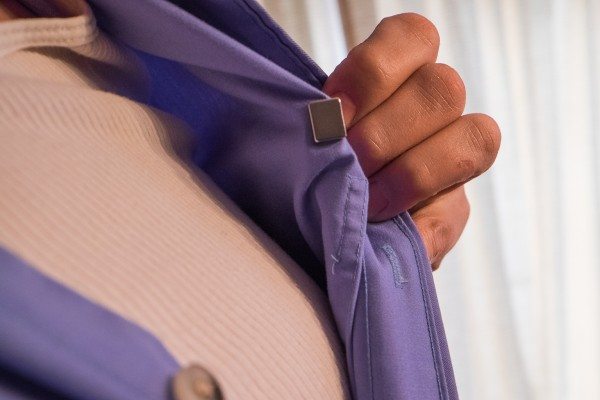 Here is the Steel-One comfortably holding my fairly thick pair of glasses: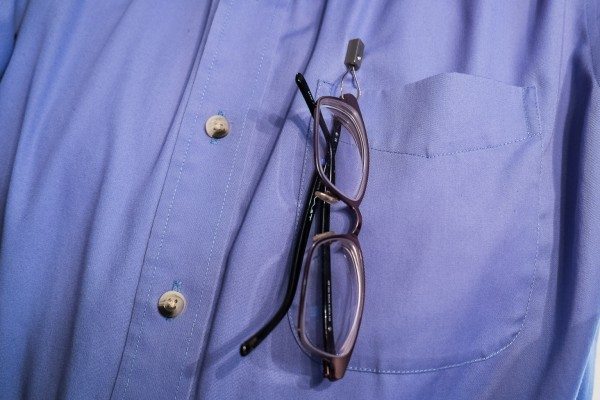 I tried the Steel-One on material thicker than my shirt and the thicker the material gets, the weaker the attraction gets.  This happens fairly rapidly, my medium-weight spring windbreaker was too thick to afford an attraction that I was comfortable with.  No problem!  Enter the Zinc Eye Loop!  This is essentially what appears to be a steel lock nut with a black cord loop coming out of it securely sealed in the back with a solid resin.  This Eye Loop has a much larger surface area than the Steel-One and its corresponding magnet is significantly larger.  The grip it had through my windbreaker was significant and I would feel very comfortable with it sitting there, ready to receive my eyeglass stem while I look through a pair of binoculars or through the eyepiece of my solar telescope!
Here is the Zinc Eye Loop in action: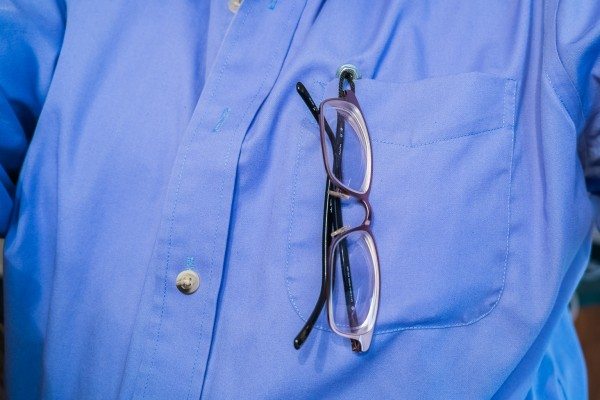 And here is where we get to the really perfect use for this little item…amateur astronomy.  Most telescope eyepieces simply don't have the eye relief to allow for wearing glasses while observing and I have tried to stick my glasses in all kinds of places to secure them while observing.  This gives me a convenient and secure place to hold them!  I will be bringing both of these holders to the Northeast Astronomy Forum at Rockland County Community College on April 12th and 13th, two weeks from now, and I guarantee you that jaws will drop all over the place when attendees to the Solar Star Party get a look at them.
But it doesn't stop with clothing.  This gives you a convenient loop to hang anywhere you want, as long as the surface is magnetic.  Place the magnet directly on the back of the loop and stick it on your car if you have to.  The strong self-centering magnets will make sure that your item (up to 2.5 pounds with the Zinc Eye Loop) will be securely held on any magnetic surface.
And if that wasn't amazing enough, these things are so inexpensive you can get several of them for different applications!  The Zinc Eye Loop is $12.99, the more elegant and professional-looking Steel-One will only set you back $20.  There is also a delicate-looking Ladies model that is a polished flat metal loop that costs $15.  The manufacturer has the magnets custom made just for these Eye Loops.
Here are both models from the back.  I deliberately placed the outside part on the edge of the magnets so you can better see both parts.  When placed in position, the outside part sits squarely in the middle of the magnet.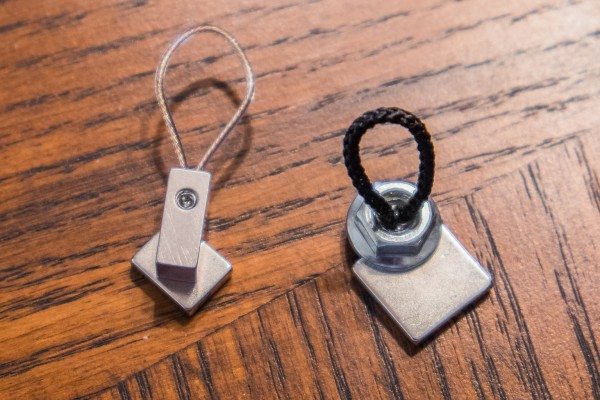 So, are Eye Loops Magnetic Eyeglass Holders for you?  Well, if you wear glasses, the answer is an unqualified YES.  I took these out of the package and within fifteen seconds knew exactly how this review was going to go.  They are an outstanding and inexpensive solution to a problem common to all who wear eyewear.  If you want to see them in action, simply mosey on down to the NorthEast Astronomy Forum's Solar Star Party and I will be happy to demonstrate them and show you the amazing wonders of the sun through my specially filtered solar telescope.  You'll know me when you see me…I'll be the guy with his glasses floating securely above his chest.
Update 12/10/14
hey are in my desk drawer. I use them from time to time and when I do I am glad they are there. They don't really work with anything thicker than a spring jacket.
Source: the sample for this review was provided by Magnetic Holders LLC. For more info or to order, visit Magnetic Holders.
Support The Gadgeteer
:
The Gadgeteer is supported by readers like you! If you buy something through the links on our site, we may earn a small affiliate commission. Thank you! Learn more.
Product Information
Price:
$13 to $20
Manufacturer:
Magnetic Holders LLC
Requirements:

Eyeglasses or sunglasses
A T-shirt or dress shirt for the Steel-One
Up to a windbreaker or thin blazer for the Zinc Eye Loop

Pros:

Securely holds eyeglasses when you need to stow them quickly
Slides in and out of the loops very smoothly, doesn't get caught in it
Very strong dual-pole magnet ensures a secure hold

Cons:

Does not break the laws of physics...there is a limit on how thick material can be before the attraction becomes too weak to be trusted.