We use affiliate links. If you buy something through the links on this page, we may earn a commission at no cost to you. Learn more.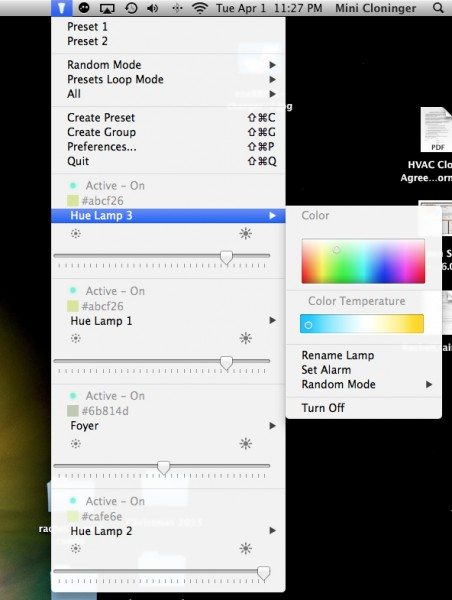 I got the Phillips Hue lights starter kit for Christmas, and I control them with an app on my iPhone or iPad.  Sometimes I'm at my computer and would like to turn on the lights, but I can't unless I have one of my mobile devices with me.  Phillips made the API available for third-party developers, and Charles Aroutiounian made use of them to create the Hue Menu app for Mac computers.  This app allows you to:
Change the bulbs colors from the color charts in the menu or from the traditional Mac OS color picker.
Create presets, so you can quickly turn on a favorite color scene.
Select random mode for all the lights or for a specific light bulb to continually change the colors of the bulbs.
Set alarms to turn on/off  individual light bulbs.
Rename the lights.
Set brightness or turn on/off some or all the lights.
The Hue Menu app is $2.99 in the Mac App Store.