We use affiliate links. If you buy something through the links on this page, we may earn a commission at no cost to you. Learn more.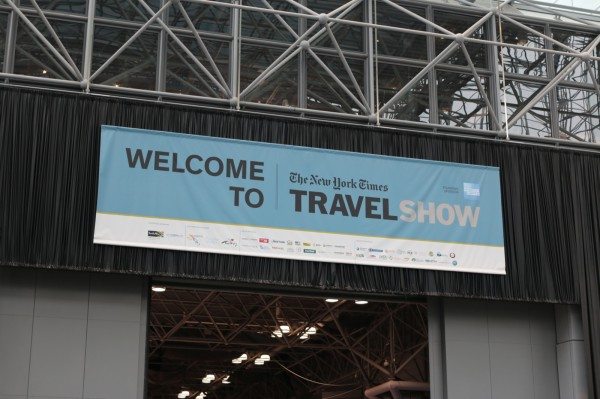 Fellow gadgeteer and friend since college, Jackie Cheng and I recently went to The New York Times Travel Show here in New York City. We are both fans of traveling and see the sights, so we figured let's check out the show and see what exhibits were on display.  We were also super excited to meet Mr. Scott Jordan, CEO & Founder of Scottevest!  We have reviewed tons of his products on the Gadgeteer and wanted to see new products he brought to the show for travelers.
My comments will be in black and Jackie's will be in blue italics.
Here are some photos of various booths at the show, representing different countries around the world, as well as areas of the USA.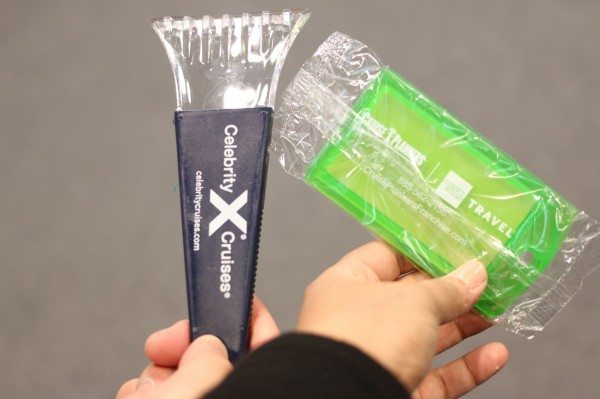 Upon entering the show, Jackie and I spun a travel wheel by Celebrity Cruises in order to win a chance at a prize. Hmm, not super exciting prizes, but hey we'll take what we get!
Jackie: I won an ice scrapper which will come in handy if we get another long winter!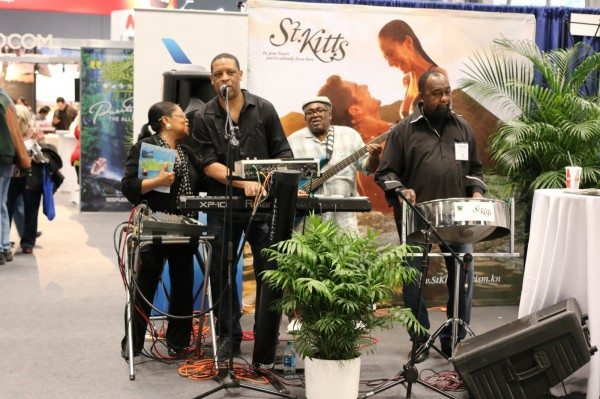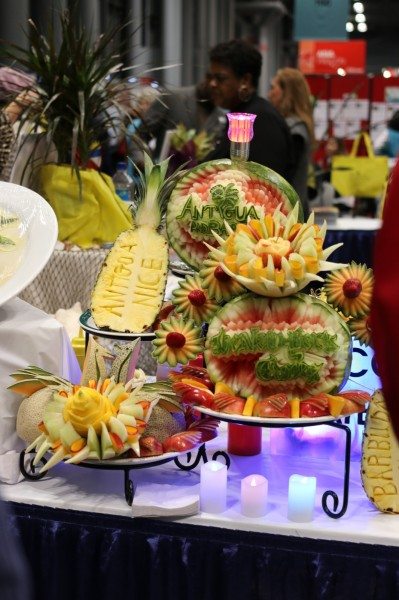 Amazing looking carved fruit!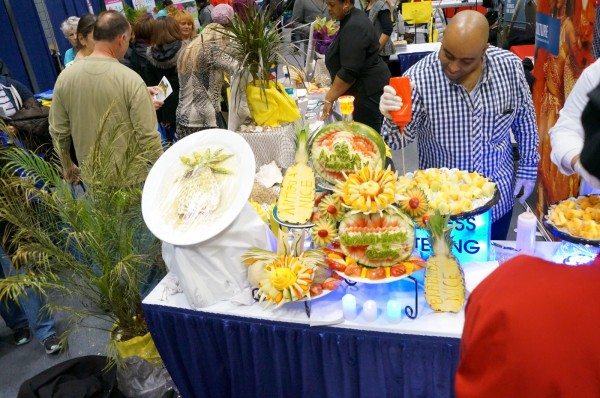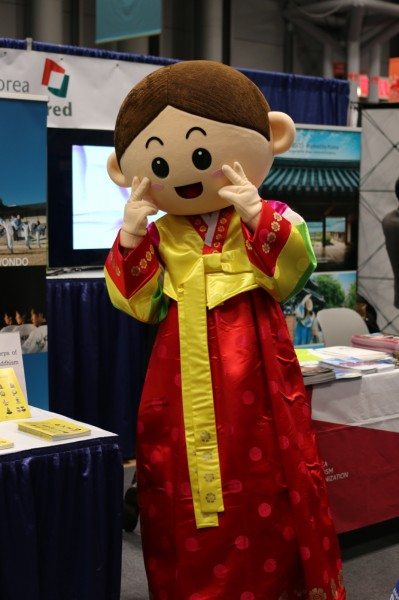 The South Korea booth had the cutest doll, so of course I had to pose with her.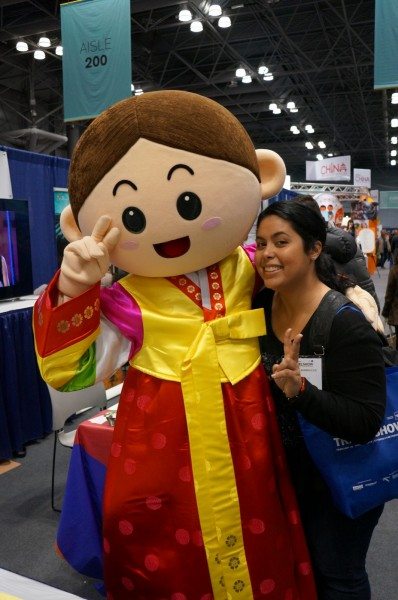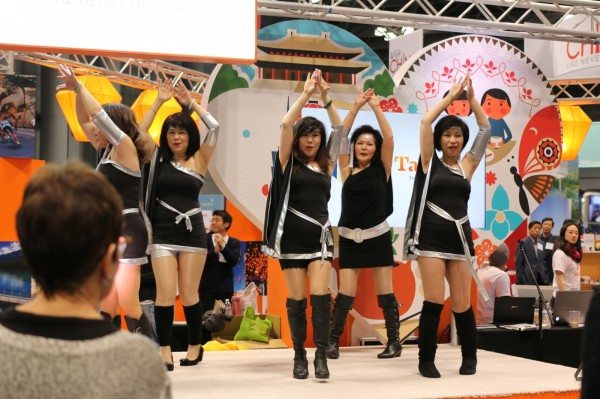 Taiwan had some fun mamas doing a song and a dance for everyone.
Jackie: It's weird yet funny and unique.  Personally, I think Taiwan should hire a new marketing agent.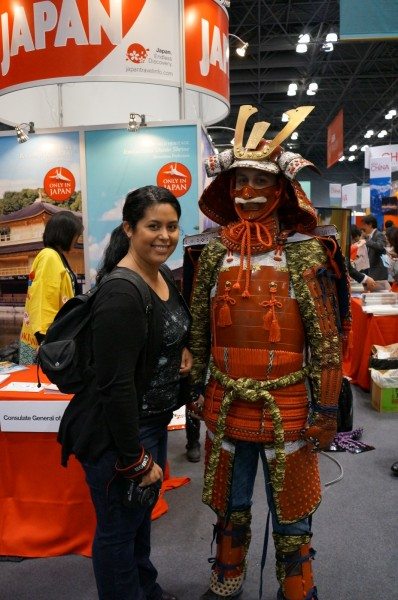 Posing at the Japan booth…
Jackie: I wonder where the samurai hid their gadgets back in the day?  Gadgets being daggers, swords, smoke bombs, ninja stars, etc.  Bet they wish they had a Scottevest!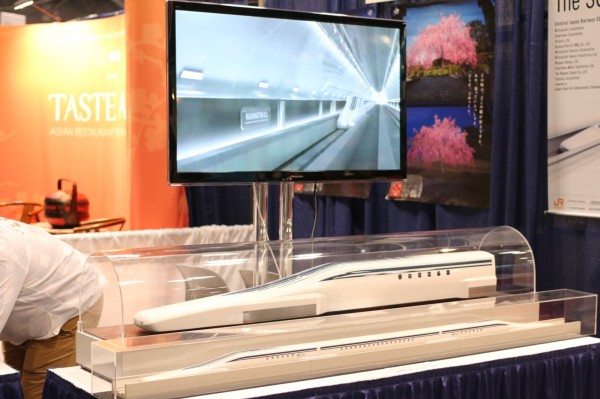 A small scale super fast bullet train.
Jackie: I've been on one of Japan's earlier bullet trains.  They are definitely super fast, super smooth, and amazingly quiet!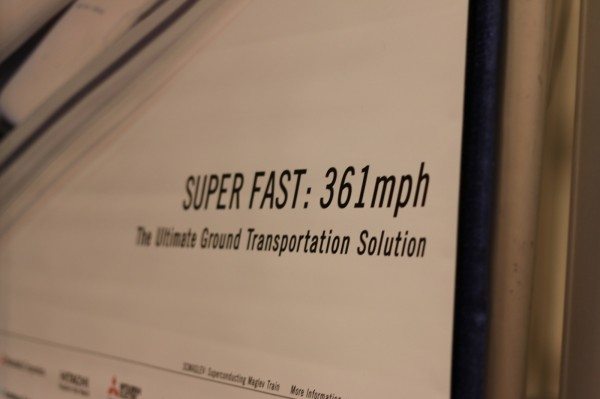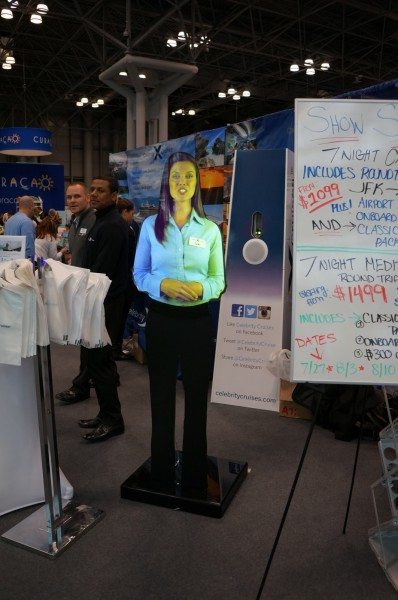 This is not a person, but a "hologram" – an image/screen in a cutout of the person speaking!
Jackie: I've seen those in airports.  It's a pretty cool "hologram" concept.  You can also see the "hologram" projector and speaker in the background above the FaceBook/Twitter/Instagram logo.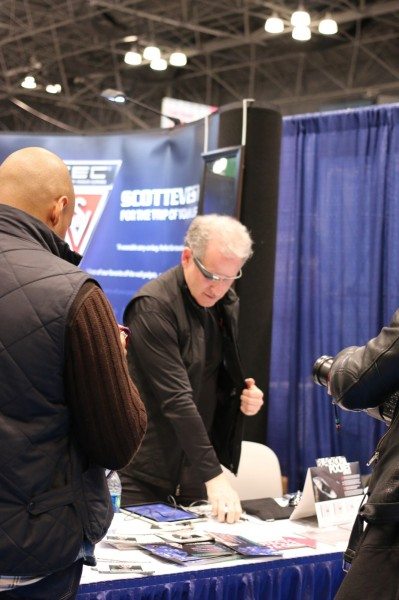 Finally under the "technology" booth (the only one), we saw Scott Jordan! We had to come back to try and speak to him since there were so many people in the booth.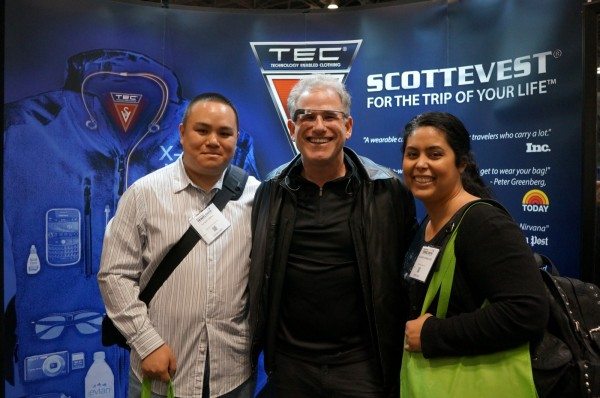 After a few minutes and waiting for the people to clear, we introduced ourselves and Scott was super excited to hear from us. He said he loves Julie and The Gadgeteer!  He was so friendly and mentioned the post that was just published an hour or two before the show started.  He agreed to take a photo with us.  It was super cool that he was wearing Google Glass!
Jackie: He's a pretty cool guy!  Wished we could talk to him more but he was in a rush to go somewhere.  I think he recorded us on his Glass too!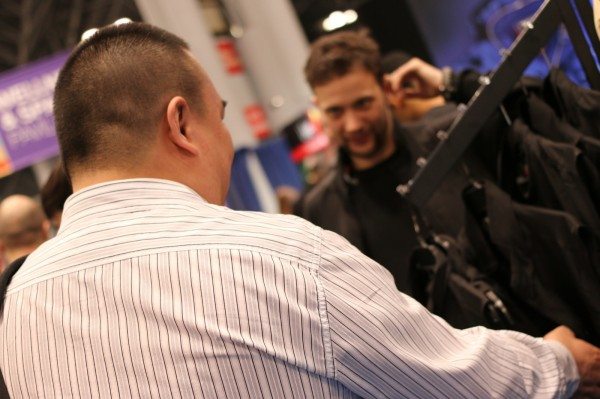 I caught Jackie eyeing the vest on sale on the floor…
Jackie: The XL size for the vest was a tad too big for me and the large size was ok if I the pockets weren't filled.  Good reason to lose some weight to get the large sized vest!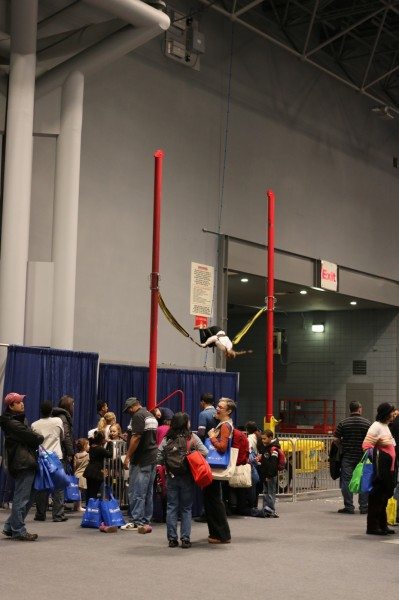 They had a family fun area where kids were being slung around, as well as a rock climbing wall.
There were so very many booths from different countries, but all were very similar in that they had pamphlets and information.  I think we might have caught a bit more fun stuff, such as bands and performances if we had gone a day or two earlier on Friday or Saturday. We'll keep an eye out for a bigger show next time!