We use affiliate links. If you buy something through the links on this page, we may earn a commission at no cost to you. Learn more.

Flashlights come in all shapes and sizes nowadays, and LED technology has enabled blindingly bright units to be smaller than some coins. But, for longer distances, there always needs for a good reflector and lens system involved, in order to amplify the LED's glow. Enter the ArmyTek Barracuda, a powerful, rugged, handheld light with a 520 meter throw. (Yeah, that's over 1700 feet!) I thought this was impossibly powerful at the price of $160. They sent us a review unit, and I've been disturbing neighbors and wildlife in my area of the state for several weeks now. It's probably good that I'm not in a major airport's flightpath!
Note: Photos can be tapped or clicked for a larger version.
Here's the verbiage from the ArmyTek website:
Key Features:
Cree XM-L2 U2 LED
Excellent throw for 700 meters
Maximal light output 1390 LED lumen
CONSTANT brightness in all modes
Record runtimes in all modes
LED and electronics protection
Powered by two 18650 Li-Ion or four CR123A batteries
Advanced electronic reverse polarity protection
Optical Features
The reflector of the ArmyTek Barracuda flashlight is modeled and calculated in computer software for the design of optical systems that enables to produce a flawless light beam for a distance more than 520 meters.
Ultra-transparent and tempered glass with anti-reflective and lens coating normally used in photo equipment only.
The transparency of the glass is 98-99%.
Electrical Features
Barracuda flashlight is the world's first search and rescue flashlight designed on the basis of the new-generation electronic driver with FLAT runtime technology.
Advanced electronic protection from incorrect battery installation, without reducing the efficiency of the driver.
Smooth light output. Important notice: no irritating flicker effects.
Ecological algorithm of the stabilization control, which decreases the power consumption, making the flashlight very effective.
Excellent runtimes for all modes due to high efficient electronics.
Ergonomic Features
The ability to use batteries with a flat contact.
Protection from switching on accidentally (special turn of the tailcap).
Mechanical Features
The flashlight has a strong, difficult to break body, which is developed for a minimum weight with sufficient durability. The design of the body includes element design specifically to prevent the flashlight from rolling.
Armytek Barracuda is designed with the impact-resistant bezels from both sides in order to protect it from falling and allow utilization during combat situations. In the Gold and Black version the steel bezels are also covered by titanium coating with a hardness of 2000-3000HV.
To ensure functionality in difficult conditions, the electronic driver of the Barracuda flashlight is placed in a special aluminum capsule and has been completely covered with durable compound. This actually protects it from both the environment and from mechanical damage.
Body cover: matte, anodized. Hardness: 350-400HV. Resistant to scratches and impacts.
Body material: aviation-grade aluminum T6061-T6.
Water resistance
Water resistance standard: IPX-8 (the highest)
An О-ring has been used to increase glass sealing, and well as an extra L-ring of a specific shape.
All threads, rubber parts and other parts of the flashlight that experience friction or contact with water are lubricated with a special dense grease NyoGel 760G.
Whew! All that to say "This light is the lightest, toughest, brightest, longest lasting, and least fiddly LED light ever." I have been nothing short of amazed by this thing. It arrived in a tough plastic carrier that is foam lined with custom cutouts for the light and the included holster. The holster is black nylon weave, stitched and edged to a three-way hitch. This will allow you to attach it to a clip or carabiner, pass a belt or webbing strap end under a double-sewn webbing loop. If the strap is not able to be released, there is also a velcro release that will attach it to a standing strap or MOLLE loop. Either loop will accommodate belts as wide as 2″ (6 cm).
The flap of the holster covers a conical piece about 5″ wide, with room at the bottom for the tail of the Barracuda to slide through. A firm metal snap (installed before the lining and sewing, so that the bare metal does not scratch your 'Cuda) secures the holster's prized contents.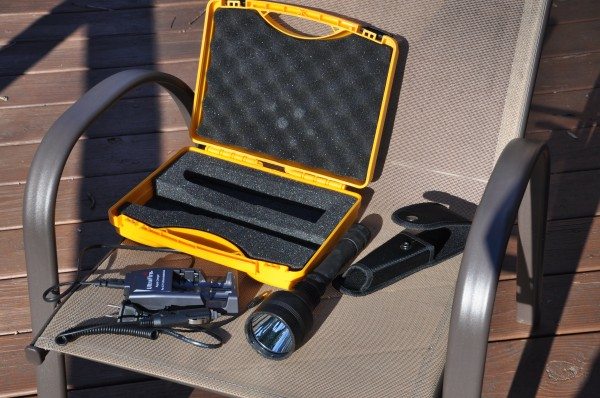 The torch itself is 10.5″ in length, and the front is 2.5″ across. The slimmer handle tube is just under one inch in diameter (2.5 cm). The unit is operated by a button switch in the tail.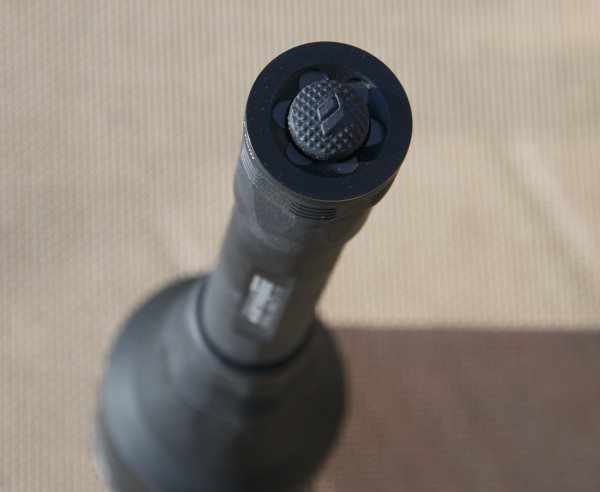 You click and it turns on, click again and it turns off. There are other settings, easily explained in the manual, for forcing very low, low, and semi-full powers, and the switch can be used in tactical mode by holding the button down without engaging the click. This will work independently of the brightness setting.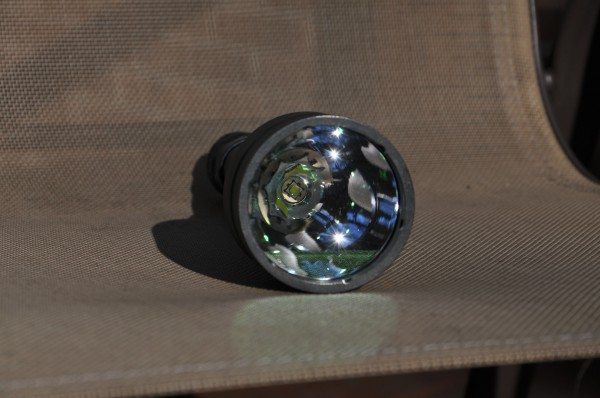 There is no adjustment to the focus of the beam. It's set to a fairly narrow beam with a brighter, more intense center. I thought at first I would not like this, but having this single focus is a lot like using a prime lens on a camera: you learn what you have, and use it to its best advantage.
Powered by Lithium batteries (I used two rechargeable 18650 3.7V batteries. It will also work with four CR123A), I have not been able to run through a full charge yet. Since the power is even, however, it may be that the next time I turn it on, the light will indicate that I need to recharge. It'd be nice to have some type of gauge of what's left in the current set of batteries.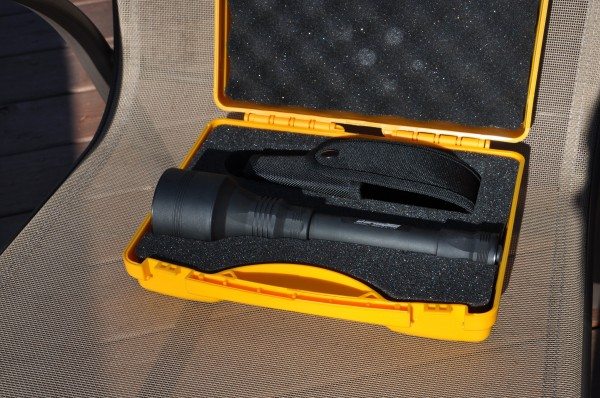 I can spotlight animals three or four houses up the street while walking the dog. And by spotlighting, I'm not just seeing their eyes glow. I can see them, their shadow, and their natural color. I caught two deer in the neighbor's back yard a week or so ago, and they had no idea what to do. Wish I'd have had my camera, because the light is bright enough to take really decent flash-free pictures with.
Here are a few pictures taken in my driveway late at night on a dog outing. My neighbor has a motion-activated spotlight, but notice how the Barracuda overpowers the glare from that spot.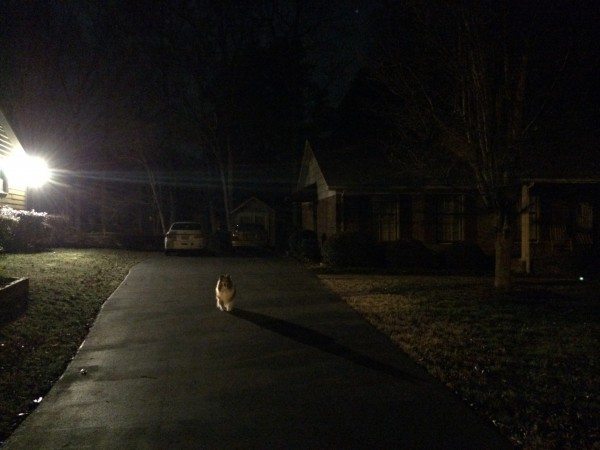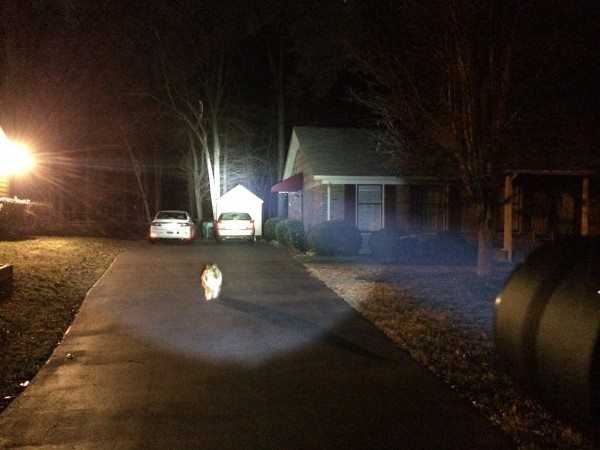 True, it is a bit pricey, and it's not ever going to fit easily into a pocket. But the light it gives makes it essential for all uses where a bright, long-range light would be handy: search and rescue, in the car trunk for emergency signaling and car repair, by the back door to take out for late-night noises or pet outings, or even finding things in an attic or basement.
It's great handheld, but not too easy to use in cases where you don't have an assistant or extra hand to direct the beam. The Maxxeon 1400 WorkStar I reviewed several years ago is more versatile for this, but doesn't have nearly the distance to it's throw. Bottom line, if you need a strong, sturdy, weatherproof light that will give you loads of worry-free performance and are willing to pay the price, this is your torch. For more info visit ArmyTek.com
Updates 03/31/16
Just yesterday, my Lovely Bride came into my office in a panic, because she could not find this. It had been moved to a different shelf in our den, but she needed to go outside in the shed, and it was dark. I think I've charged the batteries once in the year plus since the review. We use it all the time.
Source: The sample for this review was provided by ArmyTek. Please visit their site for more info.

Product Information
Price:
$160
Manufacturer:
ArmyTek
Requirements:
Pros:

Bright, long range beam
No zoom/focus fiddliness to deal with
Can use rechargeable and different sizes batteries

Cons:

Big
No easy adjustment for close/small work
No stand/flat edges to allow hands-free use