We use affiliate links. If you buy something through the links on this page, we may earn a commission at no cost to you. Learn more.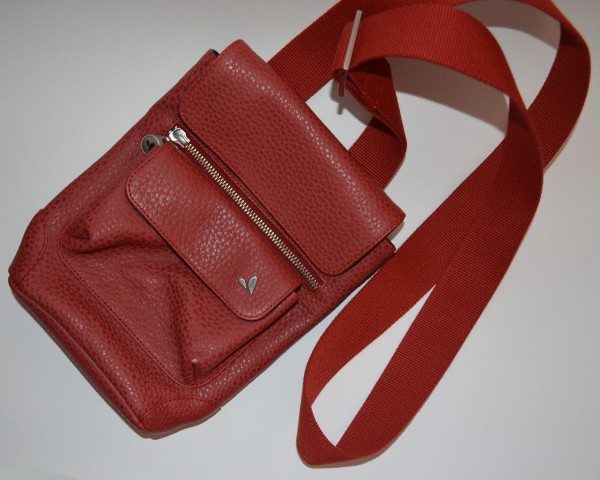 The iPad mini is small enough that I can take it anywhere I go.  My mini with Retina display fits inside some of my everyday carry bags, but not all of them.  When I'm carrying one of my smaller bags and want to take my mini along, I have to make a decision:  do I change bags so everything fits in one, or do I keep the small bag and add a second bag for just the iPad?  The perfect choice would be a small bag to take along the iPad mini with just a wallet, keys, and phone, but I didn't have one of those.  Turns out that Vaja Cases makes a Small Messenger Bag for iPad mini and 7″ tablets.  It has a couple of other pockets in addition to the big one for the tablet, so I thought it looked promising as a bag that could carry my minimal daily gear and the iPad.  I was happy to get to give it a try when Vaja Cases agreed to send one to The Gadgeteer.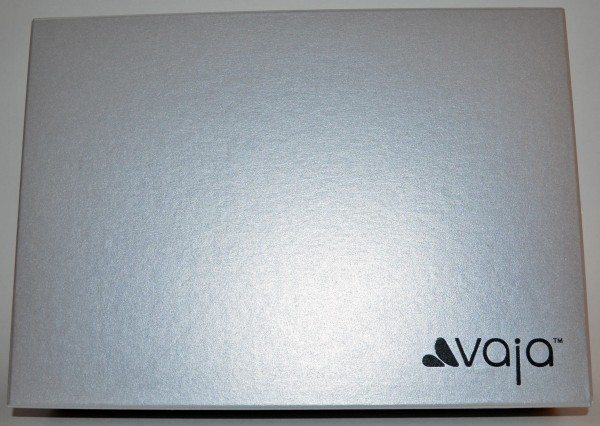 The bag arrived in a very sturdy box with a silver lid and a black bottom.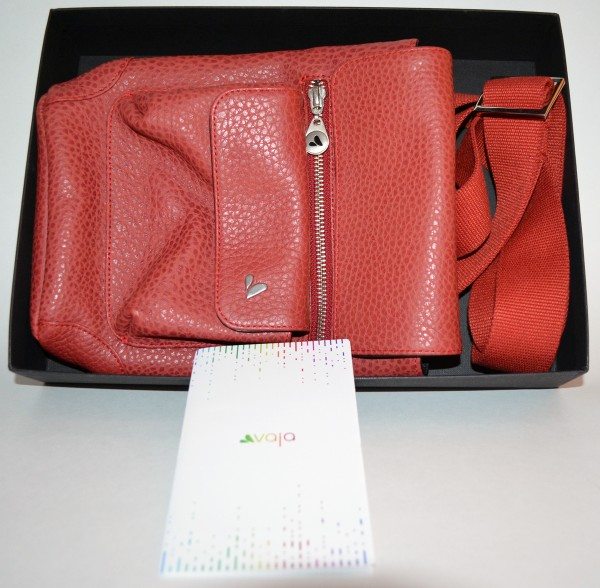 There was no tissue to protect the bag during shipping, and there was no felt dust bag to protect the bag while it was being stored.  Those items may come with non-review samples, but I don't know for sure.
The Small Messenger bag is available in all black, black with a red lining, dark brown with birch lining, green with London (light brown) lining, or Pompeian red with black lining.  I naturally requested the Pompeian red bag.  It's a gorgeous color, but it's not a fire-engine red.  It has a brown or orange tint, and it looks almost burnt sienna under some lighting.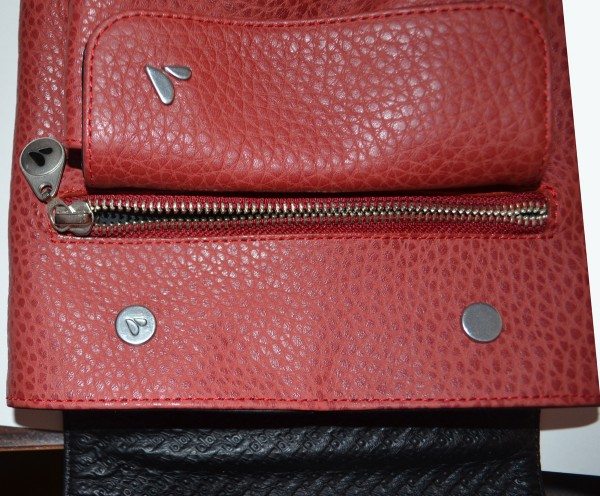 Inspecting the lead photo and the one just above, you'll see that the leather has a heavy grain.  (These images also show an accurate representation of the color of the bag, too.)  The leather has a rich, supple hand.  Premium Argentinian floater leather is used for the exterior; the interior is Caterina leather.  You can see the top-stiching, in color-matched thread, is even and straight.  The metal logo on the front pocket, the zippers, and the magnetic closures are are silver-toned metal.  The zipper pull and one of each pair of magnetic closures has the Vaja logo.
Both flaps are lined in leather that's been embossed with the Vaja name.  The inside of all the pockets and the tablet compartment are lined with black fabric with the Vaja name and logo woven in.
The bag measures 10″ X 8″ X 1.8″ and weighs 15.4 ounces empty.
The zipper is heavy-duty and has metal teeth.  Since I don't plan to put any electronics in the zippered pocket, I don't worry about the metal teeth scratching anything.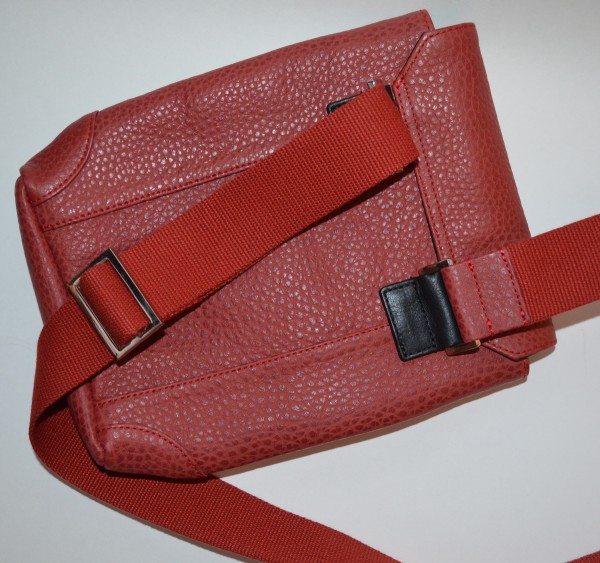 The back has no external pockets.  You can see that the shoulder strap is made of a wide belting material that feels like it is made of cotton (but there's no specification that confirms my guess).  It's 1.3″ wide and is adjustable from about 31″ to 57.5″ long.  The bag can be worn on one shoulder or as a cross-body bag.  When I first saw it, I thought the strap was a little too casual for the luxurious leather bag, and I felt it was too wide for the relatively light load you'd be packing into the bag.  Loading up the bag and throwing it on cross-body changed my mind about the width of the strap.  The addition of my iPad mini wearing both a Smart Cover and a snap-on back cover and the other things I loaded up in the pockets was heavier than I thought, and I found the wide strap spread out the load so that it didn't hurt my shoulder.  The belting material was soft and didn't scratch my neck, but the strap is thick enough that it feels like it will hold up to a lot of use.  I still think it looks a little casual, but I think it was the right choice for the strap after all.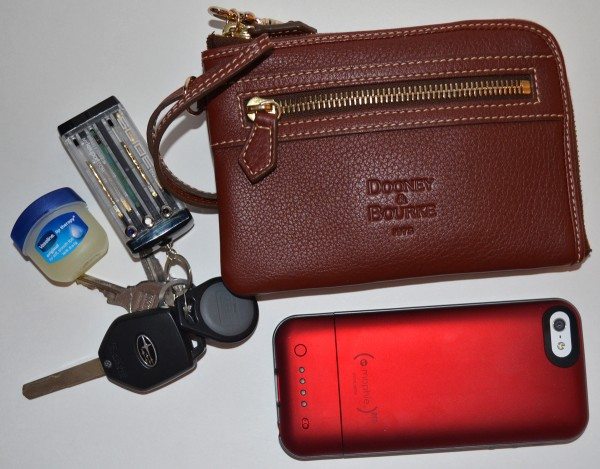 In addition to my iPad mini with Retina display, I also wanted to carry my wallet, my Keyport with a couple extra keys attached, a tiny pot of Vaseline lip balm, and my iPhone 5 in its mophie battery case.  I could have fit the phone into the wallet, but that would have made answering my phone a difficult, time-consuming undertaking.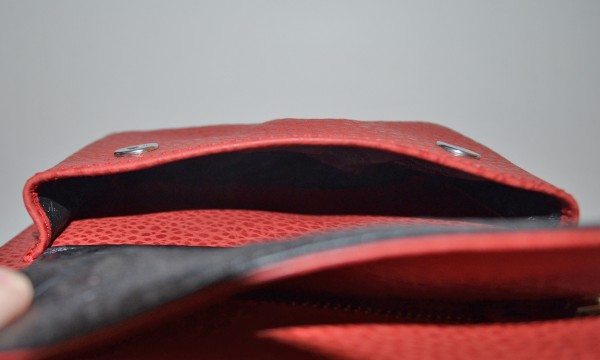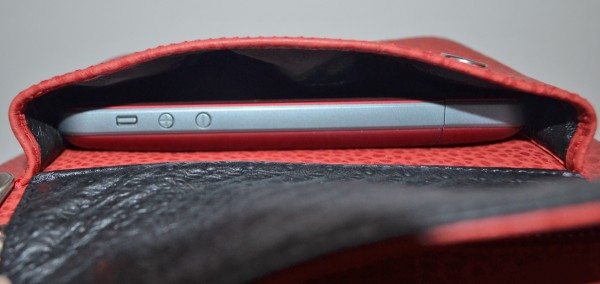 Since Vaja describes the small front pocket as a phone pocket, that's where I put my iPhone 5.  It fit perfectly into this pocket.  Since the mophie case isn't tiny, I think you'd be able to fit an iPhone 5/5s with a wide variety of cases into this pocket.
This pocket is held shut with the flat magnetic closures you saw in an earlier photo.  They close easily without requiring any pressure to snap them closed, so you don't have to worry about undue pressure on your phone's screen when closing the pocket.  The magnets held securely, so I didn't worry about the flap popping open and letting the phone fall out.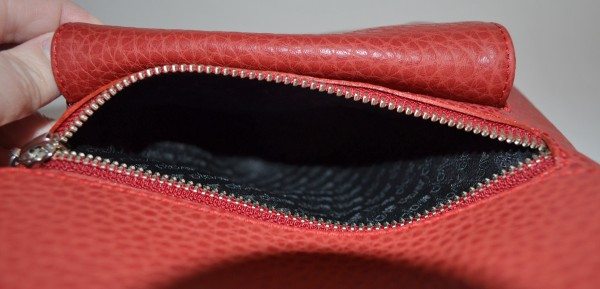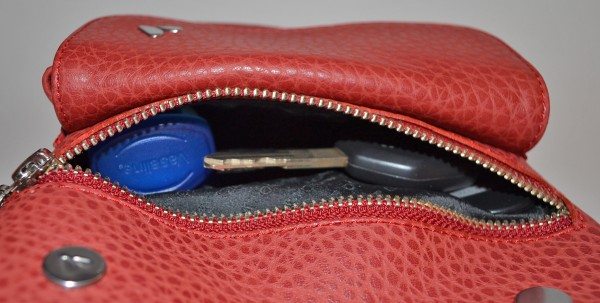 The zipper pocket easily accommodated my Keyport and lip balm.  I also was able to stick a Monteverde One Touch Stylus pen in there, too.  (See related links at the end of this review to learn more about the Monteverde stylus.)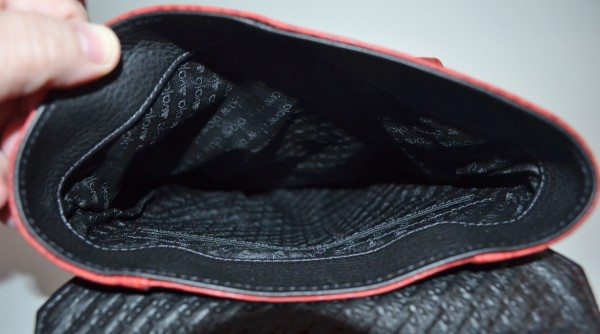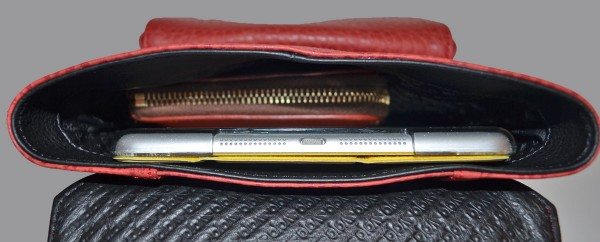 The tablet pocket easily held both my Dooney & Bourke Multi Function Zip Around wallet (see related links) and my cased iPad mini with Retina display.  I could probably have fit something else in there, too, but I didn't want to crowd the iPad.  I show the wallet stuck in the front, but I actually ended up sticking it in an open pocket located on the back wall of this compartment.  You can see the top-stitched opening of the pouch in the upper image.  It was just big enough to hold the wallet, and it served as a barrier to keep the metal hardware of the wallet away from any part of the iPad mini or its case.  The magnetic closures held the flap for this pocket securely closed.
At $260, this is not inexpensive, but the Vaja Small Messenger is very well made and constructed of quality materials.  Its thoughtful design allows me to carry all my bare-minimum carry items plus my iPad mini with Retina display with me in one bag.  It's not too big and not too small – it's just right.  While the red color might be too feminine for men's taste, there are more gender-neutral colors available.  And it turns out that the comfortable, casual fabric shoulder strap might make it just casual enough for men to feel like it's gear bag and not a purse.  It's not sized to be a perfect fit for any one tablet, so it will work for most 7″ tablets on the market today and in the future.  If the price is in your budget, you won't regret getting this beautiful, useful, practical bag that you can use for many years to come.
Product Information
Price:
$260.00
Manufacturer:
Vaja Cases
Retailer:
Vaja Cases
Pros:

High quality materials and construction
Phone pocket keeps your phone safe and easily accessible
Zipper pocket and oversized tablet pocket fits a wallet, keys, and a couple other small accessories
The tablet pocket should fit most 7" tablets

Cons:

Expensive (but worth it!)