We use affiliate links. If you buy something through the links on this page, we may earn a commission at no cost to you. Learn more.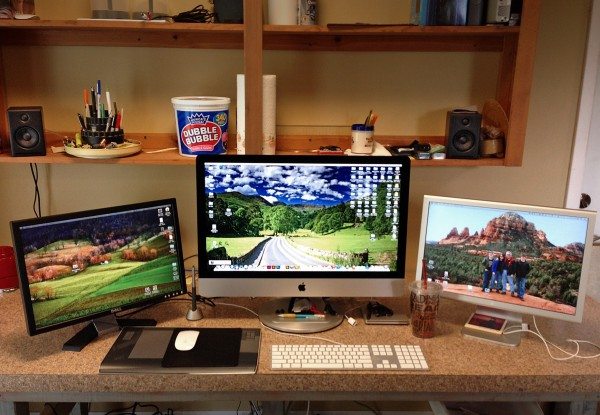 Recently, Julie asked for us to show our desks and what's on them. With mine, there is not much to tell. I'm an art director by day and freelancer by night, so my desk is usually strewn with all kinds of junk. Add to that my passion for all things audio, and I keep pretty busy. I use three monitors and am completely spoiled by all that screen real estate. In the middle is a new 27" iMac that blows away my older MacPro tower. It's extremely fast and quiet. On the shelf above are a pair of small Audioengine A2+ speakers that I will be reviewing soon. The desk is rather large – it originally was an electrical workbench used by the home's previous owner. I put Formica on top and – voila! – instant desk! The size allows me to spread stuff out.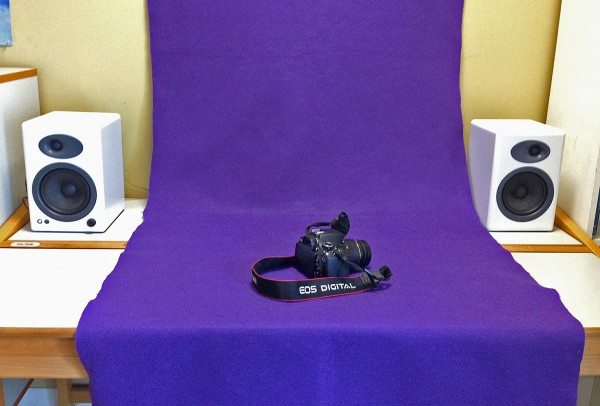 Directly behind this desk is a table that doubles as a product shooting station. I use my son's camera – I can't justify the purchase for one use only. I also use my iPhone for some shots, and I photoshop all the photos for color, dust, etc. You'll notice that the desk holds the Audioengine 5+ speakers. The A5+ and the A2+ are connected wirelessly to the iMac in a 4 speaker stereo arrangement. The studio is a separate building in my backyard. I play music loud when I work, and it doesn't disturb anyone.
Not pictured are shelves containing products to review and products already reviewed. Usually, there are headphones all over the place. One of these days, I will build a rack to display them. Maybe in my free time.