We use affiliate links. If you buy something through the links on this page, we may earn a commission at no cost to you. Learn more.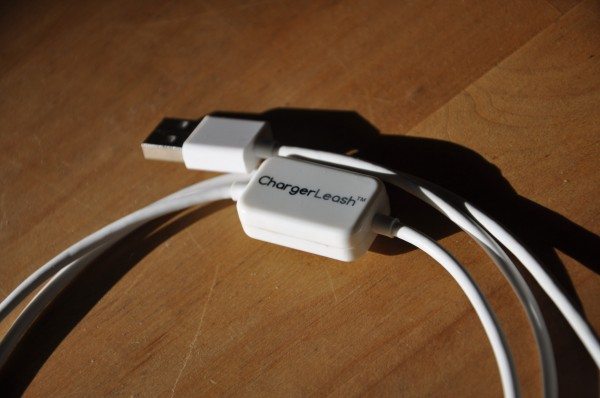 It's happened to me several times: I charge my device in a hotel room, disconnect in the morning to move to a different seat or go down for breakfast, come back, pack and leave, and abandon my cable under the nightstand. Now that we have multiple devices to charge, the likelihood that we're going to walk out without a needed cable increases. Fortunately, an innovative cable called ChargerLeash offers a simple solution. A few seconds after you disconnect your device from a power source, an alarm built into the cable beeps until you plug the device back in, or you unplug the cable. I was sent a 30-pin sample for testing, but there are lightning, microUSB, and multi-tip models available.
Note: Click or tap on any photos for a larger image.
The cable looks for all the world like a regular USB cable that may have come with your device, except there is a small box inline about halfway up the cable. Made of white plastic (similar to the other connectors on the ends), there is a ChargerLeash logo on one side, and an LED and a hole molded in the back side. When you disconnect your device, the LED blinks green. After a short time (about 6 seconds) the LED starts flashing red and an alarm starts beeping. It's not horribly loud, but you'll be sure to hear it in a normal hotel room, unless you've got your morning news blasting.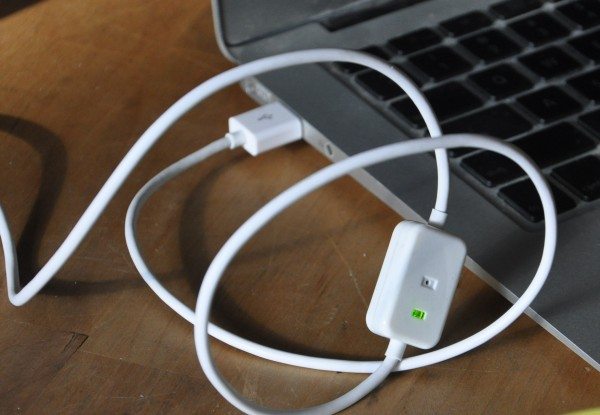 When connected, the LED on the ChargerLeash glows green. (Don't worry, it's not going to keep you awake!)
I tested it with a computer USB port, a battery-type phone recharger, and the normal power brick that came with my iPhone. In every case, the alarm sounded well before I could have run out of a room without that cable.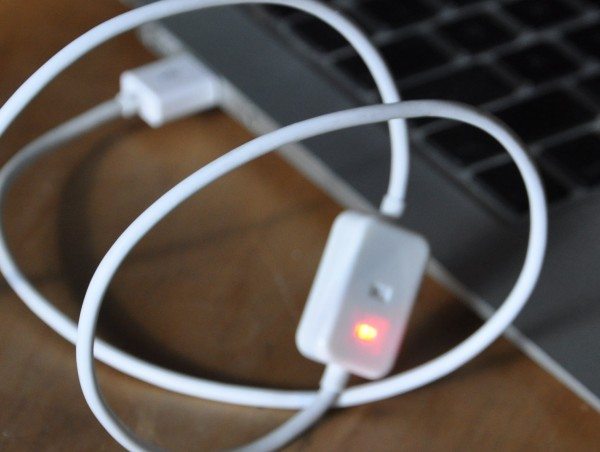 When your device is disconnected to power, the LED will glow red.  (Your vision will not go blurry, I just missed the focus on this photo!)
The connections were all just as strong and cleanly done as any of the manufacturer supplied cables I currently use. Having that extra little box prevents me from leaving my cable behind, and that's a Good Thing™.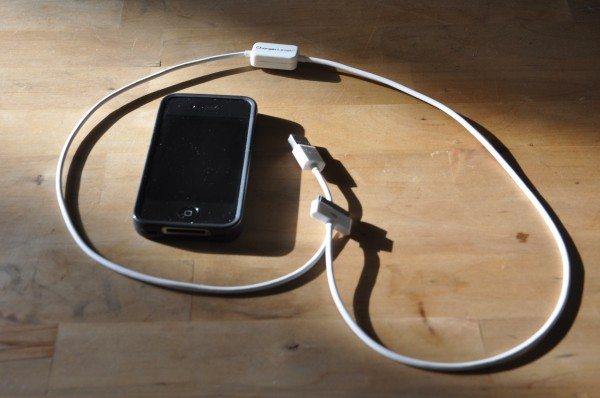 The ChargerLeash may not change your life, but it can help you keep your device charged, and that's pretty nifty.
Product Information
Price:
$23-$35, depending on type of cable
Manufacturer:
JSN Holdings, LLC
Requirements:
Pros:

Same size and weight as a normal cable
Available in all connections, fits most USB-chargable devices

Cons: