We use affiliate links. If you buy something through the links on this page, we may earn a commission at no cost to you. Learn more.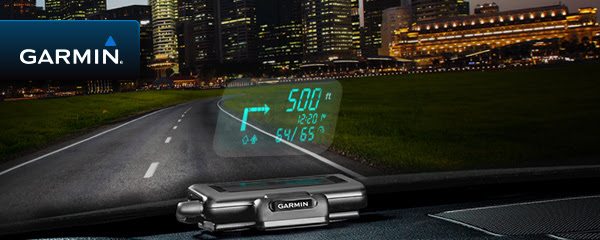 Using your smartphone to help you navigate while driving is obviously commonplace these days. But the problem with using your phone or even a stand alone GPS is that they require you to look away from the road to view navigation information. Garmin's new HUD+ is a small device that uses Bluetooth to pair with your iOS, Android or Windows Phone to display important information right in front of you on your windshield. That means that your eyes stay forward, which is safer.
The HUD+ sits on your dash and its 2-color fluorescent display (green and red) reflects onto your windshield. With the Garmin HUD GPS navigation app installed on your mobile device, it wirelessly sends the navigation info from your phone to the HUD+ unit to display turn indicators, distance to your next turn, current speed and speed limit, estimated time of arrival and potential traffic delay warnings. The HUD+ requires a connection to power, but as a bonus, you can connect your phone directly to it for power.
The Garmin HUD+ is priced at $179.99. More info at Garmin.com.