We use affiliate links. If you buy something through the links on this page, we may earn a commission at no cost to you. Learn more.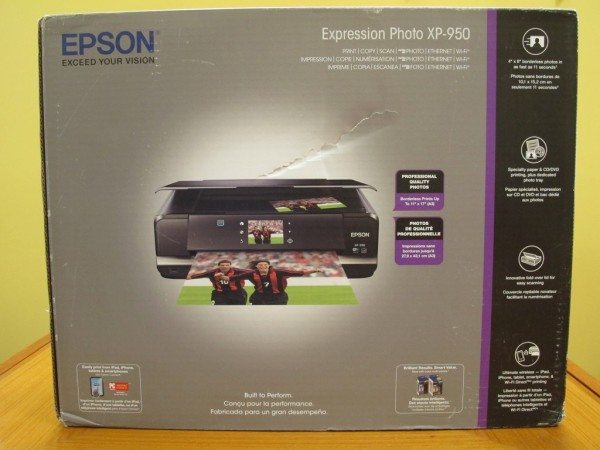 Sometime around 1975, it was suggested that because of computers, paper would become obsolete.  It hasn't happened yet and I find myself buying a new printer every now and again.  I've never been completely satisfied by the output quality or performance of my purchases, but maybe things will change now that I have the XP-950 from Epson.   This thing is much more than just a printer/scanner.  I usually start off with listing the specifications of the device I'm reviewing, but if I did that with the XP-950 this posting would be much too long.  I've noted down what I believe to be the most important features and suggest for more details you check out the XP-950 web page.
Features:

Convenient 3.5" touch screen with gesture navigation for easy operation; preview, edit and print photos without a computer

Auto Photo Correction and red-eye removal, with and without a computer

Two individual paper trays — standard tray and dedicated photo tray for 4"x6" and 5"x7" photo paper

Prints 4"x6" photos in as fast as 10 seconds

Wi-Fi CERTIFIED n networking for greater coverage and faster speeds

Print, scan and access memory card slots from any room in the house
WiFi Direct™ for convenient wireless printing from mobile devices – no router required
Ethernet port for wired networking
The Epson Connect™ suite of free mobile printing solutions offers the freedom to print documents, photos, emails and web pages from remote locations to any Epson Connect enabled printer.

Built-in Auto Photo Correction automatically evaluates and corrects images

Utilize specialty media, such as card stock, envelopes and labels, with the rear paper feed to customize memories or print personalized party invitations

Print the same photo or multiple photos on a single sheet of paper with custom photo templates

Design and print elegant note paper

Print custom designs directly onto ink jet printable CDs/DVDs

High-quality 4800 dpi scanning precisely captures photos, documents and more; saves scans as JPEGs or PDFs, with or without a computer

Share the XP-950 with multiple computers and mobile devices to print from anywhere in your home

Windows® 7 and 8, Windows Vista™, Windows XP, Windows XP Professional x64

Macintosh

®

: OS X 10.5.8

18.9″ x 25.9″ x 11.6″ (W x D x H), 23 lbs.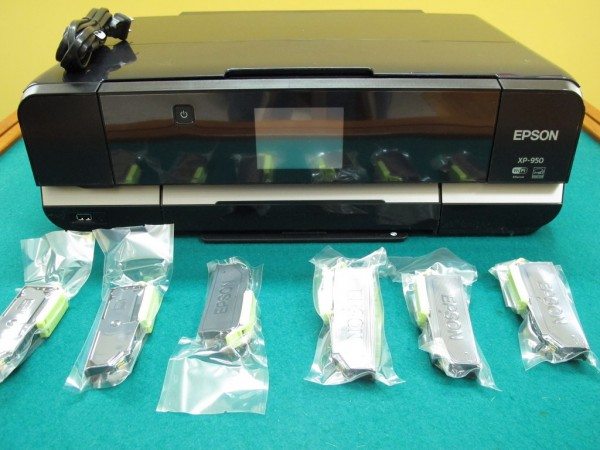 The printer comes with a power cord and the six ink cartridges.  It does not include a USB cable or Ethernet cable.  Although the device can connect to a computer using cables, it's apparent that it was designed to be used in a WiFi environment.  All set-up can be done wirelessly.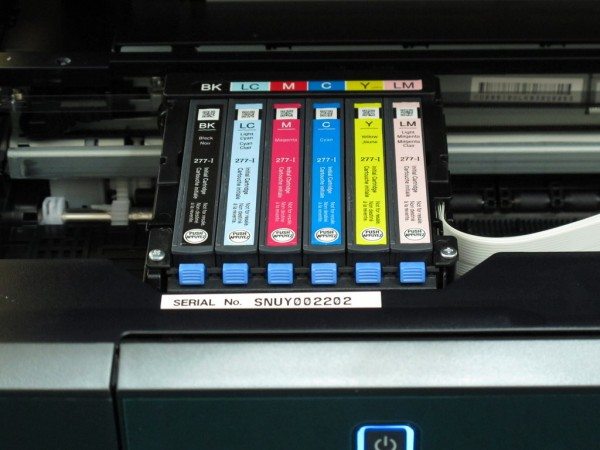 After removing all the packing, you plug the unit into power and install the ink cartridges.   These come in standard or XL capacities.  The standard ones cost about $11 each.  The good news is that you only have to replace the color that runs out and not the single color cartridge that contains all the colors  as in some printers.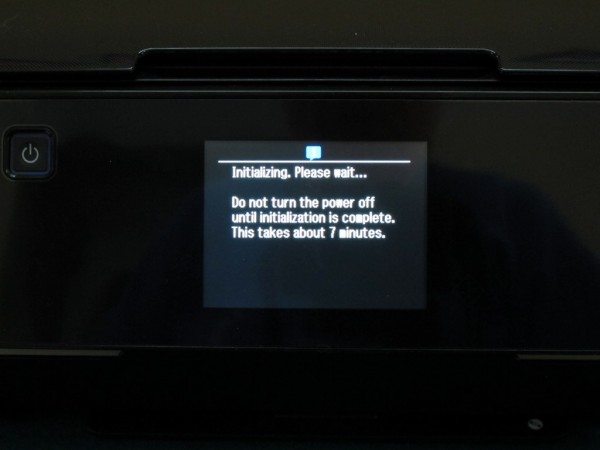 Now you wait.  The first time the printer is initialized takes a bit.  The print head nozzles are being primed.  This consumes some amount of ink, so the first ink cartridges won't last as long as subsequent ones.  To finish the installation you insert the supplied disc into your computer and load the drivers and applications.  You'll want to do this for all the computers on your LAN because the XP-950 is a network printer.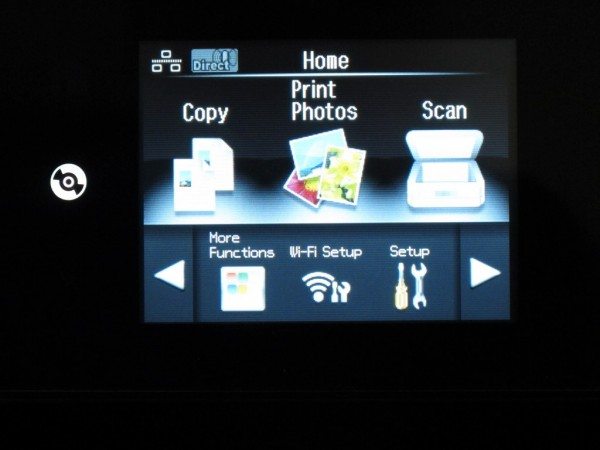 Now that we're all set up, what can we do?  As a stand-a-lone unit you can: copy documents and photos, print from memory cards, print directly from pictbridge capable cameras, print stationery, create and print greeting cards, print a calendar, copy a CD/DVD artwork and print to a printable CD/DVD and scan to a memory card.  These functions are done using the touch screen front panel of the XP-950.
When connected to your LAN you can also: print from any computer on the LAN, print from an iPod/iPhone/iPad or other handheld devices  (it supports Apple Airprint and Google cloudprint), scan to LAN devices or the cloud, access the memory cards from your devices on the LAN and remotely send print jobs from devices on the web using Epson Connect and email print.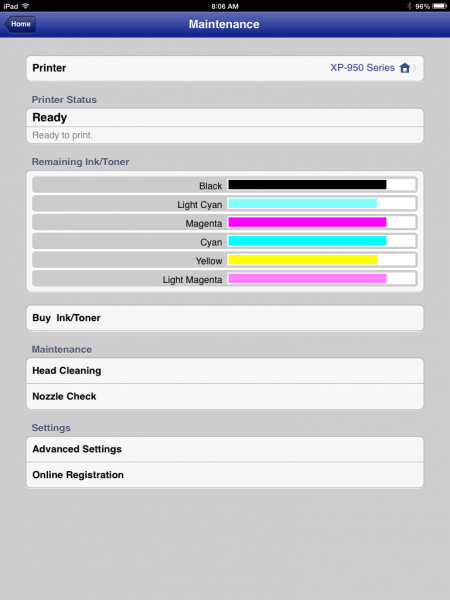 A screen shot of the an iOS app for the printer.  You can check the status and perform maintenance procedures from your iOS device.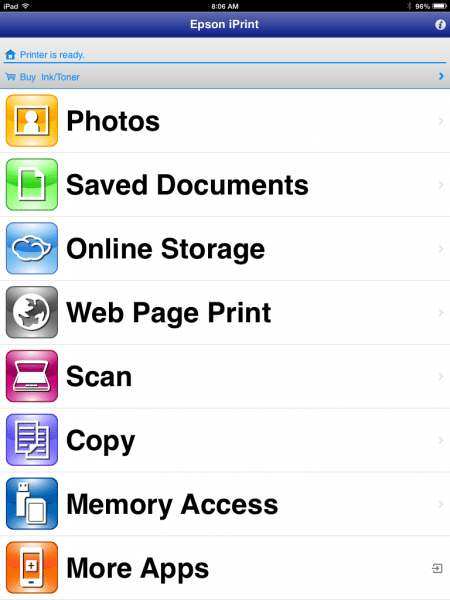 This app for iOS enables sending the iOS device's data to the printer.  You can also initiate a scan and copy from your device.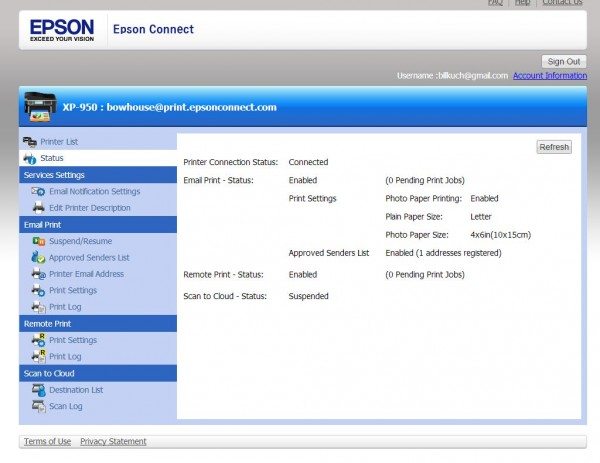 Signing up for a free Epson Connect account allows you to print remotely by either sending an email with your document or loading a remote printer driver in your remote PC.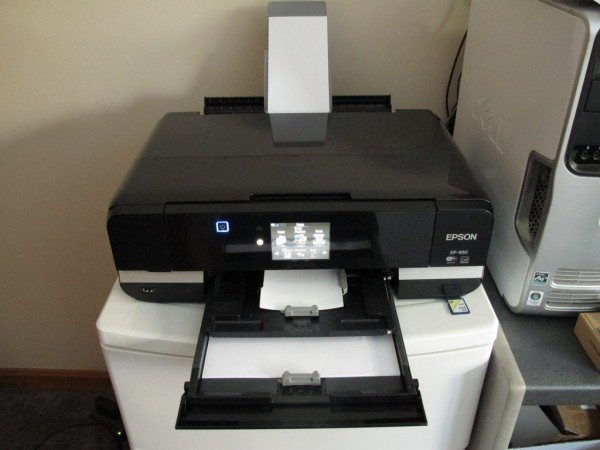 To print all your documents, the XP-950 has several ways to load media.  The bottom tray holds up to legal size paper.  The one above is for photo paper up to 5 x 7 inches and is independent of other media inputs.  Just above the photo tray is a slot for the CD tray, which is only used when printing on that media.  And in the back is a slot to load up to 11″ x 17″ paper a sheet at a time.
The XP-950 is very versatile.  I've been using it for several weeks and probably haven't used all the features yet.   I've used the scanner to import documents to my PaperPort application with no issues.  I've printed on CDs, photo paper from my PC, iPad and a memory card.  I've done remote printing using the printer's email address.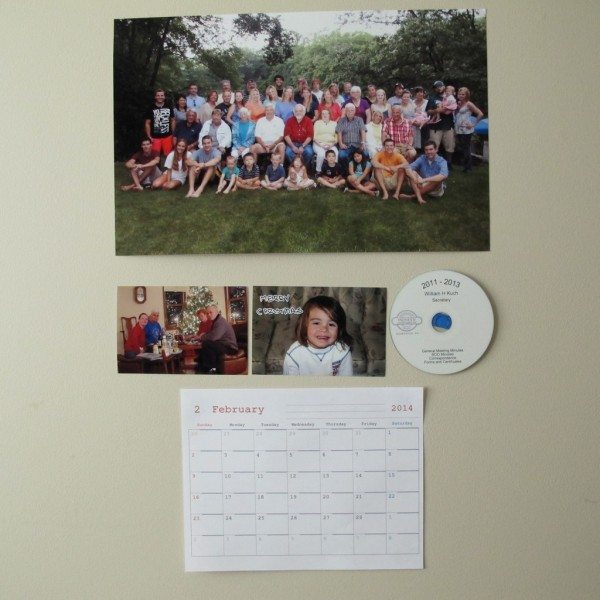 Here are a couple of examples of what the printer can do.  I was especially wowed by the 11 x 17″ photo.  The print was made from a high-resolution jpeg.  The colors are true and the print was equal in quality to one printed at a photo lab.
If you've read this far, you've probably figured out that I like this all-in-one.  I do, especially now that most of the people in my household use tablets and appreciate the ability to print directly to the XP-950 rather than the machinations of going via a PC.  But, there is a catch!  It lists for $349, although Amazon.com has it for $249.  Either way, it's a lot for such a device.  My approach to printers/all-in-0nes has been to buy the cheapest thing I can find at a big box store.  Sometimes when I need to replace ink cartridges, I'll buy a new printer/all-in-one  if it costs less than replacing the cartridges in my old device.
I considered the convenience factor of having only one device for my scanning and printing needs.  I also appreciate the ability to send print jobs via email when I'm not at home.  The dedicated photo paper tray trumps having to switch paper every time I want to print a photo for friends.  Now, rather than sending a print job to Walgreens, I print the photo at home.
At the moment, I've retired the other multi-function devices I had attached to my 3 PCs, and use the XP-950 exclusively.  If you can get past the price hurdle, this is a very capable and versatile All-in-One.

Product Information
Price:
$349 MSRP, $249 at Amazon.com
Manufacturer:
Epson
Retailer:
Amazon.com
Requirements:
Pros:

Accepts various printable media
Able to print/scan stand-a-lone or from network and handheld devices
Remote print capability

Cons: