We use affiliate links. If you buy something through the links on this page, we may earn a commission at no cost to you. Learn more.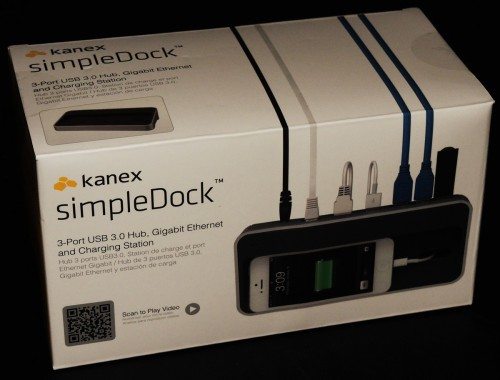 I love things that help me organize and/or simplify my crazy, hectic life. I am typically overbooked and multitasking 90% of my day. So, a clutter-free world helps me be more efficient, which theoretically enables me to get more accomplished on any given day. So, when Julie offered up the simpleDock from the folks at Kanex, I volunteered to see if it would help me with my cable/device management. This 3-port, USB 3.0 USB hub with Ethernet and device charging should help me keep my desk a bit more organized and my many cables under better control.
Note: Images can be clicked to view a larger size.

Package Contents:
Kanex simpleDock
1m USB 3 Micro Type B to Type A cable
5V 4A Universal Power adapter with US/EU/AU/ UK prongs
User Guide
Technical Specifications:
3 X USB 3.0 Ports
1 X 2.1 Amps USB Charging Port
RJ-45 port that supports 10/100/1000BASE-T networks
5V 4A AC Power
Mac OS X 10.6 or Later
Windows 8.1, 7, Vista 32-/64-bit, XP
Dimensions: 7.76in (w) x 1.73in (H) x 3.54in (L) / 197mm x 44mm x 90mm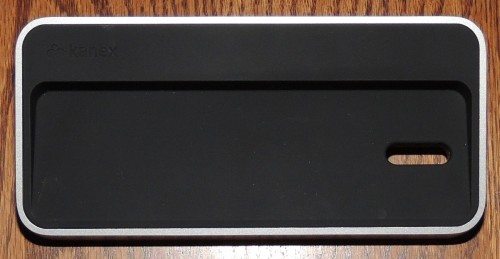 The simpleDock is very nicely constructed, with a high quality feel and heft to it. The exterior is made of a thick zinc metal alloy that matches the MacBook Pro or Air perfectly. Even though Kanex advertises their dock as a Mac laptop accessory, it is compatible with both Windows and Macs, going back to XP and OSX 10.6, respectively.
The center is a hard, dense, rubberized material that has good grip to it. Instead of having to plug your various cables into your laptop every time you set it on your desk, the simpleDock enables you to connect all (3 or 4) of your peripherals (including hardwired Ethernet) and mobile devices to it, making it simple and easy to connect everything to your computer with a single USB 3.0 cable.

There is a pass-through built into the main platform, so your smartphone cable can be strung from the back USB connection to the top where your, in this case, iPhone can sit charging/syncing… very tidy. There is even a dedicated charging port that delivers 2.1 amps of power to charge any smart-device you choose. As you can see, this design keeps USB cables hidden, and serves as a "desk valet" to keep your smartphone within reach. It is too bad the platform does not have wireless charging for smartphones with that feature.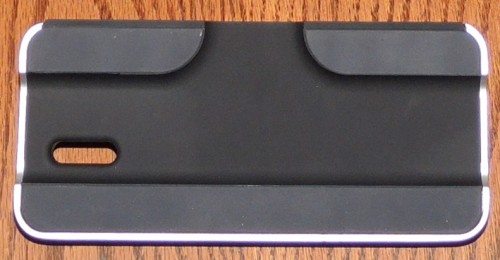 The bottom of the simpleDock has a cutout that cables can be run thru and better hidden.


The design and stylish look of the simpleDock is everything Kanex advertises: an ideal companion to your MacBook, taking nothing away from your tech-sexy aluminum laptop.

The simpleDock's connections include: 3 x USB 3.0, 10W (2.1 amp) charging port, microUSB 3.0 type B, Gigabit Ethernet, and power cord port.
I conducted a connectivity speed test comparing my MBPro's wireless vs the internet speed thru the simpleDock's USB 3.0 wired connection. Funny thing was… in my case, there was zero difference. But your mileage may vary.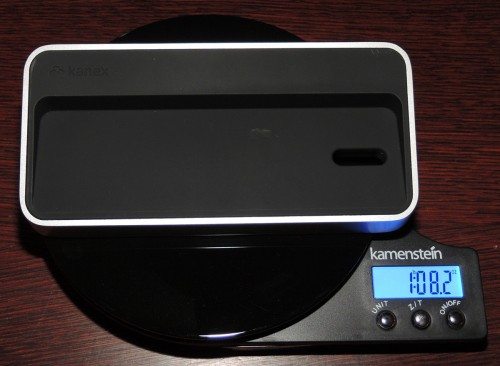 At over a pound and a half, the simpleDock has a quality weight to it, enabling it to stay where you place it on your desk.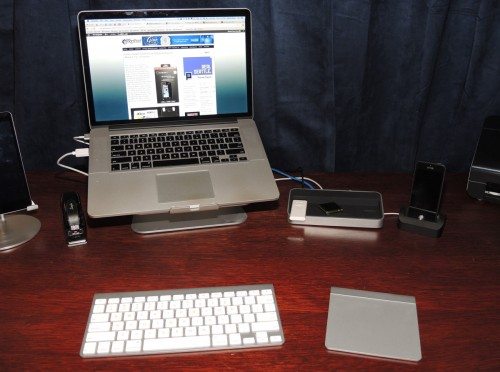 The Kanex simpleDock is a very nice, effective addition to my desktop. It is great being able to connect all of my peripherals into a single point/hub, then get them all talking to my MacBook with a single cable. I believe it will ultimately end up living underneath my MBpro in the Rain Design mStand that my laptop lives on. This stylish hub definitely adds a great deal of convenience and greater connectivity to your laptop, and more Zen to your tech world.
Product Information
Price:
$119.00
Manufacturer:
Kanex
Pros:

- Excellent build/material quality
- USB 3.0 & gigabit ethernet
- Can leave peripherals connected
- Connect everything with a single USB cable

Cons:

- No wireless charging feature