We use affiliate links. If you buy something through the links on this page, we may earn a commission at no cost to you. Learn more.
The mStand by Rain Design is the ideal desktop companion for the Apple Macbook Pro (or Macbook) series of laptops. Constructed out of a single piece of thick, high-grade brushed aluminum, the mStand matches your MBPro perfectly. Even with my nearly seven pound 17″ MBPro, the mStand elevates my laptop effortlessly.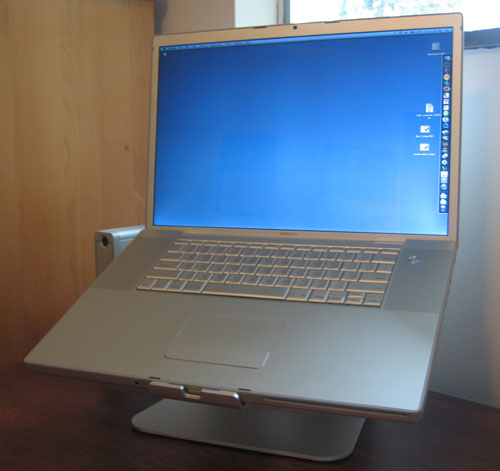 Rain Design designed the mStand to match the brushed aluminum stands that support Apple's current Cinema Displays and iMac models. To achieve the current Apple look, Rain Design sand-blasts the metal and adds a silver anodized finish. The mStand is simple, elegant, and rock-solid.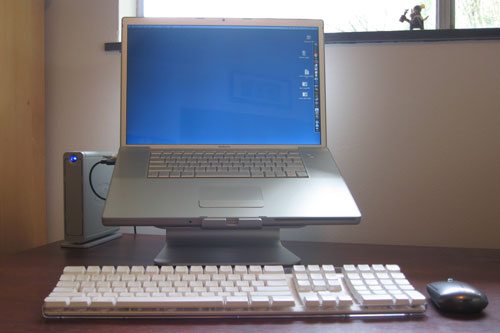 Its pedestal design raises your laptop approximately 6″ to the height of the 20″ iMac. The 6-inch gain in altitude puts the screen to a more comfortable viewing height, making your work station more ergonomic. Combined with a Bluetooth keyboard and mouse it truly turns your laptop into a desktop workstation.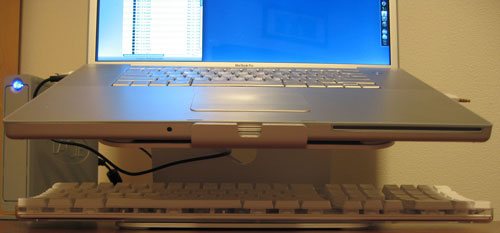 Your keyboard can be stored inside the stand when not in use.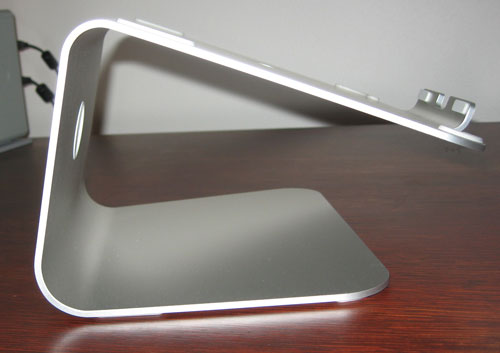 The aluminum is 0.10 inches thick and is forged from a single plate of aluminum for greater strength. The mStand is no lightweight either, weighing in at just over 4 pounds. Its rigid material, overall weight, and wide footplate (10″ by 7.5″) makes this a very stable platform to set your Macbook.
The mStand's raised design and aluminum construction also keeps your laptop cooler than sitting on a desk or on your lap. The raised design allows air to circulate more easily and the aluminum construction acts as a heat sink pulling heat away from the base of the laptop.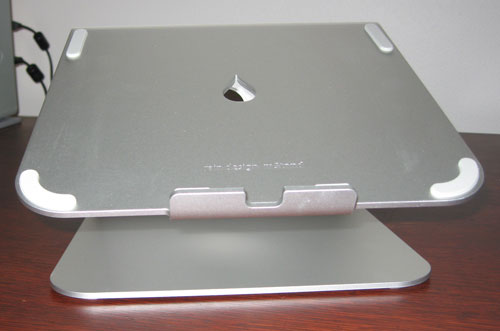 There are rubber pads on all four corners to support your laptop, as well as a set of pads on the front lip of the stand to hold the laptop in place.

The pads not only keep your laptop in place but keep your laptop case from resting directly on the metal stand, thus greatly reducing the chance of scratching.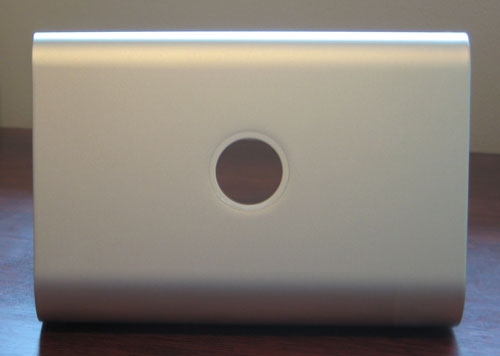 Rain Design has a very iMac-like hole engineered into the back of the mStand to reduce cable clutter.

The front foot not only holds your laptop in place but allows access to the release button, optical disc drive, and IR port.
From an engineering and tech-Zen standpoint, I honestly cannot find anything to improve on the mStand. My MBPro can reside on the mStand indefinitely without concern or worry that it will be scratched or damaged. If you are looking to turn your Macbook into a desktop workstation (or just have a cool place to keep it out of harms way), the mStand is definitely worth the money.
Product Information
Price:
49.9
Manufacturer:
Rain Design
Pros:

Extremely high quality materials
Forged aluminum construction
Very solid and stable
Matches the Macbook Pro perfectly
Turns your laptop into a desktop workstation
Effectively dissipates heat

Cons: