We use affiliate links. If you buy something through the links on this page, we may earn a commission at no cost to you. Learn more.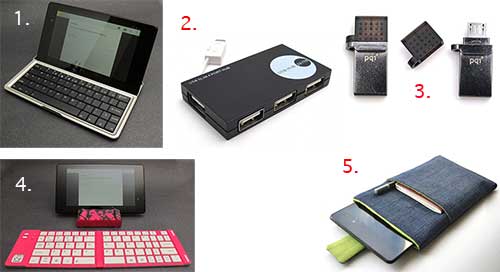 Need some ideas for the Nexus 7 user on your gift list? We're here to help with five gadgets and accessories that will expand the tablet's capabilities, add more file storage, turn it into a mini laptop and protect it from everyday wear and tear. Keep reading for more details.
1. Minisuit Nexus 7 (2013) Keyboard Case (price $29.95) – Tablets and smartphones are perfect for reading content, but when you need to write a long email or work on a document, a physical keyboard is so much more efficient than using the on-screen keyboard. At least it is for a touch typist like myself. I've included two keyboards on this gift list. The Minisuit doubles as a case because the Nexus can snap face down over the keys. When in use, this keyboard effectively transforms the Nexus 7 into a miniature laptop. You can even use it on your lap if you're careful. Touch typists will probably find the keyboard a little cramped, but hunt and peck style typists will probably love it.
2. MicroUSB OTG 4-Port Hub (price $11) – If you have a Nexus 7 or other newer Android device that supports OTG (On The Go), you need this little gadget. Plugging it into the micro USB port of your device will then allow you to plugin up to 4 other USB devices. Add a keyboard, a mouse, a USB flash drive and more to your tablet. And when you're not using it with your tablet, it can be used as a 4 port hub for your PC or Mac. Brando sells other OTG hubs, but this is the smallest one I've seen so far.
3. PQI Connect 201 2-in-1 USB Flash Drive (price 16GB $32, 32GB $45) – This little guy has a micro USB connector on one end and a regular sized connector on the other end. In the middle is 16GB or 32GB of flash memory. Use this little flash drive to copy files your PC or Mac to and from your Android device. You can even play audio and video directly from the drive.
4. iwerkz Universal Foldable Bluetooth Keyboard (price $59.95) – If the Minisuit keyboard is a bit too small, the iwerkz offers a roomier keyboard in a handy fold up format. It comes with a built in stand that props up your phone or tablet at the perfect angle for typing or viewing videos. Touch typists (we can be a picky bunch) might find the gap in between the two sets of keys a little bothersome, but hunt and pick typists probably won't even notice it's there.
5. Begoos Nexus 7 sleeve (price $18) – I didn't want a boring old generic case / cover for my Nexus 7, so I went surfing and happened upon these handmade denim sleeves from Begoos, an Esty craftsperson from Latvia. The sleeve holds the tablet snuggly and features a simple design that offers a small pocket on the outside that can hold a notebook, stylus, etc and a magnetic closure at the top. They are inexpensive, but very well made. I love mine.