We use affiliate links. If you buy something through the links on this page, we may earn a commission at no cost to you. Learn more.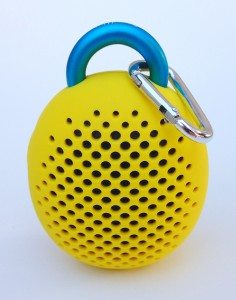 We like our tunes!  And as much as we like our personal earbuds, sometimes we don't just want to keep the music to ourselves, we want to jam out loud or share it with the folks around us.  The Divoom Bluetune-Bean Bluetooth portable speaker and speakerphone does this in a fun, compact shape and size.  It connects to all kinds of devices via its Bluetooth connection and includes a clip to attach it to your pack or belt loop for mobile, hands-free use.  Let's check it out!
Background
I've tried several Bluetooth speakers over the past several years, including the YUBZ MAGNUM, which was one of the first reviews I posted here at The Gadgeteer.  The Divoom Bluetune-Bean caught my eye for its fun shape and color, small size and built-in attachment loop.  I asked my middle school-aged daughter if she'd help me evaluate the Bluetune-Bean and she readily agreed.  🙂
Options
The Bluetune-Bean is available in multiple colors including Yellow & Blue (as reviewed here), Pink & Red, Blue & Silver, Red & Black, White & Purple and Black & Green.
Specs
Per the Divoom site, the Bluetune-Bean's specs are as follows:
| | |
| --- | --- |
| Output power: | 3W |
| Total peak power: | 6W |
| Dimensions: | 68L * 45W * 92Hmm |
| Weight: | 107g |
| Driver Size: | 50 mm micro driver |
| Signal to noise ratio: | 75dB |
| Frequency response: | 60-20000HZ |
| Charging Voltage: | 5V |
| Bluetooth compliant: | V3.0 |
| Bluetooth profile support: | A2DP Stereo |
| Battery Capacity: | 400 mAh |
| Battery charge time: | Minimum 2 hours |
Packaging
The Bluetune-Bean's packaging reminds me of Apple's iPod packaging, with its transparent outer shell that allows potential buyers to view the product from multiple angles (except the back) and lists the contents on the back.
Contents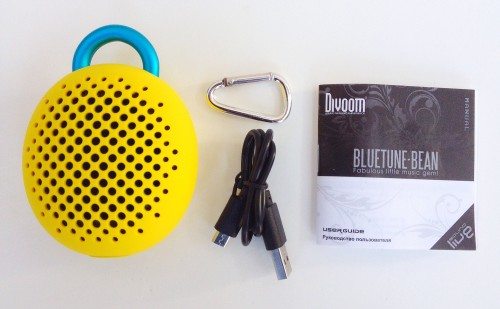 The Bluetune-Bean includes the following items:
Bluetune-Bean speaker
Micro USB to USB charging cable
Miniature metal carabiner clip
Instruction booklet
Features & Functions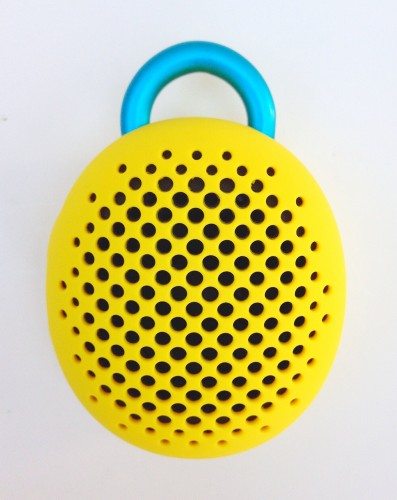 In overall terms, the Bluetune-Bean is roughly oval-shaped.  Its front face features a dot-patterned speaker grill.  Its exterior feels like a silicone material, which gives it a both a grippy feel as well as some bump protection.  At the top is an integrated metal loop which looks and feels like anodized aluminum and is solidly attached to the body.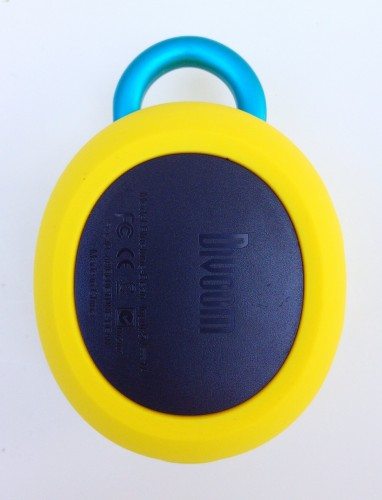 The back of the Bluetune-Beans is a flat hard plastic plate that displays product and regulatory information.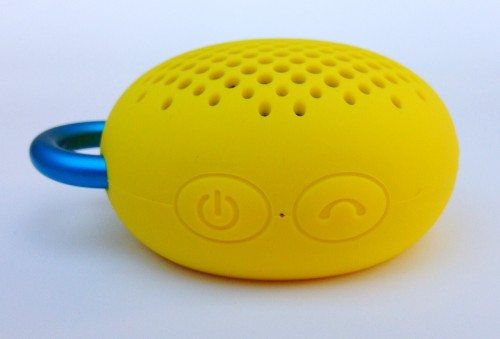 On the side of the Bluetune-Bean are the controls.  Two simple blister-type buttons are integrated into the skin, one button for power and the other for phone answer/speakerphone.  Inside a tiny hole between the buttons is a micro LED.  The LED turns solid red when the Bluetune-Bean is charging, blinking blue when in Bluetooth pairing mode and solid blue when paired.  My daughter reports that pairing the Bluetune-Bean with her iPhone was simple: power on the Bluetune-Bean, go to Bluetooth in the iPhone's settings, select it and go.  My daughter reports that the speakerphone feature doesn't work all that well; it's hard to hear from the other end.  My daughter also noted that one feature that would have been useful is a battery life indicator.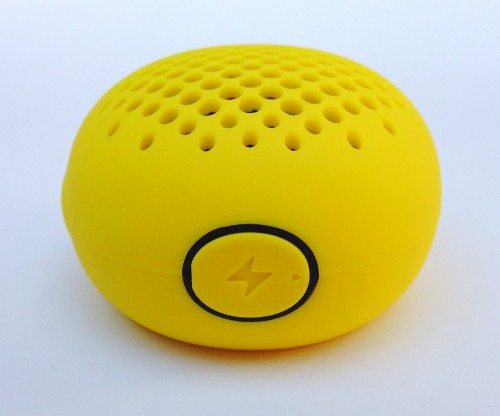 At the bottom of the Bluetune-Bean is the charging port.  It is covered by a silicone flap indicated by a lighting bolt symbol.  This flap would seem to offer some water resistance to the charging port, and actually stays in place rather well.  I had to dig at it a bit with a fingernail to open it, but it wasn't too difficult.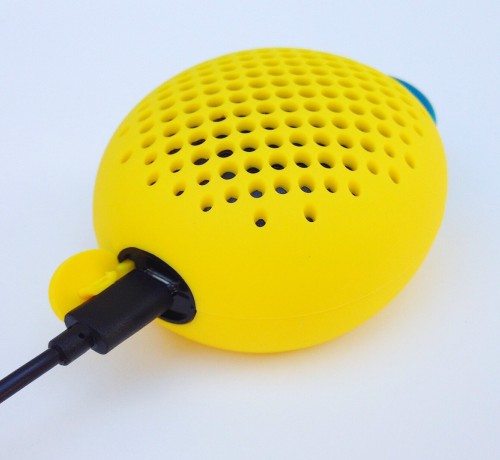 Once the flap is open, the charging port is accessible.  Just plug in the micro USB to USB cable and charge the Bluetune-Bean from just about anywhere a USB port available, I tried it with my iPhone's AC adapter as well my iMac keyboard's USB port and both were able to charge the Bluetune-Bean.  The Divoom site reports up to 6 hours charge on its lithium ion batteries.  I can vouch for several hours of charge, but I'm not sure it can go as far as 6 hours, but your mileage may vary on this.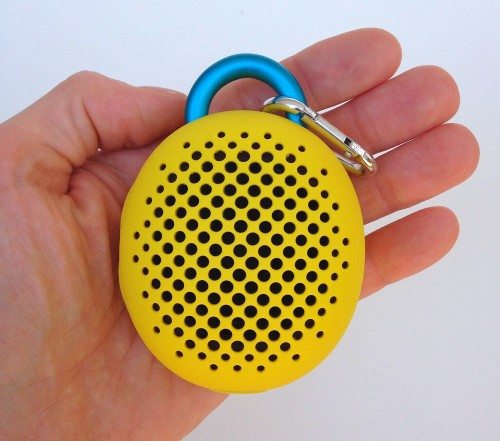 One of the aspects of the Bluetune-Bean that my daughter specifically mentioned was its small, compact size.  It fits nicely in the palm, but that isn't really its intended purpose.  Where it really shines is in the uses shown below.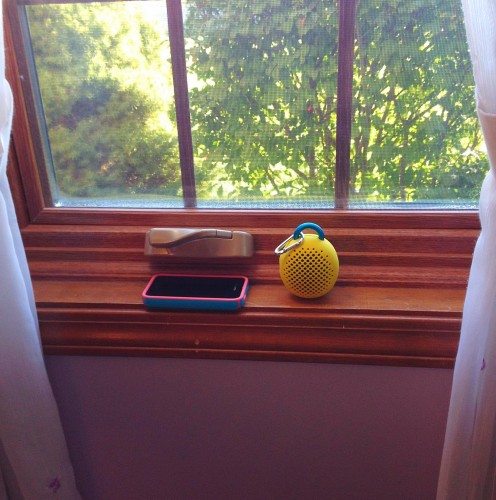 Here, my daughter was using the Bluetune-Bean with her iPhone by sitting it on her window sill and cranking out the tunes.  She said it is easy to change the music selection and volume level by changing it on the iPhone.  Also, the volume level out of this little speaker is fairly impressive.  You obviously won't get full high fidelity stereophonic audio reproduction, but that really isn't the purpose of the Bluetune-Bean anyway.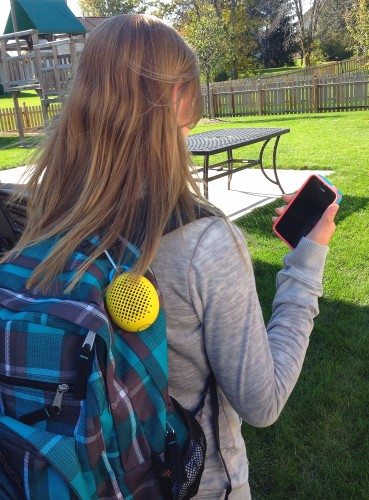 My daughter has taken the Bluetune-Bean lots of places.  She will sometimes attach it to her backpack either to transport it or to crank the tunes while carrying it around.  The mini carabiner comes in very handy for this.
Conclusion
The Divoom Bluetune-Bean is a small, compact Bluetooth speaker with rugged construction.  It is available in lots of fun color options and its useful carabiner feature allows it to be attached to belt loops, purse traps or all sorts of places.  Easy pairing, simple controls and some decent sound from its small size.  A great little speaker for the price.
Updates 04/09/15
My daughter still uses this small but fairly loud speaker whenever she want portable tunes capability (which is often in the summer).
Source: The sample for this review was provided by Divoom. Please visit their site for more info.
Product Information
Price:
$29.99
Manufacturer:
Divoom
Requirements:

Bluetooth-compatible device
USB port for charging

Pros:

+ Small, compact design w/ rugged construction
+ Clip-on carabiner included
+ Rechargeable battery

Cons:

- No battery life indicator
- Speakerphone doesn't work too well